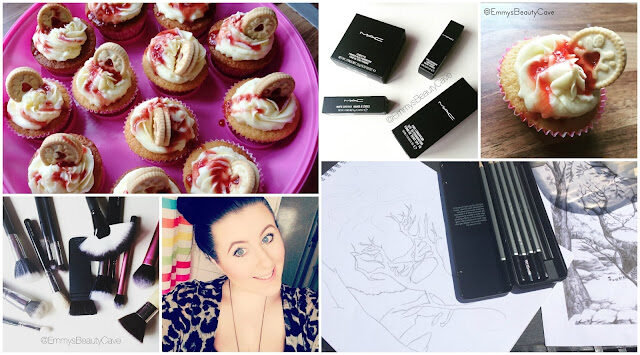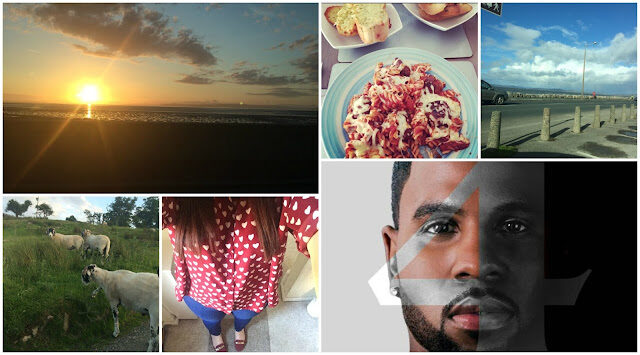 Hobbies
I am a huge lover of baking which i haven't really shown on my blog yet but i have been thinking about introducing this side of me to my blog. I love baking cupcakes mainly and trying new kinds. This week i decided to give Jammy Dodger Cupcakes a go and i can say these have gone down a treat! A Jam filled center with buttercream icing and a jam sauce! 
Since leaving school 7 years ago (just felt really old saying that!) i have carried on my love of drawing. With the weather being hot i have enjoyed sitting in the garden just drawing away in my own little world.
Weekend Antics
Me and my other half decided to have a quiet weekend. We drove to our local prom and sat on the front eating chips with gravy watching the world go by. It is such a pretty view especially when it is clear across the bay. I made my homemade meatball pasta bake with garlic bread! My favourite food has to be Italian, i am obsessed. We also went for a drive to watch the sunset, we live only 5 minutes away from hills and mountains and you can get some amazing views and some up close wildlife! Baaaa Sheep!
Random Crap
I forgot to mention in last weeks Lifestyle post that i have tickets to see Jason Derulo in February next year. I am super excited and cannot wait to go. I also got a phone call to book my pre opp appointment which will be on the 17th July and hopefully my operation will be sometime in August. I have a long road ahead and probably won't be walking properly until after Christmas.
Blog Stuff
You may have recently noticed my blog template/layout has changed. I had been having alot of problems with my last layout and i am so much happier with this one, i think it looks alot cleaner & sleeker. I also placed a MAC order online as i received a voucher for free next day delivery & a free sample. This weeks posts inc…
MAC Haul
Face Mask For Your Pores
What I Loved This Month | June

Songs I Love This Week
Arches "New Love"
JoJo "Baby Its You"
Flo Rida ft Robin Thick "I Don't Like it, I Love it"
FOLLOW ME
BLOGLOVIN | INSTAGRAM | TWITTER | PINTEREST