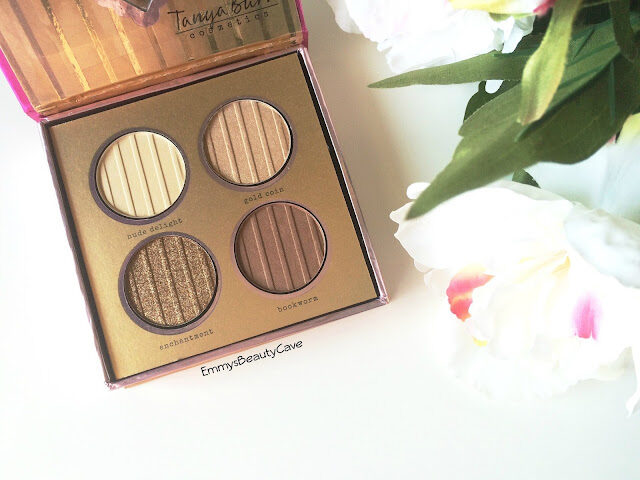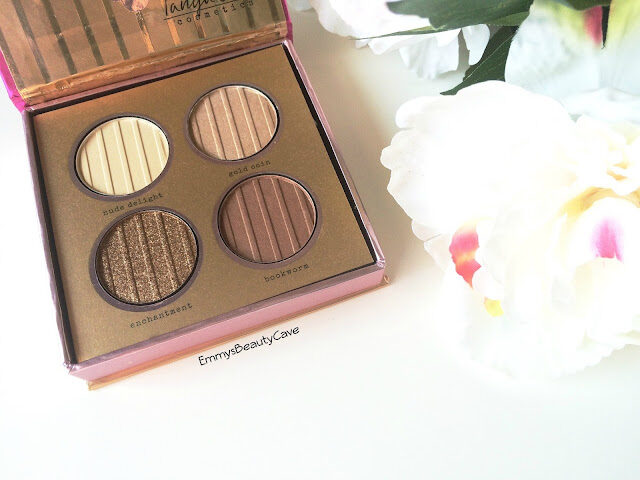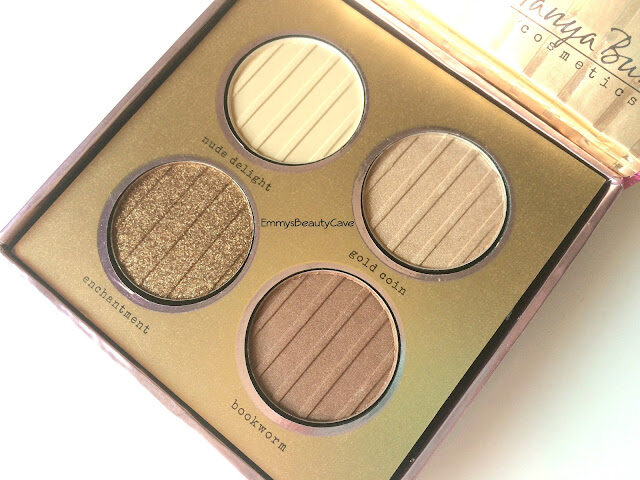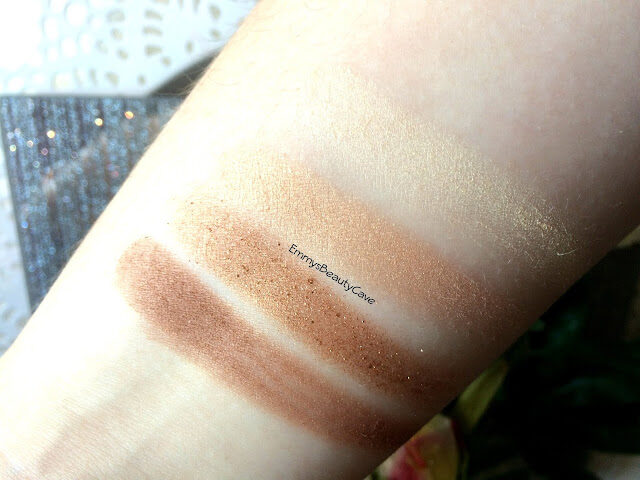 If you read my blog you will know im not the type to jump on a bandwagon. Other bloggers have bought out products like Zoella but the products have never interested me. As soon as i saw the Tanya Burr Hollywood Eyes Palette i knew i had to have it. If i could put myself into shades these shades would be it. 
Tanya Burr has recently launched her Makeup Range with Superdrug. The range consists of Eye Shadows, Lip gloss, Nail Polish, False Lashes and some sets. I ordered the Hollywood Eyes Palette and a Lip Gloss which i will be showing in another post. The Tanya Burr Hollywood Eyes Palette is just stunning. 
Firstly lets give her a big woop woop for the packaging. It is super girly with with golds, beige's and pinks and comes in a firm cardboard box. As you open the box you see four rather large size eye shadows and a good size heart shaped mirror. I love how the packaging is perfect if you are travelling and you can create a whole eye look with this palette. 
The shades are super pretty! The first shade "Nude Delight" is a yellow/beige tone which is perfect for all over the lid. Then we move onto "Gold Coin" which is a subtle gold shade without being too heavy. Next up we have "Enhancement" which is a shimmery bronze shade, i have to admit this is the only shade that had a little fall out but its still a gorgeous shade none the less. Lastly we have "Bookworm" a stunning chocolate shade perfect for in the crease and outer corners. 
Overall this palette is definitely worth a buy at only £6.99. I am really impressed with the shades and the pigmentation. I honestly didn't think i would love this as much as i do! You can see the Tanya Burr Makeup Range at Superdrug by CLICKING HERE or if you would like to purchase the Tanya Burr Hollywood Eyes Palette CLICK HERE to view on the Superdrug website.
Have you tried anything from the Tanya Burr Range?
Psst… Keep an eye out for my review of the Lip Gloss i picked up!
Bloglovin | Instagram | YouTube | Twitter