It's no secret how much I love Antipodes. It is a brand I came across last year and so far I have yet to be disappointed. Antipodes is a natural organic skincare brand that has high quality products. The Antipodes Saviour Skincare Balm is a product I haven't heard or seen before so I was very intrigued to try it out.
Antipodes describe this as a "Multi-Purpose Skin Treatment and Natural Remedy Which Conditions and Repairs Troubled Skin"
As soon as I opened the packaging I saw it contains Tea Tree which is perfect for my skin. I have oily skin, especially in my T Zone with blemishes on my chin and I sometimes get dry patches on my cheeks. This balm is a must have for the upcoming cold Winter months. When I opened the tin I was very surprised to see it was bright yellow! I actually loved how it wasn't your typical boring nude colour. The tin is pretty lightweight considering you get 75 grams of product.
When I rubbed the balm it feels just how lip balms do. Very lightweight and silky smooth. This balm literally takes the "Multi-Use" term to new heights. Some of the uses include:
Use on Chapped Lips
Reduce Blemishes
Reduces Oil
Clears Dry Patches
Helps Grazes
Perfect for Sensitive Skin
Reduces Stretch Marks
Use on Sunburn
Protect Skin after Shaving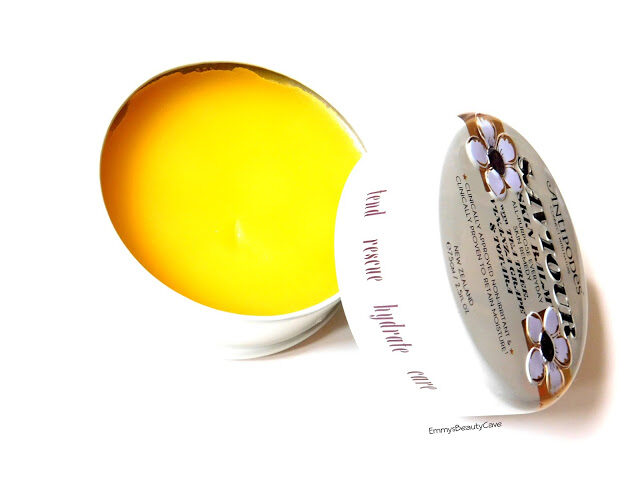 I have really put this balm to the test. I suffer with dry lips and after using this twice they felt amazing! I have also used it on my face and it didn't irritate my skin at all and I do have sensitive skin. It cleared the small dry patches on my cheeks. I have also used this on my knee's and elbows to help reduce dryness.
I can't believe how many things this balm can be used for. It includes Tea Tree, Totara Extract and Vinanza Grape. This product came into my life at the right time. I have been using this balm alot and haven't even made a dent in it! I can see this lasting a very long time. Even my mum keeps taking it from my room and using it! I love a good multi-use product that actually works.
Antipodes have done it again making a product I have fallen in love with. You can buy the Antipodes Saviour Skin Balm from Beauty Bay HERE, Look Fantastic HERE and Naturisimo HERE.
*This post includes PR Samples, NOTE all views are my own and my honest opinion. If I don't like a product or have any negative views I will put them on my blog.