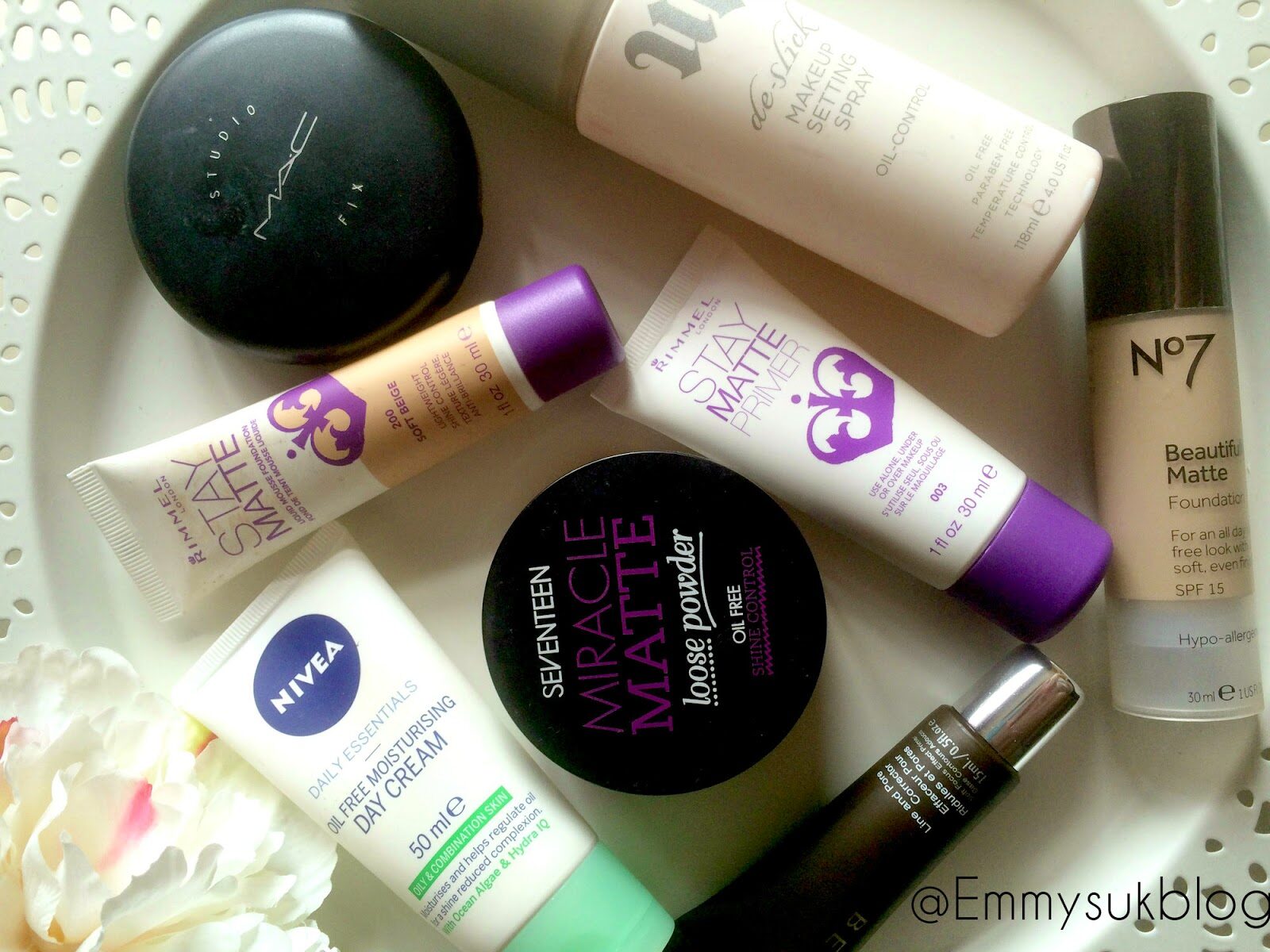 Oily skin is the vein of my life! Im 23 and i have to say over the past few years it has become more oily. Overall my skin is pretty clear and i only get the odd breakouts around my chin. Having oily skin can be really hard to control unless you find the right products. After having many hit and misses, i have now finally found products which help massively!
Nivea Moisturising Day Cream | £3.99
This has been a new staple piece in my stash for the last few months. My boyfriend actually pointed it out as its oil free and is for oily & combination skin. You can also get this for dry skin too. I have to say i am really impressed by this! It cleared my skin alot and really makes my skin feel fresh. I use this morning and night, i love it that much i stocked up whilst it was on offer.
Rimmel Stay Matte Primer | £5.99
Primers are something i struggle with. I find any gel like primers i steer clear of as they just dont agree with my skin and make me more oily. I have tried smashbox's primer, maybelline baby skin and hated both. This primer has a moisturiser like texture but settles well and really helps reduce the oil. I have re purchased this at least 5 times and will keep on buying it.
Becca Ever Matte Poreless Primer | £28.00 for 40ml
I actually bought this 15ml off ebay as i didn't want to pay £28.00 for a full size incase i didn't like it. I have seen this featured on many You tubers videos and they all said it is perfect for oily skin. It reminds me of Urban Decays Pore Perfecting Primer (which i also love). I do find this one works if applied very sparsely. This can be purchased from Cult Beauty which is a UK based website (click the title link above) also if you would prefer to try a smaller size then you can purchase them on Ebay. 
No7 Beautifully Matte Foundation | £13.50
If you have oily skin then you NEED this foundation. It honestly keeps me shine free all day long. I won't tell you everything as i have just done a full review of this foundation which you can read by CLICKING HERE
Rimmel Stay Matte Foundation | £5.99
If you have oily skin and love full coverage then this is for you. Its comes in a squeezy tube and has a mousse like texture. I use a flat top buffer brush to apply this which does stop it looking cakey. 
Seventeen Miracle Matte Powder | £5.49
Seventeen is one of my favourite drugstore brands. This is a loose powder which i don't usually like but i apply this on top of any foundation and it helps reduce shine massively. Seventeen also do this exact powder in a pressed powder form.
MAC Studio Fix Powder Plus Foundation | £21.50
This has to be one of my favourite powders. This can be used alone or on top of foundation. I really love this powder as it gives me the flawless finish but also keeps the oil at bay. I always keep this in my handbag for touch ups as its compact with a mirror.
Urban Decay De Slick Setting Spray 118ml | £21.00 
I have tried many setting sprays and found most do nothing! You can spray this before makeup and after. This is the only spray i have found helped my skin and kept my makeup looking fresh. A bonus is i find the bottle lasts me around a year which is amazing so for the price its well worth it.