It's been 3 weeks since I got back from New York and im finally getting my first Beauty haul up! I have two beauty hauls going up and also a Giveaway including some other goodies I got whilst in NYC, the giveaway will be up this Friday!! I decided to split my hauls into including High End and Drugstore. I am going to be doing a New York Shopping Guide which will include the best places to shop and where they are so keep your eyes peeled.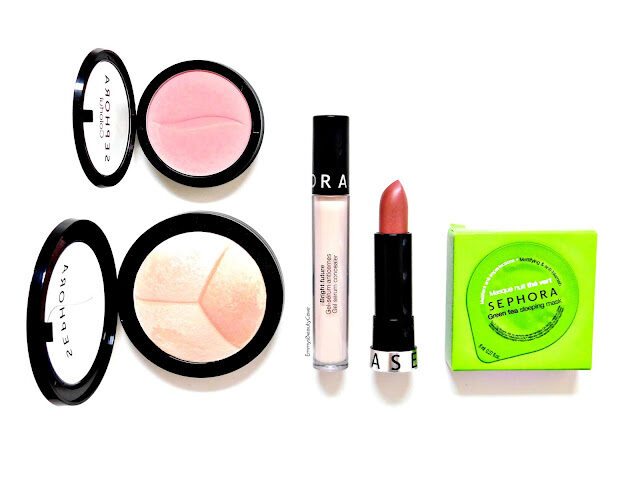 Sephora Blush | $14 (11.20) | Link
I picked up the shade Love Sick which is a gorgeous girly pink shade. These blushers are very pigmented and blend well.
Sephora MicroSmooth Baked Sculpting Contour Trio | $21 (16.85) | Link
I got the shade Sublime which includes a Pearl Highlighter, Pale Pink Blush and Light Bronzer. All 3 shades are shimmer which isn't usually my thing but I got it to use as a highlighter or blush by mixing all of the shades together. Sephora sell this in 5 different trio's.
Sephora Bright Future Gel Serum Concealer | $14 (£11.20) | Link
I decided on the shade 04 ButterCream which is light with Neutral undertones. They have 21 shades of this! I was in Sephora swatching for ages trying to decide on the right shade and this shade is perfect on my pale skin.
Sephora Rouge Shine Lipstick | $12.50 (£10.00) | Link
I actually purchased 2 of these as I got one for me and one for my mum. I got the shade 09 Private Jet which a brown nude with a high shine finish. These lipsticks are extremely creamy!
Sephora Green Tea Sleeping Mask | $4 (£3.20) | Link
I love anything Green Tea or Tea Tree so when I saw these in the queue to pay I picked up a few. It is a small mask that you apply before you go to bed and allow it to sink in over night. Sephora have 11 different masks to choose from.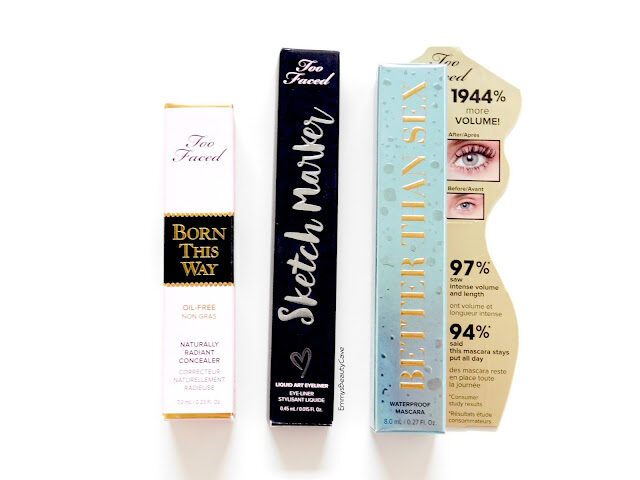 Too Faced is one of my favourite high end brand. I know you can get some of these products in the UK but I don't live near a Debenhams store so can never swatch items so Sephora was the perfect chance to get swatching!
Too Faced Born This Way Concealer | £20.00 | Link (UK Website) 
I have been wanting to pick this up for so long as I am a concealer addict, I ended up picking up 5 concealers whilst in NYC! I swatched and ended up picking the shade fair which is a light neutral shade, neither yellow or pink which is exactly my skin type. 
Too Faced Sketch Marker Liner | £17.00 | Link (UK Website)
Over this past year I have finally learnt how to do winged liner that suits my eye shape but I can only do it with certain liner pens. I saw this Too Faced one on a few YouTube Hauls and thought it looked perfect. I can't wait to give it a go.
Too Faced Better Than Sex Waterproof Mascara | £19.00 | Link (UK Website)
I have tried the non waterproof version which I loved. I especially love the hourglass shaped wand, it is perfect! I find this mascara gives good volume but to get those long lashes I usually pair it with another mascara.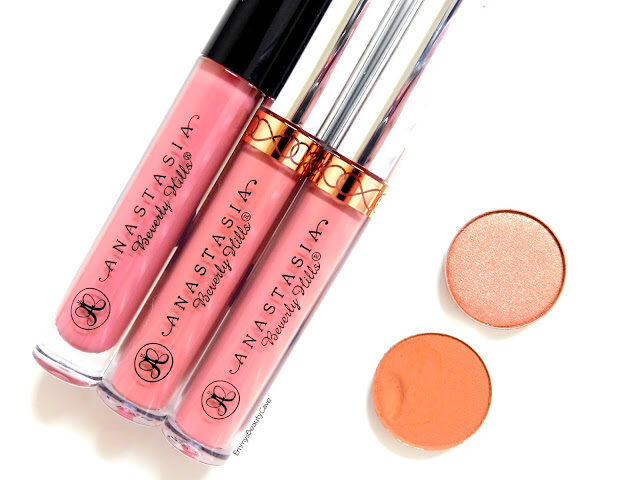 Anastasia Beverly Hills is one brand I have been dying to try more from. I don't know why the UK doesn't stock the liquid lipsticks yet! 
Anastasia Beverly Hills Liquid Lipstick | $20 (£16.00) | Link
I picked up 3 of the same shade, I got one for me, one for my mum and one for my giveaway. I got the shade Crush in the end after swatching quite a few. It is a pink/peach nude but on me it shows up more of a pink nude which I love. The formula is AMAZING! They dry totally matte but don't feel drying whatsoever. 
Anastasia Beverly Hills Lip Gloss | $16 (£12.80) | Link
The glosses have been on my list for so long especially the shade Vintage which is a mauve gloss. The formula of these glosses is incredible, I wish I picked up more now.
Anastasia Beverly Hills Single Shadows | $12 (£9.60) Link
I kept swatching so many of these in Sephora and couldn't make my mind up. In the end I only picked two shades to add to my Z Palette. I went with Caramel which is an Ultra Matte warm brown shade and then I picked Glisten which is a shimmery beige. These are unbelievable buttery, the remind me of some of the Makeup Geek Shadows.
Overall I was shocked at how cheap the products were, I always thought ABH products would be more but £9.60 for an ABH Shadow is amazing. I really hope they bring them to Beauty Bay soon.
Thierry Mugler Alien Perfume | £38.95 | Link
This is my holy grail perfume and I ran out quite a few months ago so of course it would have been rude not to pick up a new one whilst in Duty Free.
Becca Jaclyn Hill Champagne Split | $38 (£30.00) | Link
I had been trying to decide if I should splurge on one of these. Cult Beauty used to stock them but they are no longer on the website so I am glad I did pick one up in Sephora. I went for the shade Flowerchild which is the perfect pink blue and then includes Champagne Pop a gorgeous gold highlight. 
IT Cosmetics CC Cream | $38 (£30.00) | Link
Oh my oh my oh my I have wanted this for so long! When I found out Sephora had started stocking IT Cosmetics not long before I was going I was super excited. I picked up the shade fair and it matches my skin perfectly. I have only used it once but will be doing a full review once I have tested it out more. 
Kat Von D Shade & Light Face Contour Kit | £36.00 | Link
I am absolutely gutted Sephora didn't sell the refillable one of this, when I asked they said it was only available online at the moment. I decided to just pick up the regular one as I have been dying to try it.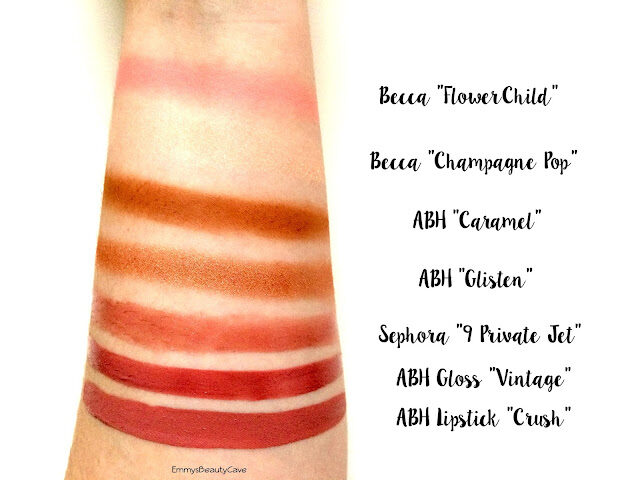 I am so happy with everything I got. I will be doing full individual reviews once I have tried products more. I have my Giveaway up on Friday then my second NYC Haul up next week!