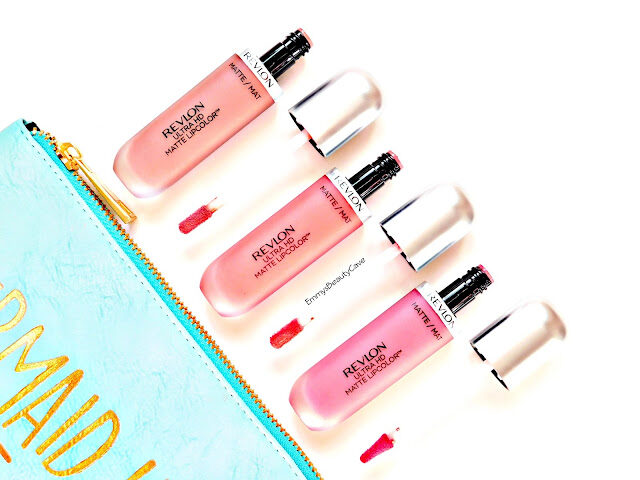 Spring Lips are here! I always prefer Spring/Summer lips over Winter. I like that you can have more fun when it's summer. Play around with colours and try out new looks. I recently tried out a few of the NYX Lingerie Liquid Lipsticks (review here) which I found far too drying so I was a little hesitant when i saw these Revlon Ultra HD Matte Lip Colors had been released. I decided to pick a few up anyway and hope for the best. 
The packaging is one of my favourites for lip products. They come in these frosted plastic tubes which still show the colour of the product. Revlon have really hit the nail on the head with the applicator! I hate drugstore brands that cheap out on the applicators. This one has two flat sides which have a slight curve to make an easy application. It is similar to the Urban Decay Naked Skin Concealer Wand. 
The three shades I picked up are Seduction, Devotion and Flirtation. 
Seduction | The perfect nude. You can't have enough nudes right?! Considering I am pale it doesn't show up too dark which is perfect, when looking at swatches online it suits darker skintones too. 
Devotion | To fulfill that girly girl inside you. It is the perfect pretty pink ready for Spring. It isn't a pale pink nor is it an in your face pink it's kind of in the middle. 
Flirtation | A nude, a pink and now a pop of colour. Flirtation is an orange toned coral. I find some coral shades more on the peachy side whereas this definitely has distinct orange tint. It is quite bright.
One thing I found interesting is that they don't dry fully matte even though it is meant to be a matte lip product. At first they apply quite creamy and take around ten minutes to fully dry. Once dry they are matte but not drying. They last extremely well, even when eating the colour still stays put. 
For £8.99 I don't think these are badly priced at all and they are perfect for Summer months.