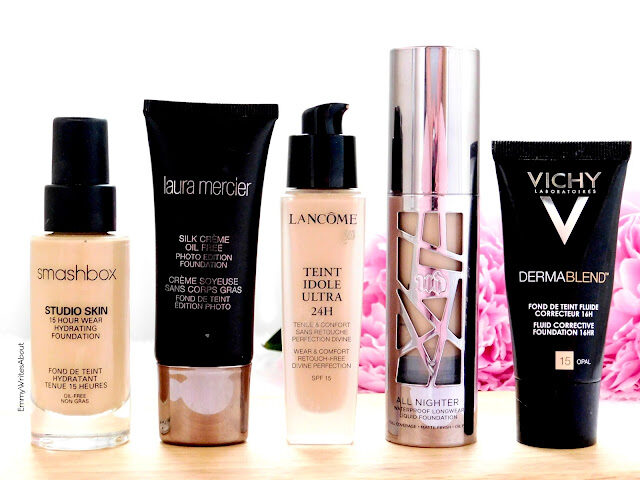 I would only wear a full coverage foundation until around a year ago. My skin has always been pretty straightforward, but I have freckles and a little scarring on my chin. Now I wear both medium and total coverage bases. Still, a complete coverage base is my go-to, especially in Autumn and Winter. I like both high end and drugstore foundations; I did do my drugstore collection and high-end collection a few months ago. I will leave the links at the end of the post.
Smashbox Studio Skin 15 Hour Wear Foundation | £29.50 | Link
It is no secret how much I rave about this foundation. It is full coverage and works for both oily and dry skin types. I have oily/combination depending on how my skin changes, but even when I am super oily around my nose and chin, this will keep the shine away for over 10 hours! It is incredible. I have read many people who suffer from dry skin also love this base.
Skin Type: All Skin Types.
Shades: 22 shades available.
Laura Mercier Silk Creme Foundation | £35.00 | Link
This is such an underrated foundation. I have the oil-free version, which is perfect for my skin type. It looks absolutely flawless. My skin looks airbrushed when I use this. It isn't as heavy on the skin as others, making it perfect if you want a full coverage everyday base. I can find my perfect shade match too!
Skin Type: Oil-free version for oily skin, but another version works for dry skin.
Shades: 12 shades available at selected stores.
Lancome Teint Ultra 24 Hour Foundation | £31.50 | Link
This is one I have been using for around a year now. It is full coverage and has a similar formula to the Smashbox one. I find this also keeps me matte all day long. This is aimed more at oily skin types.
Skin Type: Oily/Combination.
Shades: a whopping 40 shades!
Urban Decay All Nighter Foundation | £29.00 | Link
I find at first this can be more medium coverage but is quickly built up to full range. It is the most matte out of my mentioned ones, but it isn't drying your skin. To get this to work on my oily areas, it works best with particular primers or powders. Also, the shade does oxidise,e so be careful where choosing a shade. 
Skin Type: Oily/Combination.
Shades: 22 shades available.
Vichy Dermablend Foundation | £20.00 | Link
This is definitely one of my holy grail foundations. The finish is full coverage,e but it is very lightweight. It keeps me matt,e, but it has a more semi-matte finish. I love how flawless this makes my skin loo; it is very similar to the Laura Mercier Silk Creme Foundation. 
Skin Type: Oily/Combination
Shades: 8 shades.
Personally,y my most used is the Vichy for when i want really full coverage without it being heavy. The Smashbox and Lancome ones are perfect for full range if you are incredibly oily and want them to last all day.

Have you tried any of these?