If you went through my makeup collection a few years ago, I didn't own many lip products, but now I have far too many and can't seem to stop buying them. I own mainly drugstore lipsticks, but I do have a collection of higher-end lipsticks, including MAC, Urban Decay, Anastasia Beverly Hills, Charlotte Tilbury and Too Faced, BUT are they worth it? I wanted to do short reviews of each brand as the formulas are different, and I have also swatched the shades.
I have a wide range of drugstores and high-end cosmetics for makeup. I used to buy high end then mainly. The drugstore has so many more brands now, and the quality of the products is continually improving and gives high-end brands a run for their money. MAC was the first high-end brand I purchased, and the lipsticks were always raved about.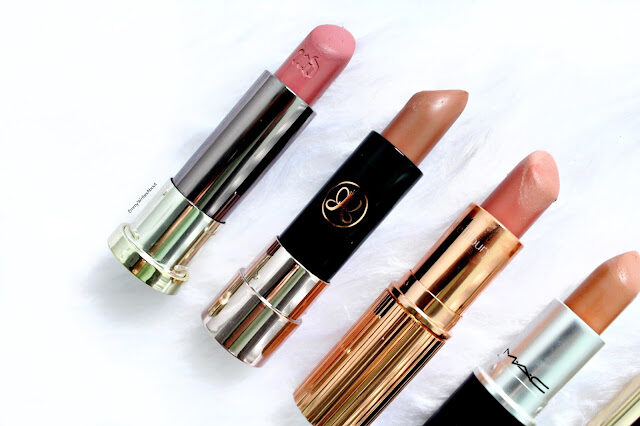 Urban Decay Comfort Matte Lipstick | £16.50 | Link (shade Backtalk)
Urban Decay is one of my favourite high-end brands. They revamp their lipsticks and now have different ranges, including Sheer, Sheer Shimmer, Cream, Comfort Matte, Mega Matte and Metallized Finishes. Backtalk is from their comfort matte range. Most matte lipsticks are extremely drying and can never wear them, but this range is incredible. The matte comfort formula applies creamy and then dries, but it doesn't dry to be extremely drying. The lasting power is the best I have found in lipstick. This lasts hours, even after eating! I have reviewed and swatched other Urban Decay Lipsticks Here.
I would 100% say Urban Decay Lipsticks are worth the buy, especially the comfort matte formula.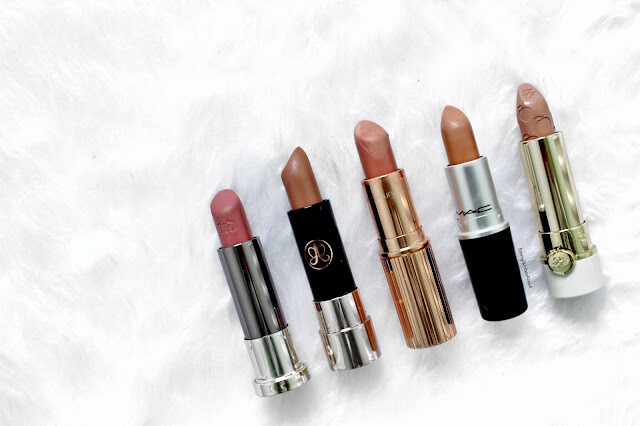 Anastasia Beverly Hills Matte Lipstick | £18.00 | Link (shade Honey)
I love Anastasia makeup, especially the eyeshadow palettes and liquid lipsticks. This was one of their latest launches last year. The packaging is sleek, and the formula is matte. I wish they did some paler nude shades, as many are darker. Now I wouldn't say this lipstick is worth the money. The formula is far too matte for me, and I find it very drying. I can only wear this lipstick if I wear a gloss on top of it.
Luckily I only paid £5 for this lipstick when ABH had them on offer for an hour.
Charlotte Tilbury Kissing Lipstick | £24.00 | Link (shade Bitch Perfect)
Everyone loves Charlotte Tilbury packaging and raves about a lot of her products. I have mixed feelings towards the lipsticks. I love this Bitch Perfect lipstick, it is a cream formula, and the shade is a pretty pink nude. I would say this is worth the money, BUT I did own the Pillow Talk Lipstick, and I ended up selling it as I didn't think it was worth the money at all. The formula wasn't great.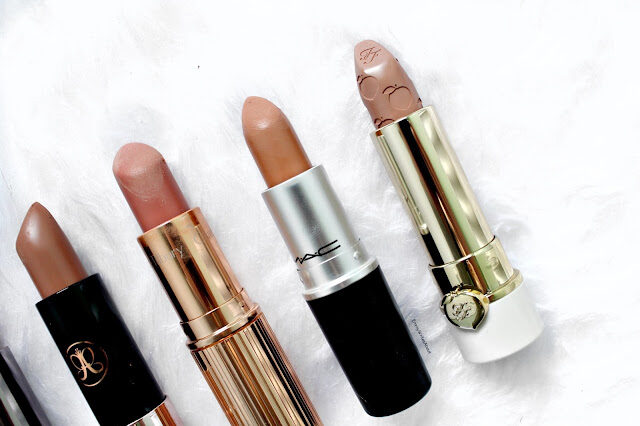 MAC Satin Lipstick | £17.50 | Link (shade Peachstock)
MAC lipsticks are the first high brand and lipstick I owned. I own a fair few MAC lipsticks with different finishes, including satin, matte and cream. I rate MAC lipsticks, I find them to be creamy, and they have such gorgeous shades. I would recommend them, but I would say they are not the most long-lasting on the lips.
Too Faced Peach Kiss Lipstick | £19.00 | Link (shade Sure Thing)
How cute does this lipstick look?! Now Too Faced always goes all out with packaging, which doesn't disappoint. The little peaches are a cute touch. Aside from the packaging, I do love the formula. It is described as a comfort matte, and it does remind me of the Urban Decay ones. This shade is gorgeous. I find them to be long lasting too. I would recommend this!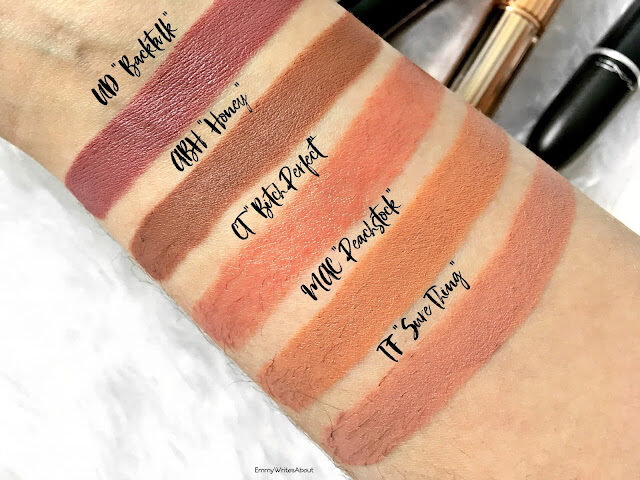 Overall I do think some high-end lipsticks are worth the splurge. I don't recommend the Anastasia Beverly Hills ones, but I do recommend their liquid lipsticks. They are a lot less drying than the regular matte lipsticks they do.
What are your thoughts on high-end lipsticks?