I am back again with another baking post. As you know I have been baking ever since I was little and it has become a passion. When I bake cakes I have to make extra batches as my parents want some, Ashley's parents want some and then of course I want some! My latest batch of cakes was these Ice Cream Cone Cupcakes and oh my oh my they were delicious.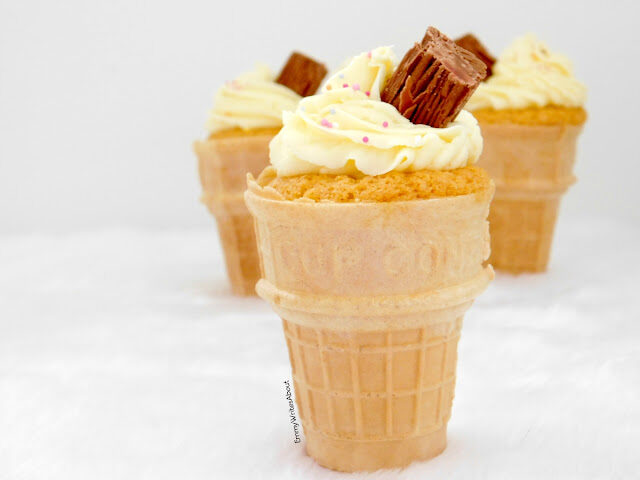 What You Will Need:
Cake…
6oz Self Raising Flour
6oz Caster Sugar
6oz Margarine
3 Eggs
1 Tsp Baking Powder
1 Tsp Vanilla Essence
1 Tbsp Milk
Buttercream…
2oz Butter/margarine
8oz Icing sugar
1 tsp Vanilla Essence
Extra's…
Flakes & Sprinkles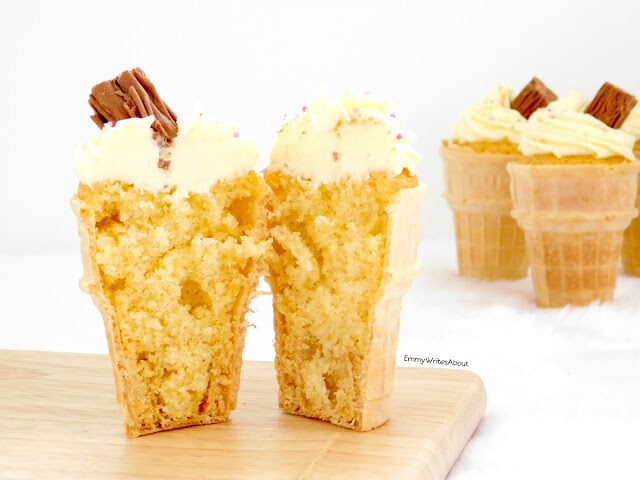 Method
1. Mix together the Self Raising Flour, Caster Sugar and Butter.
2. Add in the Eggs, Vanilla Essence and Baking Powder.
3. Place the ice cream comes into a muffin tray. Fill the cones to just over half way. You don't want to fill them to high otherwise the cake will spill down the sides of the cone in the oven.
4. I left mine in the oven for 25-30 minutes. Yours may take more or less depending on your oven. I usually check after 20 minutes by pushing a cocktail stick in the center to check they are cooked.
5. Once out of the oven leave in the tray to let them cool.
Decoration
1. Mix together the butter, icing sugar and vanilla essence. You might need to add more icing sugar to make the icing slightly thicker or if you find it goes to firm add a tea spoon of milk. You can also leave the butter cream in the fridge for 15 minutes to help firm it slightly.
2. Place the mixture into a piping bag. You want the mixture to be right so it is easy to pipe but firm enough to hold it's shape.
3. You will need to get someone to hold the cone whilst you pipe the icing on otherwise they will fall over.
Add sprinkles and a flake and you are done!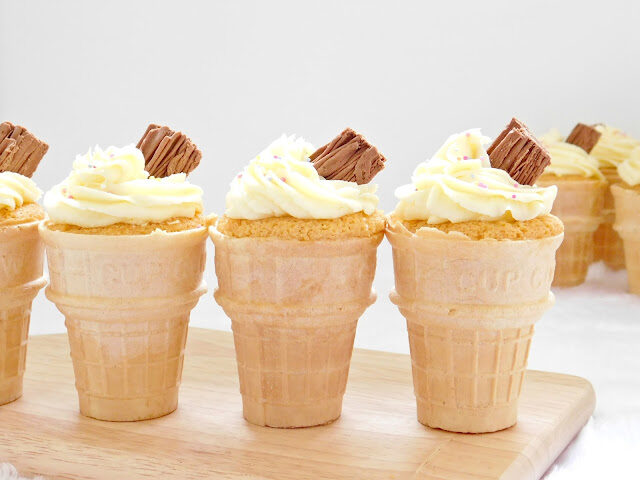 Liked This Post? Don't Forget To Pin Me…