The past few months have flown by and now Christmas is already done and dusted. I love reading everyone's What I Got Posts as im so nosey! They usually end up making me spend money. I don't get why people find these kinds of posts as "bragging" when they clearly aren't, 90% of bloggers love to read them as we are all beauty addicts!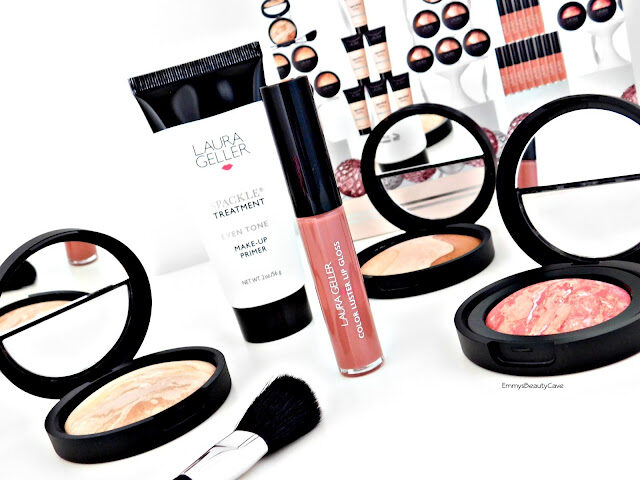 I was so happy when I saw Ashley had got me this Laura Geller set. I helped my dad get it for my mum for Christmas then I realised I wanted it for myself so I hinted at Ashley. I haven't tried much from the brand but this set looked amazing as it includes five full size products. In the set you get:
Laura Geller Balance & Brighten Baked Foundation | £26.00
My mum has been using this for months, you can use it as foundation or as a powder on top of foundation and it creates the most flawless finish.
Laura Geller Baked Blush N Brighten Blush "Tropic Hues" | £23.00
This is one of the most stunning blushes I have ever seen! Look how pretty it is! It comes in 6 different shades.
Laura Geller Baked Eye Shadow Trio "Tiramisu" | Think it was limited edition with the set.
Laura Geller Spackle Treatment Even Tone Primer | £25.00
It is described as a primer that will even skin tone and make your makeup last longer.
Laura Geller Color Luster Lip Gloss "Sugar Cane" | £16.00
I have tried one of my mums Laura Geller Glosses and I loved the formula as it didn't feel sticky at all and they are super pigmented.
Everything in the set retails for a total of £128 but the set only cost £45 from Debenhams! I was amazed you got full size products. Can't wait to test everything out.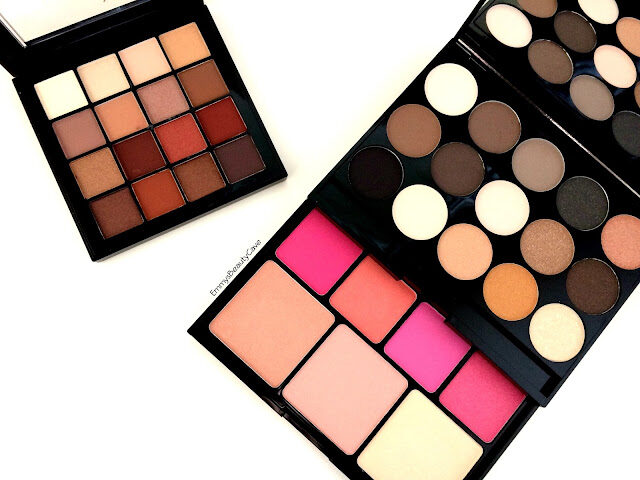 NYX Ultimate Shadow Palette "Warm Neutrals" | £16.00
This palette has been on wishlist ever since I saw it was released. The shades are my shades, full of matte and shimmers in all the warm shades you need.
NYX Butt Naked Eye & Face Palette | £20.00
Ashley got me this one and didn't even know it was released! I was so excited when I saw the shades as I knew I would use every single one. It contains 15 shadows, 4 blushes and 3 highlighters all powders.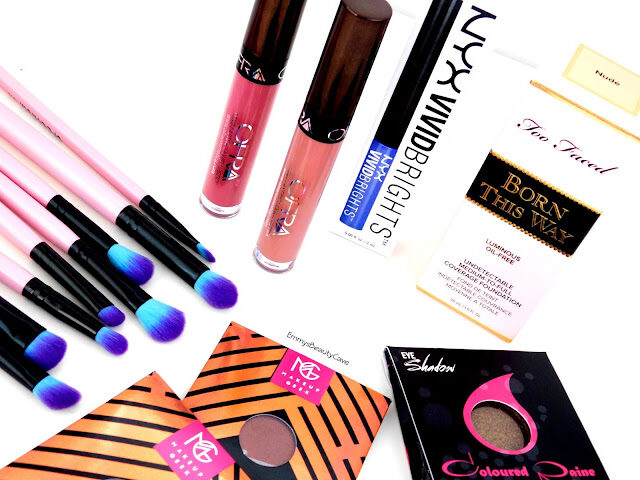 Too Faced Born This Way Foundation | £29
I already have the Too Faced Concealer so I am super excited to try out the foundation. I have the shade Nude which seems like the perfect match.
Spectrum 8 Piece Eye Blending Set | £29.99
This year I have seen so many bloggers rave about Spectrum brushes and now I finally have some! I needed more eye brushes as I own so many face brushes. They feel so soft!
Ofra Liquid Lipsticks | $19.90
Ashley got me these, I have the shades Bel Air and Laguna Beach both my kind of shades. I can't wait to test them out.
Makeup Geek Foiled Eye Shadows | £6.00 Each
I got the shades Havoc and Steampunk. I will add these to my second Z Palette I have started.
Coloured Raine Eye Shadow Pan | £9.00
I haven't tried any of these shadows before, the Coloured Raine ones are much larger than the MUG ones. I got the shade Golden Olive.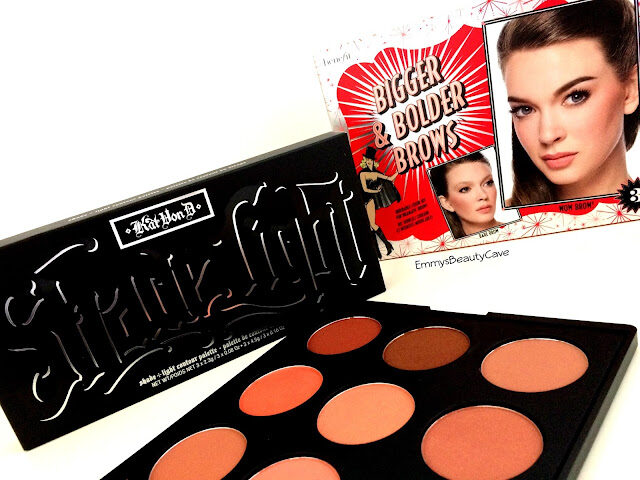 Morphe 9N Blush Palette "The Naturally Blushed Palette" | £17.95
The shades in this palette are stunning. Ashley definitely did well this year. I can't wait to test all the shades out.
Kat Von D Shade Light Contour Palette | £36.00
Ashley said he realised a few days before Christmas I already had this palette. I said I want to keep it instead of changing it as now I can use the one I got in New York more as I won't have to worry about buying another.
Benefit Bigger & Bolder Brows Kit | £28.50
I have been wanting to try the new Benefit Brow products for so long so I was so happy to see my mum got me this. It includes Ka-Brow Pomade, Ready Set Brow Shaping Gel, High Brow Pencil and Shaping Stencils.
I have my second What I Got For Christmas post up next Wednesday!
If you have done your What I Got For Christmas Post leave me the link!