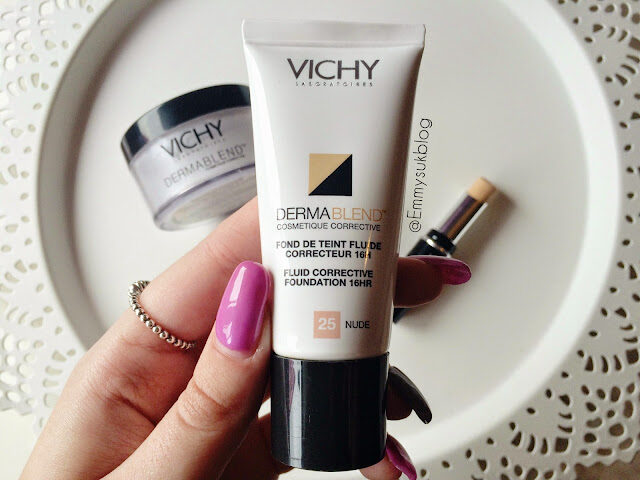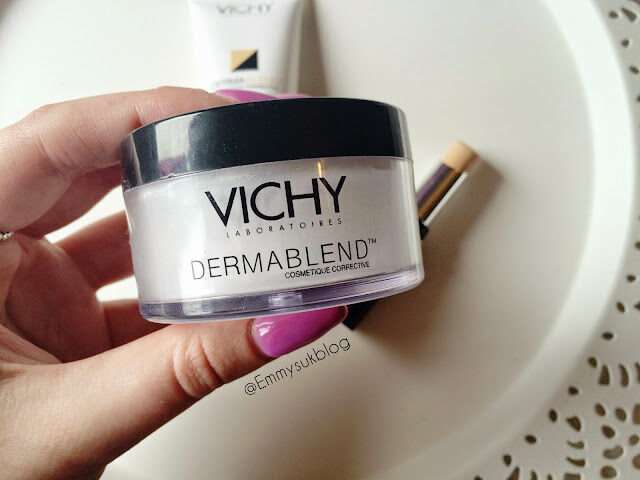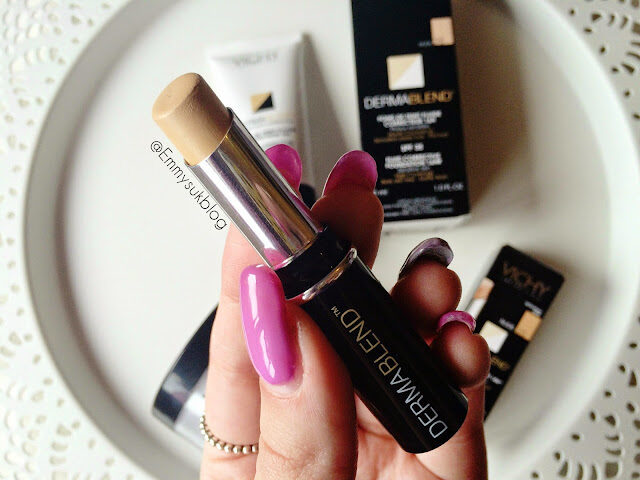 Vichy is a brand i haven't heard much about until recently. I have seen alot of posts including Vichy Skincare Products which seem to be a massive hit. When i was contacted to try out the Vichy Dermablend Makeup Range i was so excited. Foundations are something i seem to collect as i have over 30 now! I do like to switch up my base routine quite often as im always on the hunt for that flawless base. So i was sent three products which were the Vichy Dermablend Corrective Foundation, Vichy Dermablend Corrective Stick and the Vichy Dermablend Finish/Setting Powder.
Before using the products i did have a search for each one online so i could read reviews and i have to say on most websites the reviews were 5 stars! I would also say the prices are in between drugstore and high end as they are not over the top expensive compared to some brands. I have been using all three of these products for a week now and i am really impressed.
Vichy Dermablend Corrective Foundation 30ml | £18.00*
This foundation was the one i was most excited about trying as i love my full coverage base which it stated to do just that. I did have to be careful not to squeeze too much out of the tube as it did come out quickly! I tried applying this both with my Real Techniques Sponge and my flat top foundation brush. I got such a flawless finish using the sponge compared to the brush. It spread well and covered everything i wanted it to. Overall it blended well, covered well, lasted all day and the colour stayed the same.
I did also build this up to see what the results were and it didn't cake or anything. I did put this foundation to the test by trying it over a tattoo on my wrist (pictures below) to see just how good it could cover up.
Vichy Dermablend Corrective Stick | £15.00*
I have never used a foundation/corrective stick before. I applied the foundation and then used this stick under my eyes and over any breakouts, i have to say i was impressed. The texture was really creamy and so easy to blend which i was quite suprised by. I am wanting to get this in one of the darker shades to use as a cream contour.
Vichy Dermablend Finishing/Setting Powder | £17.00*
The only powder like this one i have used is the NYX HD Studio Powder which i used to love then it made me go patchy. I applied the above products then set everything with this. I found it applied like a dream leaving my skin looking extra flawless and feeling really soft. I did notice this powder helped my makeup last and also kept my shiny skin at bay. To test the powder i also used it with other foundations and it worked just as well.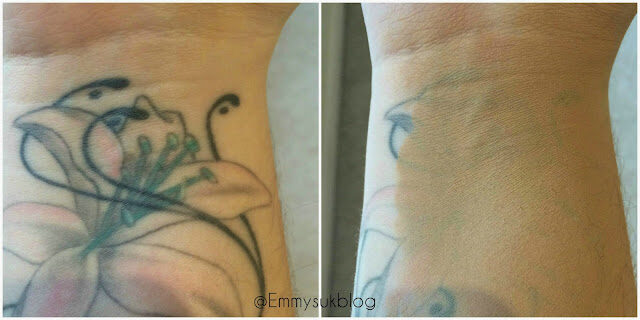 Overall i couldn't be happier with these products. The powder has to be one of my favourites! As mentioned i will be buying a darker corrective stick to use as a cream contour tool. As you can see above i used the foundation to cover over my tattoo as the results were amazing and i could of built up more and covered the tattoo fully. Even though the foundation is full coverage it is not heavy on the skin at all.
ALL OF THESE PRODUCTS ARE CURRENTLY ON OFFER ON THE ESCENTUAL WEBSITE  CLICK EACH LINK BELOW…
Vichy Dermablend Corrective Foundation £15.30
Vichy Dermablend Corrective Stick £12.75