Considering im the girl who didn't own any lipsticks until this past year, i am now obsessed! It wasn't until a year ago i actually started to try more lipsticks and i don't know why it took me so long. That being said i now own five MAC Lipsticks. Alot of people say they are too expensive but i definitely can tell the difference between these and drugstore lipsticks. I am yet to own any of the MAC Lip Liners but they are next on my list. The only shade of lipstick i will never wear is red, it just doesn't suit me no matter what kind of red it is or what my hair colour is. I just end up looking like a clown! So lets see what shades i have…
Velvet Teddy | The shade everyone seems to rave about. I never rushed to buy this shade and it wasn't the first one i bought.
MAC describe this as a Deep-Tone Beige with a Matte finish.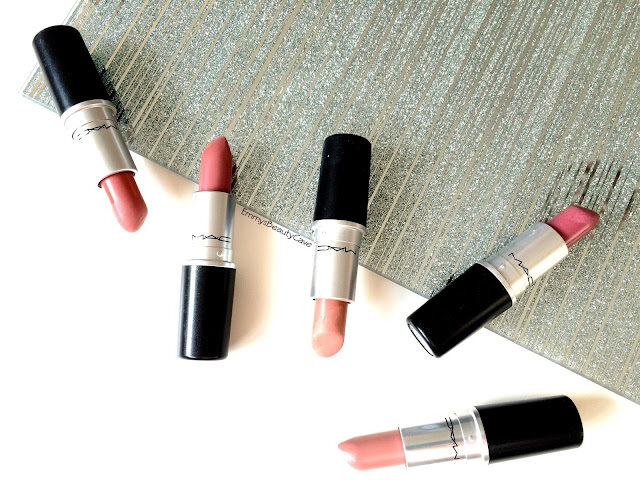 On me this comes up quite dark more of a brownish shade. Don't get me wrong it is a lovely shade but probably the one i wear the least.
Faux | I had been on the hunt for a mauve lipstick for so long. I saw this one on Pinterest and ordered it straight away. It has to be one of my favourite lipsticks ever!
MAC describe this as a Muted Mauve-Pink with a Satin finish.
The colour of this lipstick is just perfection. I wear this alot and find it definitely compliments my pale complexion.
Honeylove | I was recomended this shade on Twitter by a fellow blogger. I wanted a natural shade that could be worn daily.
MAC describe this as Light Beige Toned With Rose with a Matte finish.
This shade is gorgeous. Alot of people say it can wash them out so definitely swatch this one in store before you buy. That being said i did order this one online but im in love with it. Im a MAC NW20 and it looks so pretty. I find it works best when i have contoured so i don't look washed out at all.
Syrup | This was my first MAC lipstick! I don't know what made me buy this shade but it is still one of my most worn lipsticks.
MAC describe this as a Cloudy Pink with a Lustre finish.
This is definitely more of a glossy look whereas Faux is more in-between matte and lustre. On me this looks like it has a slight plum tone to it which i love, especially in a/w.
Blankety | This is my most recent buy from MAC. I have been wanting a shade similar to Honeylove but with more of a pink tint to it. I had googled swatches and decided to go with this one.
MAC describe it as a Soft Pink Beige with a Amplified Creme finish.
Such a pretty natural shade. This one looks gorgeous on those days i barely wear any makeup and want to look natural. It is again quite pale like Honeylove so definitely swatch in store.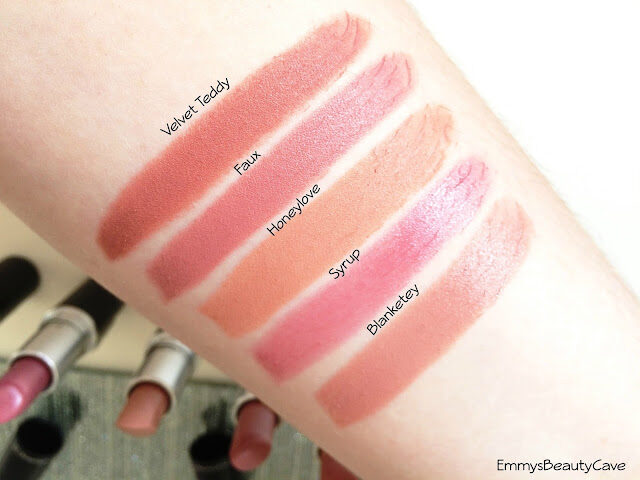 Im so happy with each shade i have picked up. I was surprised Velvet Teddy is the one i use the least but i guess everyone is different.
What are your favourite MAC Lipsticks?
Bloglovin | Instagram | YouTube | Twitter