2015 has been my year for skincare. I have finally found products that work perfectly with my skin 99% of the time. My skin can be highly oily, but I have started to get dry patches on my cheeks over the last six months or so. I also suffer from many breakouts on my chin, never anywhere else. All of my favourite skincare products are affordable, making them even better.
Face Wash | Botanics Shine Away Exfoliating Scrub | £4.00
I first tried this when a fellow blogger sent it to me in a box swap we did. I also prefer an exfoliating face scrub as it helps with my pores. When ever i wash my face with this my skin instantly feels refreshed and any dry skin is gone. This scrub is loved by many as it is more often than not sold out in Boots. 
Serum | L'Oreal Skin Perfection Serum | £16.99
The L'Oreal Skin Perfection Range is aimed at ages 20-the 30s. I adore this range! Boots usually have this range on offer, either in-store or online. The packaging is bright pink with an ombre effect. The serum is lightweight, dries into the skin quickly and doesn't leave a tacky feeling finish. A little goes a long way. One bottle lasts me ages. I have noticed that my skin looks brighter and healthier since using this. 
Moisturiser | Nivea Oil Free Moisturising Day Cream | £3.99
This moisturiser is a life saver. My boyfriend got me to try it as he used a Nivea one and said it was excellent. I had been suffering from many breakouts, so I thought, let's give it ago. I have been re purchasing it ever since. This one is for Oily/Combination skin, but they also do one for Dry Skin. Since using this my breakouts have reduced massively. I have susceptible skin too, and this hasn't irritated mine in any way. 
Night Cream/Lotion | Body Shop Tea Tree Night Lotion | £10.00
I'm in love with this product! I apply this every night before bed. I usually apply it three weeks in a row then leave it for a week, so my skin doesn't get too used to it. It has a very, very strong scent of Tea Tree, and it isn't a subtle scent at all. I find this has helped reduce my blemishes. I also find if I do have a breakout, I make sure I apply this as it helps to get rid of them quickly. 
Eye Cream | Boots Vitamin E Eye Cream | £2.50
I bought this after seeing a blogger rave about it. I have never really bothered with eye creams before, but I do suffer from really dark under-eye circles. This is a peach-toned cream that instantly reduces the dark circles. I applied this morning and night, noticing a massive difference. My concealer even applies better in the morning after I have used it. This, too, is usually sold out in Boots, and it isn't sold online but definitely check it out next time you are in your local boots.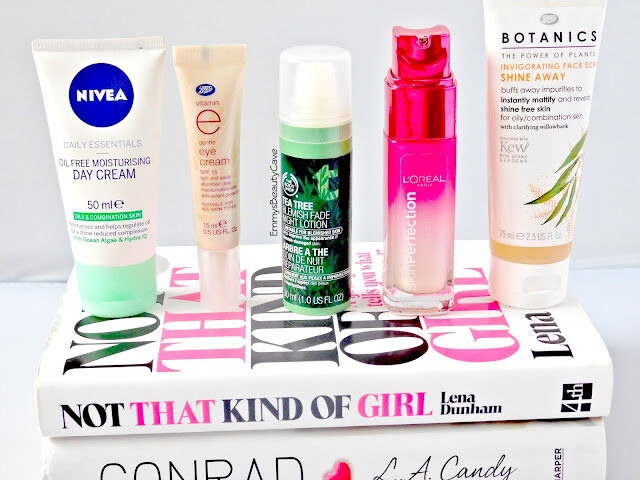 What is your must-have skincare product?
Bloglovin | Instagram | YouTube | Twitter