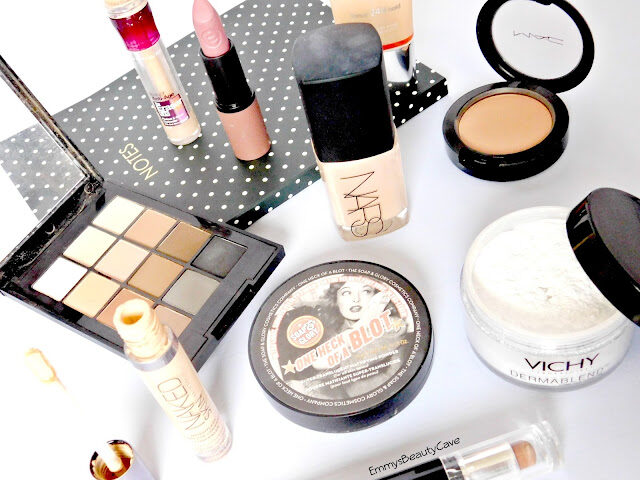 You may have already read my "Best Skincare Products of 2015" post which i posted a few days ago, if not click here to have a read. Im now moving onto my Best Beauty Products of 2015. This year has got to be the year where i have bought the most beauty products. There have been so many to choose from but i have managed to narrow it down to my top 10.
My obsession lies with concealers and foundations. I own far too many but i still want more! My two favourites for very different reasons are the Urban Decay Naked Skin Concealer and the Maybelline Eraser Eye Concealer. I have been using the Urban Decay Concealer even before it started getting all the blogger hype. I have this in a lighter shade to my skin tone as i find it perfect to highlight with. I find it isn't enough coverage for my under eyes but to highlight it is perfect. The Maybelline concealer is just heaven. I use this under my eyes and it covers my extremely dark circles, it isn't heavy and it doesn't crease. 
Considering i own over 30 foundations i found it quite easy to pick my favourite two from this year. I am loving the drugstore Bourjois Air Mat Foundation which was only released a few months ago. This is full coverage, blends well, doesn't feel heavy and it definitely keeps me matte all day! The high end foundation i've been loving is the Nars Sheer Glow Foundation which i didn't expect to love it as much as i do. It is medium buildable coverage, perfect colour match and i was surprised at how well it works with my oily skin.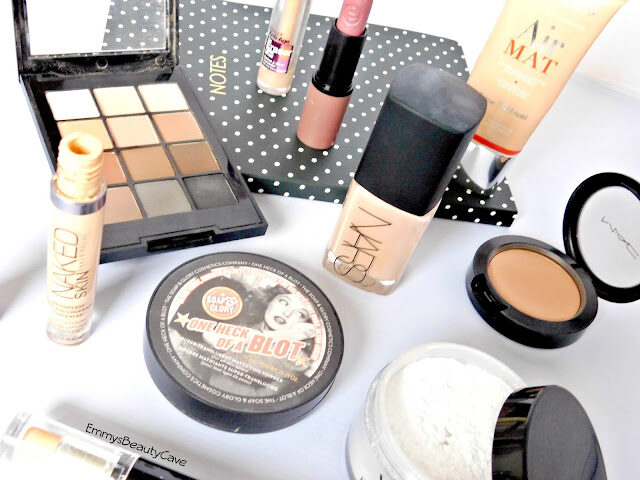 As i have oily skin i always have to powder all over my face but im really fussy with powders. The Soap & Glory One Heck of a Blot Powder is just perfection. I have been using this all year as its just that good. It keeps me matte, i apply it again during the day and love that it doesn't go cakey or make me look like im wearing powder. Another one loved by bloggers is the Vichy Dermablend Finish/Setting Powder. I got sent this a while ago and have re purchased it since. I mainly now use this to bake when im contouring or just to set my under eyes as it really brightens them. 
Moving on to the all important part of my makeup routine… Contouring! I am an NW20 in MAC so i am a little pale which makes finding the perfect contour shades a right pain in the bum, but i can finally say i have done it. The Freedom Pro Contour Shaped Stick Duo comes with the contour & highlight shades. I have this in the shade fair and the contour shade works amazingly well. It blends like a dream especially if i use my mini duo fibre brush. I then go over it with the MAC Matte Blush in Harmony. Again it is perfect for us pale skinned girls. I do sometimes use this on its own to contour. 
Down to my last two products! A few months ago i ordered this Sonia Kashuk Eye Palette from Ebay for approximately £15 including postage. I have used this pretty much everyday since! The shades are just stunning. You can see swatches on my full review i did here. Lastly is Essence Lipsticks! I picked a couple of these up a while ago and instantly fell in love with how creamy they are. The shades are gorgeous. Click here to see my full Essence Lipstick Collection and Swatches.
That's it, that is all of my favourite products for 2015. What has been your favourite product?
Bloglovin | Instagram | YouTube | Twitter