Broken links are something I didn't even think about until recently. When you first start blogging, you don't even think about SEO, or most of us don't even know what it is. You certainly pick things up along the way. Search Engine Optimisation, aka SEO, is something you should be doing for your blog. If you want to know more about what SEO is and some easy tips on improving yours, you can read my 6 Easy SEO Tips post. This is my second post in my Blog Tips series, and it is all about How To Fix Broken Links on Your Blog/Website. Broken Links is just a small part that can help improve your SEO.
Without realising it, our blogs/websites will regularly get broken links. It isn't something we can prevent, but we can fix it. Every time we put a link into our blog and our blog posts, it has the potential of eventually getting broken. The most common reasons for broken links are that the website you linked to has moved that product elsewhere or the website is no longer there. Also, when people comment on your blog and leave a comment with a link, e.g. their blog link, this can potentially become a broken link.
I blogged for over 18 months and hadn't checked my broken links once! I didn't even think of it or even know it existed, if I'm honest. I used Broken Link Check to find my blog broken links. It is free, and all you have to do is put in your blog URL and click search. The search can take a little while as it has to scan through your whole blog, and it will depend on how many posts and links you have. Note Broken Link Check can only search 3000 web pages in one go as it is free. So once you have done it, please do it again to ensure you have got all the broken links. If you are scanning broken links for the first time and have been blogging a while note, you may end up with many broken links.
As I said, I had been blogging around 18 months the first time I did the scan, and I ended up with about 100-120 broken links. This took me hours to go through. I now scan for broken links every 3-4 weeks and usually get between 10-20 at most.
Once Broken Link Check has finished searching, it will look like this…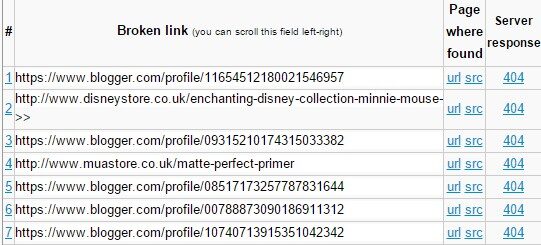 These are just a couple of the broken links I had recently. You will end up with so many different types of connections but don't worry, as it is pretty easy to fix once you get the hang of it.
You will get a list like the one above, and it will have websites, blogs and more. You need to pay attention to the URL and SRC on the right-hand side. If you click on the URL, it will take you to the page on your blog where the broken link is located. If the link shows up as a website, e.g. Disney Store, Boots etc… these are pretty easy as you can amend the link to the correct website. To remove this link, go into blogger or WordPress and edit the post or remove the link. If the product in question has just been moved on the site, change the link to the correct one.
Some of the broken links will show up as www.EmmysBeautyCave.com as an example. So it will be the website of a blogger. This means a comment left by that blogger with the blog link. If you click the URL on Broken Link Check (on the right-hand side column on the above picture), it will take you to the post where the comment has been left. You can then scroll through your words until you come across the blog link. If on Broken Link Check it doesn't show the full blog name, you can also click on SRC. This will bring up the HTML coding (as below), and you can locate the blogger link and the comment left, so it is easy to identify in the comments section.
(Once in the src HTML, it will usually have your blog title within the first 2-3 lines of coding in bright red)
I found over half of my broken links were comments left by bloggers. I had one person who came up over 30 times in different posts. It seemed she had deleted her blog, so it no longer existed, which caused all of the broken links on my blog from where the comment was left.
Once in the HTML as below, press CTRL & F at the same time, then type in the blog URL that shows up on Broken Link Checker, and it will highlight the comment from that blogger, so you know what to look out for.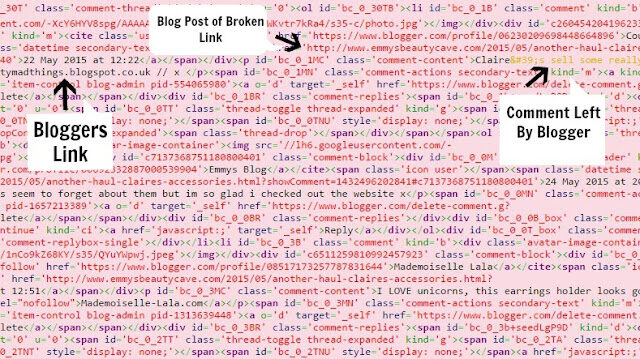 If you have the original google comments on blogger, click delete on the comment and make sure you tick the Delete Forever box! On Disqus, you simply click delete. You can also log directly into Disqus and search the blogger's name, and it will show up every comment left by the blogger, and you can delete them via Disqus. 
If you used to use the blogger comments and then switched to Disqus, you wouldn't find the comment left on Disqus if the comment was left before you switched over. To fix this, you will need to go into the Blogger Dashboard and on the sidebar, go to Comments. Check the src part on Broken Link Checker and do the CTRL + F with the blog link to find the date of when the comment was left. Then you will need to find the comment in the blogger dashboard by going to the date. Underneath each comment in the blogger dashboard comments section, you can click delete.
To give you an idea, I took a screenshot of one-off mine. You can see where it says which blog post the comment was on; then, just after that, in yellow, it shows the comment the blogger had left. Then after the comment it shows you the link that is broken, and in this case, it was the link to the blogger's site. It can be for many reasons, so don't worry if you show up on someone else's as a broken link.
I had the odd broken link I couldn't find for hours, don't worry if your blog still has a couple of broken links. As long as you get rid of the bulk of them, you are good to go. I will now be checking my broken links once a month to keep on top of them. It does seem daunting at first, but you will get the hang of it quickly, and it is an excellent way to help improve your blog SEO. If you are not too sure about SEO and all that jazz, check out my All About SEO + 6 Easy Tips To Improve Yours.