Search Engine Optimisation, also known as SEO, can be a little daunting. I have been blogging for just over 18 months now, and I have to admit I am still learning. It wasn't until the middle of last year I started to improve my blog SEO. I am no expert, nor do I think I know everything about this topic. Still, I know the basics, and since doing certain things, I have improved my blog SEO, so I thought I would put together a post of the things I do, which you may or may not know, and you can get something out of this. Firstly, SEO is Search Engine Optimisation for those who don't know or are not clear. It means where you are ranked in the search engine. The higher your blogs SEO, the higher up in the list you are and the more chance of people seeing your blog.
Content/Posting
Your content is more important than you think. For example, if you post once a month or once every few weeks compared to someone who posts four times a week or every day, you will rank lower. Keeping your content/posts fresh and frequent is very important. If you post often, it will show the relevant search engine.
Psst… Make sure you fill in the Search Description on the right-hand side of every post. Fill this with your position if it is a review, then put thought etc… The image below is on Blogger, WordPress is slightly different, but it still has a search description.
It is easy to get if the Search Description doesn't show up on your blog!
Go to>Settings>Search Preferences>Description>Enable Search Description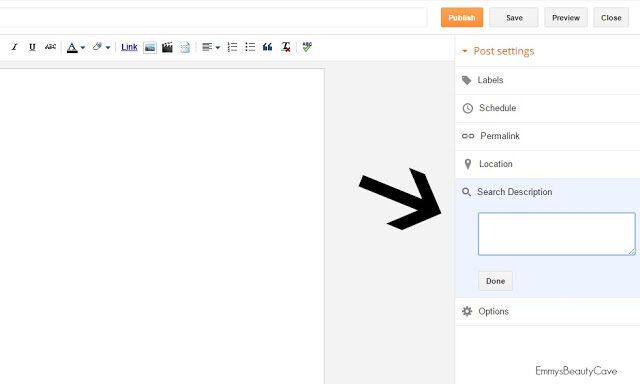 Links
Most of us do this already but include links in your posts. Not only links to products you are talking about but also links to some of your previous posts. Don't just link any random post, but link one that relates to the post you are currently writing. It will make readers stay on your blog longer whilst reading more of your posts. This will improve your SEO by showing you have consistent, relevant content.
Name Your Images
I didn't start doing this until six months after I started blogging. I didn't realise it would make a difference. Once you upload your images onto your computer/laptop, your phone or camera will have already named the image, but once you have edited the image, you should rename it to the product it is or what it is. For example, if it's a Bourjois Foundation review, name it the name of the Bourjois Foundation. This helps the search engine to recognise what your image is. I didn't start doing this until six months in. I went back through every post to rename all of my photos.
You should also name your images once they are uploaded to your blog. On Blogger, right-click your photo, click properties, and the box below will come up.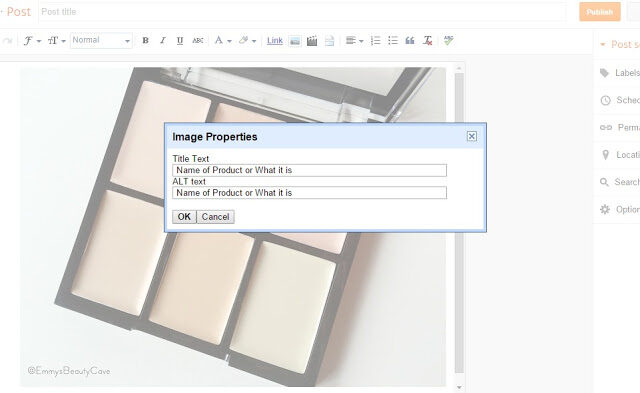 Keywords
Many of us will do keywords in a post without realising it. When talking about a certain kind of product, be sure to use words that relate to it. If I am reviewing a foundation, put "Full Coverage" or "Medium Coverage" in your post, as these are words people will search for. Also Foundation for Oily Skin etc… Use words or phrases people are most likely to search for.
Broken Links
Another way to improve your blog SEO is to remove broken links from your site. I didn't do this until about a month ago, so I had a lot of broken links as I had over 18 months worth. Broken Links will appear if a website you linked no longer exists or the product you linked has moved. Next Wednesday, I have a post scheduled explaining how to remove Broken Links from your site and what you need to look out for.
Domain
If you have read my blog since the beginning, you would have noticed my name change in May last year. My blog used to be called www.EmmysukBlog.blogspot.com, but then I decided to get my Domain and change my name whilst I was at it. I chose www.EmmysBeautyCave.com as I thought it sounded perfect as it's like my little cave of beauty. Having your Domain improves your SEO. It also looks good to brands as it shows them you are serious about your blog and looks more professional. Getting your Domain is pretty straightforward and doesn't cost a lot. I paid approximately £8 for one year, renewing it each time.
I hope you have found at least some of this helpful. Don't forget, next Wednesday afternoon. I will be doing a whole post on how to fix/find broken links on your blog.