One of my favorite things about being a blogger is socializing with new people. Talking to people you might never have until you started blogging. I have honestly made some amazing friends through blogging. Twitter has a huge part in the blogging world as its the best place to chat. Blogger Chats are always going on, on Twitter and its the best way to meet and talk to new people. You find some amazing new blogs to follow aswell.
So why am i doing this post? Well if you are anything like me your memory is useless! I always want to join in chats but often forget which days they are or what times they are at. I have created a list below which includes The Day, Time, Hashtag, Topic and Twitter Name. This way i can always check to see what time the chats are on and join in with which ever ones i want to.
Hopefully you might find some new chats you didn't know about or it might just be a way like me to keep up with them all!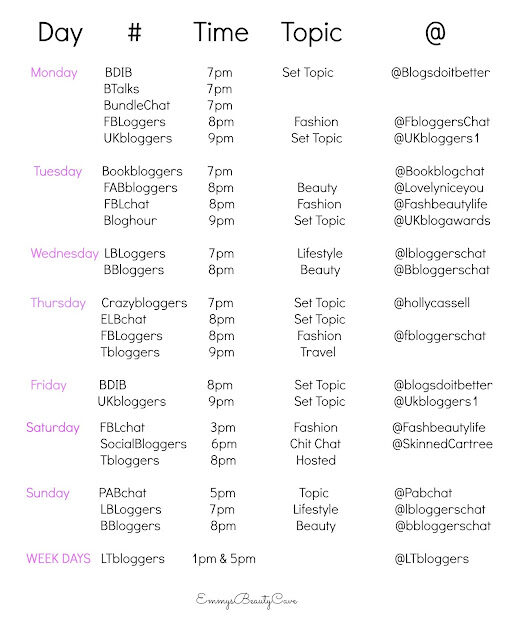 I hope this has some use to you and i will see you all in some future chats. You can follow me on twitter by searching for @EmmysBeautyCave or click the Twitter links in my sidebar.
Chat Times: United Kingdom Timezone
Tag Brands
When you review a product or you have mentioned products in your blog posts make sure to tag the brands in the tweets. It is a great
way to get you and your blog
noticed. Just from tagging brands I have built up PR relationships and worked with the brands a few times.
Be Social
The main thing is to promote your blog but you don't want your whole Twitter to be full of blog links etc… It is good to socialize with other bloggers. Tweet something that will start a conversation or reply to other peoples tweets. The more you chat the more people will see you and you will make friends too!
If I find someone's Twitter is full of blog links and no normal day to day life tweets I will unfollow. I do enjoy to see what people are doing and just the general funny tweets.
Promote At The Right Time
If you use Google Analytics you can see how many of your views you are getting from Twitter. As I mentioned I get at least half of my views from Twitter. To get the best views post at the right times. I usually find early morning between 7-10am is best and then 5-9pm is good for the evening.
One thing alot of people forget is you don't always just having followers from your own country. Remember people follow you from all over the world so when we are asleep there will be someone awake on Twitter. I usually schedule 1 or 2 blog posts or instagram links between the hours of 12am-5am so any international followers will see them.