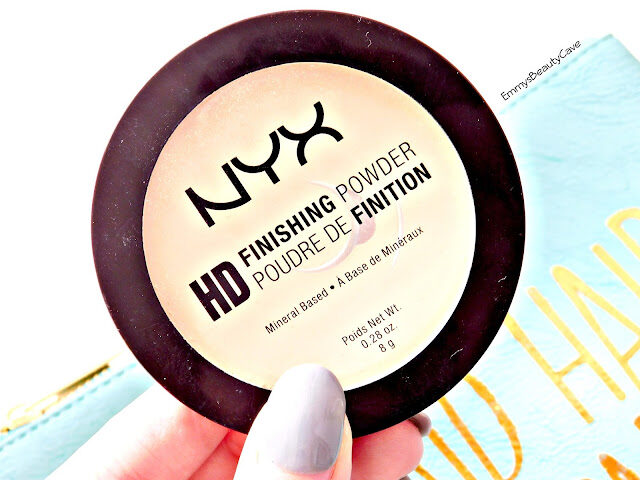 The perfect under eye powder on a budget? I do like to use a seperate powder under my eyes to help brighten up that area as i do suffer with dark under eye circles. The NYX HD Finishing Powder in the shade Banana is just the product for you if you want a brighter, flawless finish under your eyes. I recently tried a sample of the Ben Nye Banana Powder and it just doesn't work on pale skin at all. I found the yellow showed up on my skin so much and it didn't brighten my eyes at all it actually made them look dull. The NYX Banana Powder is more of a pale yellow rather than yellow yellow. It is lighter than the Anastasia Beverly Hills Banana Powder too. 
This powder is honestly incredible. I apply this with my Real Techniques Setting Brush and it creates such a flawless finish. It doesn't leave a yellow cast which is perfect but it still definitely brightens. If you have dark under eye circles this will also work well as the yellow tone will help to disguise them. I am currently loving using the Becca Under Eye Brightening Corrector with the NYX HD Concealer and this powder. It leaves my under eyes looking fresh and bright. One thing i noticed is once i apply this powder my skin feels silky smooth. It doesn't go cakey and stays flawless all day long. 
I would definitely recommend this on pale skin but also darker skin tones too. I find the Ben Nye and the ABH ones are much better suited for medium to dark skin tones. I am so happy i came across this powder and i will be repurchasing it again soon. This powder also comes in Translucent and Mint Green, i want to try the Translucent one next to see how it works all over my face. I got mine from the Boots website.
Have You Tried This Powder?
Posts You Might Like:
Becca Under Eye Brightening Corrector | Inc Before & After Pictures | Link 
My Ultimate Face Powder | Link
NYX Lingerie Lipsticks | Link

Bloglovin | Instagram | YouTube | Twitter