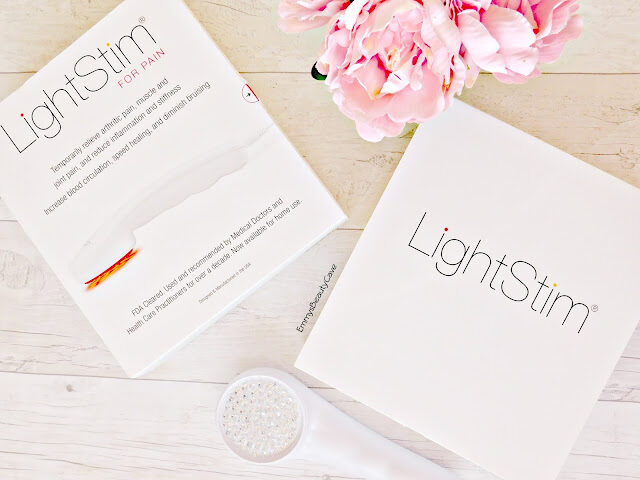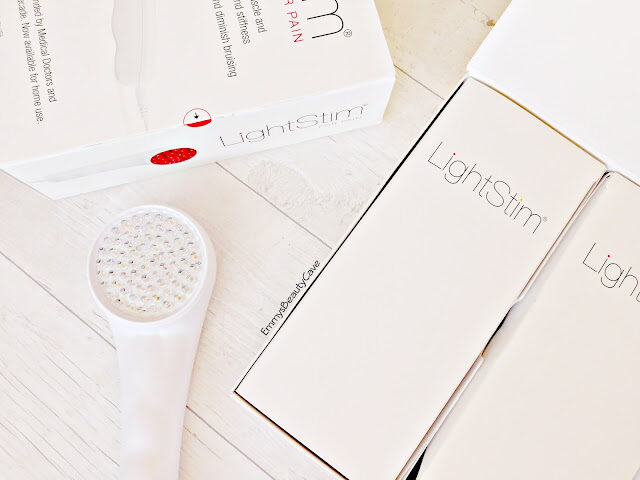 Aches and Pains are something I have dealt with for a long time now. If you are long term readers of EmmysBeautyCave you will know I had major reconstruction surgery on my leg last August. I am still not fully mobile and still in alot of pain everyday. Not only is the pain with my leg but I also suffer with alot of back and hip pain. I was contacted by the lovely Harlen who actually contacted me regarding a beauty review but then she also offered me to try the LightStim For Pain after she had been reading my blog and came across my post regarding my surgery. It was nice to see a PR who actually reads my blog and took the time and effort to get to know me. 
LightStim For Pain isn't something I had heard of before so I was keen to see what it was all about. LightStim For Pain is used to reduce Arthritic Pain, Muscle and Joint Pain, Reduce Inflammation and Stiffness. I suffer with all of these so it sounded like the perfect product. The packaging I love! It comes in this sleek white box which has a slide out box with two compartments one includes the LightStim Product and the second includes the plug and a bag which you can keep it in. In the original box it has a flip over lid which opens up to two full pages of how the LightStim For Pain works. 
So how does it work? All you have to do is plug it into the main switch and then turn it on… as simple as that! It beeps when you turn it on and then the lights turn red. You can use it for 5-30 minutes at a time. I have used this on my Knee, Back and Hips for a range of time depending how bad the pain was. You don't feel any heat and there is no discomfort. You simply place the LightStim For Pain on your skin and slowly move it round in circular motions. One thing i noticed is that it helped reduce bruising quickly (not in my knee) when i fell and bruised my arm and it slightly swelled. The LightStim helps increase blood circulation to heel area's quicker.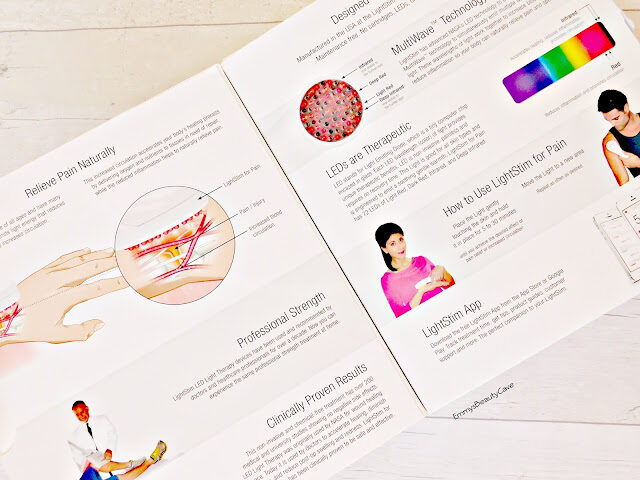 When i first started using this I was a little skeptical if it would do anything for me. Now after 3 months of testing it out I can 100% honestly say it works. Of course it hasn't completely heeled my knee as I had reconstruction surgery but it has helped reduce swelling, reduce the amount of pain im in and also helped with my back. I have noticed a huge difference in my back pain. My mum has also tried using this as a long time ago she fell and her ankle has always been sore on and off. When it was sore she used this for 20-30 minutes and it reduced the pain massively. 
For people who suffer with joint pain, muscle pain, swelling and bruising etc this is such a handy item to have. It is on the pricey side at £249 but it is something that helps massively. If you are a long term pain sufferer this would help you alot. LightStim also sell the LightStim For Acne £116 ($169) and LightStim For Wrinkles £249. The lights are different colours as they work different ways. 
The LightStim For Acne is available in the US but not in the UK as of yet, both the LightStim For Pain and Wrinkles are available in the UK from Current Body.
I honestly cannot thank Harlen enough for sending me this product as it has made my recovery process that little bit easier. 
Bloglovin | Instagram | YouTube | Twitter