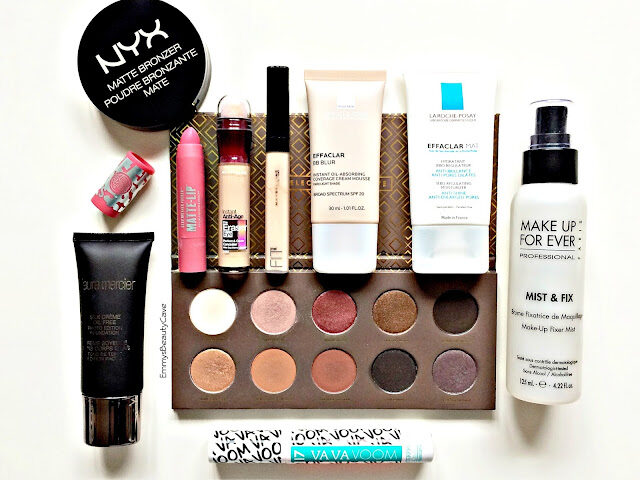 Who doesn't love a good old haul post?! I haven't done a haul post in a long time even though I am constantly buying new products. Lately I have bought quite alot of products over the last month or so. I am now going to try and not buy hardly any products over the next month to make sure I definitely make the most out of my new products. In the last 4 weeks I have purchased five new foundations! Yikes i know that is alot to already add to my thirty plus collection. I will be updating you all soon.
So… What did I buy?
NYX Matte Bronzer | £7.00 | Link
If you saw my Top 3 Bronzer's For Pale Skin post you will know I struggle to find a bronzer that doesn't look orange or too dark on me. I saw this NYX one on the Boots website, googled swatches and thought it looked perfect. I have only used it once but the shade I am loving so far! 
Soap and Glory 3D Matte Lip | £3.50 | Link
I have had this product a few weeks now and I love it! I have two of the glossy versions so I was happy when they released these matte shades. I got the shade Pretty Muted which you can see a swatch of in my Current Favourite Lip Products Post
Maybelline Age Rewind Concealer | £7.99 | Link
This isn't a new product for me but it is a holy grail, fuller coverage for under the eyes without being heavy or cakey. I did do a Concealer Low Down Post which includes ALOT of concealers!
Maybelline Fit Me Concealer | £5.99 | Link
I used this many years ago and couldn't remember if I liked it or not so I decided to pick it up. I love it! It is super creamy and provides amazing coverage.
La Roche-Posay BB Blur | £16.50 | Link
Everyone has recently raved about this and I gave in and got it. I have only used this twice so far and im quite impressed. The coverage is better than I expected. I will be doing a full review soon.
Escentual Currently Have This on Offer For £11 Until The End of April 2016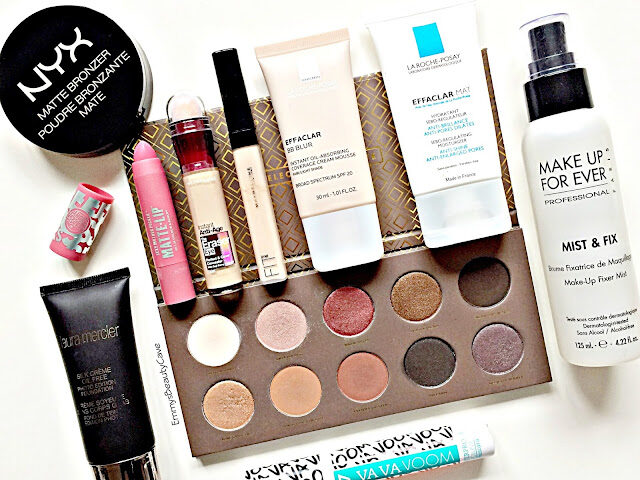 La Roche-Posay Effaclar Mat Moisturiser | £14.50 | Link
I saw this in Boots and had to try it out. When I apply this it feels quite cool on the skin which I like. I also got the La Roche-Posay Serozinc Toning Spray which I forgot to include in this post, but it is amazing!!
Escentual Currently Have This on Offer For £9.66 Until End of April 2016
Make Up Forever Mist & Fix Setting Spray 125ml | £19.00 | Link
I have wanted to try this spray for so long. At the moment I am not too sure on it so I am going to keep testing it. I will be doing a Setting Spray comparison post soon.
Zoeva Cocoa Blend Eye Shadow Palette | £18.00 | Link
Ah probably the most hyped about palette in the blog world. I actually got this with a £50 Beauty Bay voucher I won. The one bug bear is that Zoeva has put prices up on everything so this palette was £18 instead of £15! The shades are stunning.
Seventeen Va Va Voom Mascara | £6.29 | Link
This is a product i have used before. I used this a couple of years ago and loved it but i think they formula has been changed as it just isn't the same as it used to be. I am quite disappointed as i usually love Seventeen's products, i just wish the formula hadn't been changed.
Laura Mercier Silk Creme Oil Free Foundation | £35.00 | Link
One of my most wanted foundations is finally mine! It is no secret I am a foundation junkie and needed this in my life. I had read mixed reviews of it for oily skin even though it is oil free. I have used this twice and I am really liking it. I will be testing it out more, especially for longevity so I will review fully soon.
What Are Your Latest Beauty Buys?
Bloglovin | Instagram | YouTube | Twitter