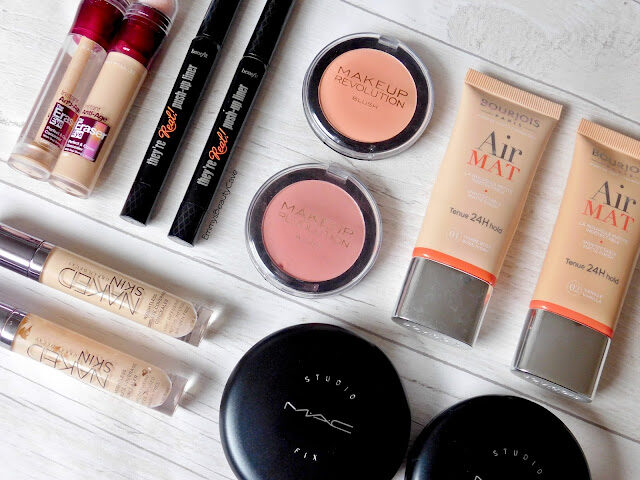 Last week i was going through my makeup and having a clear out. I then thought why not do a post on products i will never stop buying. Touch wood they don't discontinue any of these! We all have those products we couldn't live without. Even when i own alot of makeup i will always keep buying certain products so i always have one there. 
Maybelline Eraser Eye Concealer | £7.99
I first tried this concealer well over a year ago and hated it but i decided to try it again about 6 months ago and i fell in love. Some people say they don't like the sponge applicator but i think its perfect. It makes it perfect for your under eyes. It is a full coverage concealer yet it is really creamy. It doesn't go cakey, it doesn't sink into fine lines and it still looks natural. It is also perfect for when you have breakouts. The only negative i can say is the colour range. I get the lightest shade and it is still too dark for me but when i have foundation on it blends really well. 
Benefit They're Real Push Up Liner | £18.50
This is definitely a hit or miss product. For me it is definitely one of my favourite products EVER! I was that girl who tried to do winged eyeliner and it looked horrendous no matter how much practice i had. Then Benefit released this little gem. It is a push up gel like liner which has a foam pen tip. The first few uses it was a little tricky but once i got the hang of how to use it i can now do the perfect wing. The liner dries quickly and doesn't budge all day. Makeup wipes struggle to remove this it is that long lasting! 
Makeup Revolution Blush | £1.00
A blush for £1.00 cannot be that good right? Well it can and Makeup Revolution have done it. I have around 4 of these now and every shade is lovely. The shade range has something to suit everyone, the pigmentation is amazing and they are very long lasting. I was surprised at how well these blend. Definitely my favourite blushers by far.
Bourjois Air Mat Foundation | £9.99
If you already read my blog you will have seen my full review of this foundation if not click here. If you have oily skin and want full coverage this is perfect. I even prefer this over some of my high end foundations. 
Urban Decay Naked Skin Concealer | £17.50
I cannot rave about this concealer more than i already do. I use this for highlighting rather than concealing. It is so creamy and blends well. I find it isn't enough coverage for my dark circles but as i said for highlighting its amazing. You can see my full review with swatches here.
MAC Studio Fix Powder Plus Foundation | £22.00
If i could only own one product it would be this. I am someone who loves full coverage but this powder works in many ways. I use this over the top of my foundation and it really creates such a flawless finish. I also sometimes use this on its own instead of foundation, it makes my skin look flawless whilst still looking like my skin. It also works well with my oily skin but i could see this working well with dry skin too. 
What is the one product you couldn't live without?