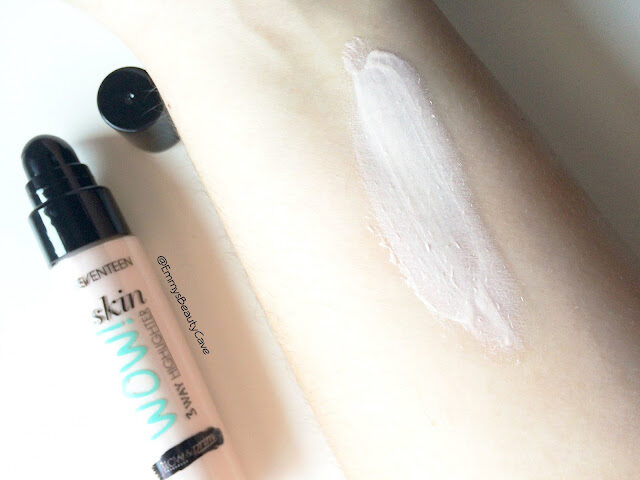 The Seventeen Skin Wow Primer / Highlighter is a product that needs alot more praise than it gets. I haven't seen it in the blogging world that much. Even though we are coming into Autumn i still want to have that little glow. This product is just perfect. 
The packaging is very sleek in a long tube with a pump. The pump makes it easy to determine how much product you want to use. The main reason i love this product is that it can be used 3 ways! 
1. Primer | You can use this product as a primer or wear it alone. As you can see from my rubbed in swatch, this creates the most gorgeous base. It is glowy and so pretty!
2. Mix With Foundation | Add the smallest amount to your foundation and then apply as normal. It gives your foundation the subtle dewy/glowy look without being shiny.
3. Highlight | Dab a small amount onto your cheekbones to create the perfect highlight. 
I have oily skin so i was worried how this would work if i mixed it in with my foundation. I can honestly say it works incredibly well! It doesn't make me oily or make me look like a disco ball! My skin has that subtle glow just like i wanted. Personally i love to use this mixed in with my foundation or as a highlight on my cheekbones as i love to use mattifying primers under my foundation. Whether you have dry or oily skin this will work for you.
At £5.99 this multi-purpose product is a must have! The Seventeen Skin Wow Primer can be purchased from Boots online or in store. I have also reviewed the Seventeen Contour Kit which you can read HERE and the Seventeen "Bullet Proof" Wet Look Liquid Liner which you can read HERE