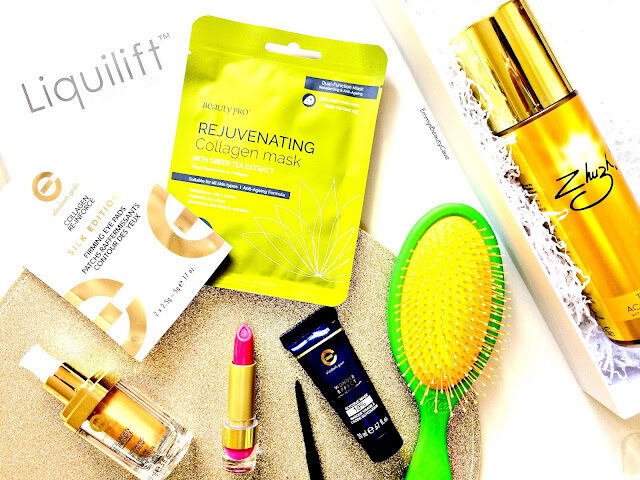 If you love beauty anything from makeup to skincare you need to read this and see what goodies are in store! I love trying out new products and brands I haven't heard of or had chance to try before so when this Bloggers Box arrived on my doorstep I was beyond excited to delve in and see what products were inside. The box itself is from Ideal World which is a Multi-Channel Shopping Experience which is available via the Ideal World Channel or you can buy online which ever is easiest for you. 
The Bloggers Box includes some amazing products which you can buy directly from the Ideal World Website. They have a wide range of products from makeup, skincare, tanning, homeware and more. 
Elizabeth Grant Collagen Re-Inforce Eye Serum | £19.99 (For Two) | Link
When I saw this product I was intrigued. I have been using myself but my mum has also been using it. When you pump it out it is a dark golden bronze shade which did make me worry how it would look on my pale skin but once applied under the eyes and rubbed in it only leaves an ever so slight tint. It does an amazing job at brightening and smoothing out under my eyes and making them look less puffy. Makeup applies beautifully on top of this too. 
Elizabeth Grant Wonder Effect Glycolic Mask 
This mask I was extremely excited to try as I do love a good face mask especially a clay one. The mask is described to exfoliate,moisturise and revitalise the skin whilst drawing out deep impurities, tightens pores and reduce lines. For a mask that claims to help my pores in anyway is a must. This mask is not like any clay mask I have used, it is white and feels really thick like sun cream. Once rinsed off my face my skin felt extremely soft and more pores actually looked better than normal.
Beauty Pro Rejuvenating Collagen Mask | £12.99 (For Five) | Link
Sheet Masks have become the new thing everyone loves. This mask has green tea extract and helps to rebalance oily t-zones whilst hydrating dry area's and helped diminish fine lines and wrinkles, It says it is suitable for all skin types. This mask feels very lightweight on the skin.
Zhuzh The Tan Accelerator | £15.99 | Link
I have never been intrigued by a product as much as this. Zhuzh is designed to be used before and after tanning. It is described to help speed up the tanning process, if you are someone like me who takes a long time to tan naturally in the sun this is the product you need. You spray it onto your skin and rub in. There is no stickyness and it has a lovely scent. Zhuzh do advise this product may work differently on each person depending on your skin and how it tans etc…
Wet Brush-Pro Detangle Professional | £9.99 | Link
My hair is beyond thick, if I go to the hairdressers it takes to of them to dry it and even then they still complain at how long it takes. When a product offers to detangle my hair with ease I am all for trying it out. This Wet Brush is perfect for anyone with thick or knotty hair. I find after washing my hair and even with conditioner it is a pain to brush but not anymore. I adore this brush! I actually prefer it over my tangle teezer!
Skin Dimitri James Plasma Fusion Full Pigment Lipstick | $20 | Link
When I opened this lipstick it was different to anything I have seen before. The center of the lipstick is infused with Argon Oil and Rosehip Oil whilst the outer section of the lipstick is full of rich pigment colour. I love the idea of having this two in one lipstick as it hydrates your lips whilst applying lipstick. The shade is very pigmented too. 
Liquilift Slender Wrap | £19.99-£34.99 | Link
I have heard so much about these kinds of products but never actually used one myself. The wrap is designed to target weight loss, improve appearance of uneven skin. You can use the wrap on your stomach, arms, thighs and chin. I am yet to try this as I have recently had surgery and can't use it yet. But I will definitely be trying it out soon. 
Skin Dimitri James Luxe Waterproof Eyeliner | $12.00 | Link
Over the past few months I have started wearing eyeliner more often. This is a crayon type liner that feels unbelievably creamy and applies beautifully. It also blends well if you use a smudge brush. I have worn this all day and the colour didn't fade at all!
Elizabeth Grant Collagen Re-Inforce Silk Edition Firming Pads | £14.99 (Six Pairs) | Link
As soon as my mum saw these she wanted to try them. They are small pads that you apply under each eye and leave on for fifteen minutes. They help reduce under eye dark circles, reduce puffiness and reduce the look of fine lines and wrinkles. My mum applied these and they feel and look like a sheet mask but two small pads for your eyes. They were very moist and watery but when applied the water doesn't drip down your face and they stay in place. Once she removed them you could instantly see a difference. She doesn't really have wrinkles anywhere apart from under her eyes so these definitely made her feel less conscious.
There are so many amazing products in this box. Definitely go check out the Ideal Website and see what other amazing brands and products they have to offer.