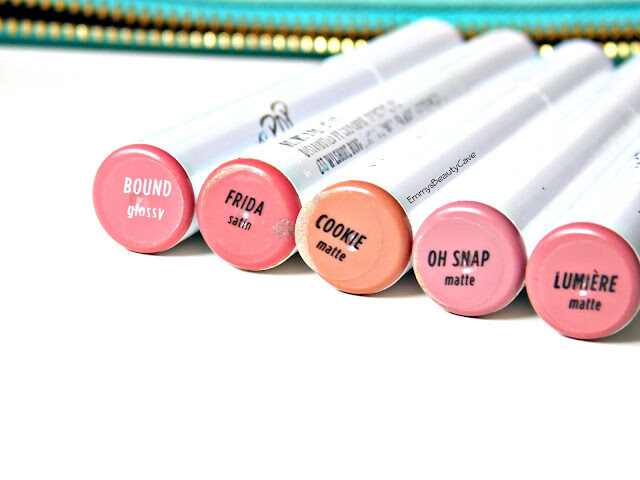 I got my first ColourPop Lippie Stix last year and I instantly fell in love. They are some of my favourite lip products ever. Recently ColourPop announced they now ship internationally but I still won't be ordering through them. I am still using Shipito to ship the products as ColourPop's shipping is approximately $25. The cheapest I found was $15 but I only had two items in my basket! The $25 dollars shipping does not include custom charges either so 80% of you will end up getting custom charges once the package is in the UK. When I use Shipito I pay approximately $12-$15 dollars shipping and that includes delivery and damage insurance and I never get customs. So it is still far cheaper to go through a 3rd party shipping company than ColourPop direct. I did a full step by step guide on how to use Shipito HERE. 
The ColourPop Lippie Stix are amazing. They com in sleek packaging with a twist up top to get the product out. The shape of them is perfect to apply on the lips to get an accurate application. The formula is my favourite thing, they come in eight different finishes and I own three of those finishes. One thing I love is even the matte one's still feel really moisturising on the lips, they are not drying at all. 
Bound | Glossy Finish | Described as a light nude pink, I find this comes up a little more pink rather than nude. This is the newest one to my collection and fast become my favourite.
Frida | Satin Finish | Described as a mid tone nude pink but I find this to have a hint of coral in it which is perfect for Summer. 
Cookie | Matte | Described as a true nude beige. I wear this shade non stop it is the perfect nude. I am including this shade in my ColourPop Giveaway in August along with some of my other ColourPop favourites. 
Oh Snap | Matte | Described as a pale dirty nude pink and that is exactly what it is. For some reason in the swatches it isn't showing the pink in it. When I apply this in natural light it shows up with a hint of pink/light mauve.
Lumiere | Matte | Described as a dusty mauve pink. On me this shade shows up as a dark mauve but I am quite pale. 
Look how stunning they all are! I definitely will be ordering more. I am expecting deliveries with some of the new ColourPop Ultra Glossy Lip Glosses and the new four light Metallic Liquid Lipstick Shades. Keep your eyes peeled for more reviews and swatches and my Giveaway which will be up during August once everything arrives.