Its Monday, its raining and its cold so whats better than receiving new goodies in the post? I started Christmas shopping last week online and some came today, its mad to think im Christmas shopping as Christmas seems so far away but its really not. Have you started your Christmas shopping yet?
Elf Cosmetics is one of my favourite online brands. Its cheap yet the quality is amazing. Iv been buying from them for quite some time now. One of my favourite products is the brow kit, it comes with a gel and powder but works wonders. Here is a just a little post about some products iv recently received and ones iv never tried before. So what did i buy? I got two lip liners, a contouring Blush & Bronzing Powder from their new in products and also another Blush & Bronzing Powder in "St Lucia" which iv been trying to get for months and it was always sold out and finally it was back in stock so i had to grab it.
St Lucia (on the left) & Fiji (on the right) both £3.95
St Lucia
How stunning are these shades? St Lucia iv wanted for months and months and finally got it and it was so worth the wait. How stunning is the bronzer in this? I love how it has the slight goldish effect, it reminds me of Mac's Mineralize Skinfinish. The Blush is such a subtle pink that looks perfect with the bronzer. 
Fiji
Fiji is perfect for autumn. I love that these are matte as i dont always like to wear the shimmer shades. The blush is so pretty and like a rose colour. You only need a small amount as it does go a long way. I would honestly say these are better than some high end brands iv tried.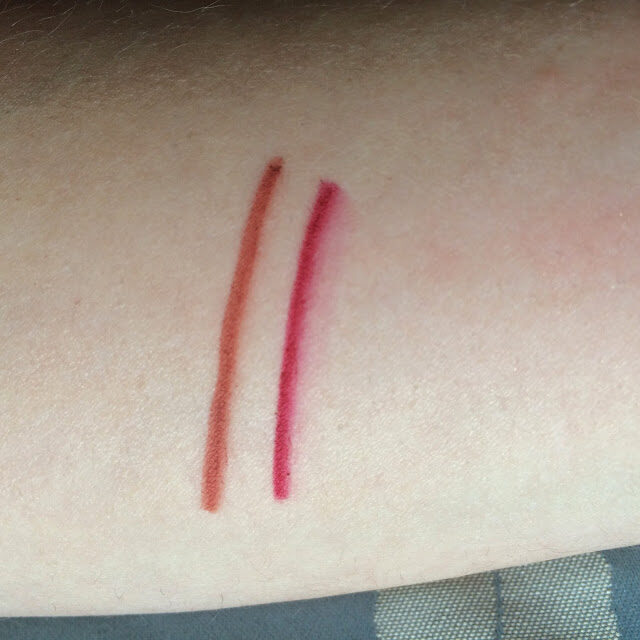 Lip Liner in "Bark" (on the left) | £1.95
These are one of the softest lip liners iv ever had. I couldnt believe how easily they went on and how soft they were on my lips. I wanted a liner to go with my dark nude lipsticks and glosses and this is perfect.  
Lip Liner in "Bitter" (on the right) | £1.95
Iv recently bought one of the Rimmel Apocalips in "Eclipse" which is a dark berry tone and when i applied it i thought it would look better with a liner and this was perfect. It also works well with my Bourjois Lipstick. Its the perfect berry colour.