Don't get me wrong I love drugstore products but I also love High End products too. I have found I prefer High End Beauty for certain types of products like  bronzers as they seem to come up less orange on my pale skin. High End Beauty isn't always in everyone's price point but I wanted to share my favourites and the ones I think are worth the splurge. 
Base Products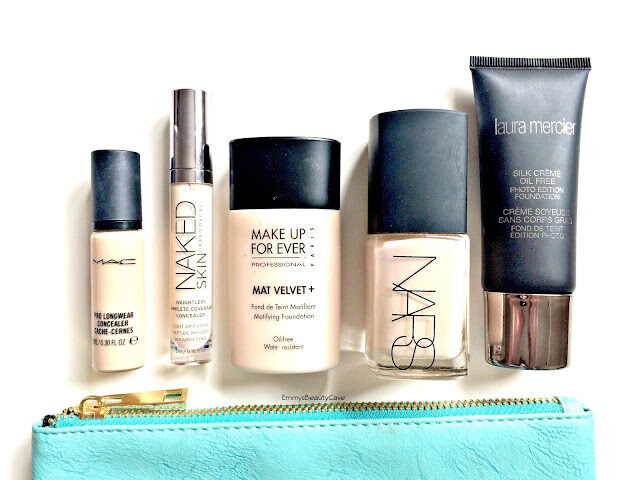 MAC Pro Longwear Concealer | £17.50 | Link
I have been using this concealer for three years now! It has become a holy grail of mine that I use all the time. Even though it costs £17.50 I find this will last me around three months, so after buying a drugstore concealer for three months the cost is around the same. It is a full coverage concealer which looks flawless under the eyes. I buy a lighter shade so I can highlight with it. 
Urban Decay Naked Skin Concealer | £17.50 | Link
I was using this long before it became a hyped about product in the blogging world. I have always loved this concealer. The wand is perfect as it has a flat edge on each side. It is one of the most creamiest concealers that blends beautifully. It makes the perfect highlight. I would say this is more medium coverage. 
Make Up Forever Mat Velvet + Foundation | £29.00 | Link
I can't believe this foundation isn't more hyped about. If you want a lightweight medium coverage with a matte finish this is for you. You can still slightly see my freckles when I wear this and it leaves my skin looking flawless. 
Nars Sheer Glow Foundation | £31.00 | Link
I always thought this was just one of those hyped about products that I wouldn't like but boy was I wrong. I have oily skin and thought the "glow" wouldn't work for me. It again provides medium coverage whilst looking natural. It doesn't have a glow where it looks shiny but it just enhances your natural skin. I am amazed that this lasts all day with no shine! My go to Summer foundation.
Laura Mercier Silk Creme Oil Free Foundation | £35.00 | Link
This is a recent buy and I am in love. My skin has never ever looked as flawless as it does when I wear this. The colour match is perfect, It provides medium to full coverage. It feels very lightweight unlike most heavier coverage foundations. I find when I use either the L'Oreal Infallible Primer or the Kiss Light Reflecting Primer this foundation will last 8-10 hours really well. I mainly use this when I am going somewhere. 
The Powders
Urban Decay Afterglow 8 Hour Highlighter | £19.00 | Link
This highlight is insane! I picked up Aura and Sin both of which I adore. They create such a gorgeous highlight perfect for Summer. If you want to see swatches of Aura and Sin check out my full review HERE
Vichy Dermablend Loose Setting Powder | £17.00 | Link
Another holy grail for me. This is a white powder which is perfect for setting makeup or to do the baking method. It really helps brighten under the eyes and also helps my makeup last longer. 
MAC Studio Fix Powder Plus Foundation | £22.00 | Link
This was the first High End Beauty Products I fell in love with. This can be used on top of foundation as a powder or used on it's own. It creates the most flawless finish, it makes my skin look insane! It adds coverage whilst looking flawless. It doesn't look cakey or have that powdery look.
Too Faced Chocolate Soleil Bronzer | £25.00 | Link
I have been using this since January and can't wait to buy another. I have the Milk Chocolate shade which is perfect on pale skin. It isn't orange toned at all and looks lovely on. 
Eyes & Cheeks
Too Faced Chocolate Bar Palette | £39.00 | Link
One of the prettiest palette's I own. It actually smells like chocolate and four months on it still smells like chocolate every time I open it. The shades are gorgeous and very pigmented. I find two shades out of the palette lack pigment but the rest are worth it. I have swatched my four favourite shades from the palette below. 
Becca Under Eye Brightening Corrector | £22.00 | Link
I can not live without this little gem. If you suffer with dark under eyes you need this! It is a peach/pink toned corrector which is very creamy. It isn't to be used on it's own, you do have to apply concealer on top. You can see my before and after photo's HERE which show how this little miracle product works. 
Too Faced Better Than Sex Mascara | £19.00 | Link
I have just finished off this travel size and now I will be buying the full size. I love the hourglass shaped wand, It really adds volume to my lashes. I love pairing this with Benefit's They'Re Real Mascara, they are a dream team!
MAC Blush in "Full of Joy" | £18.50 | Link
I had wanted a lilac toned blush for so long and finally came across this one. It is such a pretty shade and at first I was a little scared to use it. I have pale skin and it looks so pretty! When I googled swatches to see what it was like on other skin tones it seems to work best on pale – medium skin.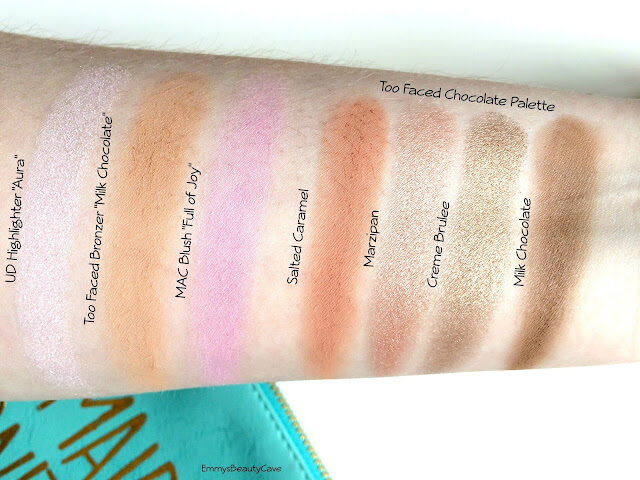 What Are Your Favourite High End Beauty Products?