Hello you beautiful lot, well today has been a lazy day for me. Sat and watched "Say yes to the dress" (love this show) with my mum and now had a relaxing bath and having a lazy evening in my pjs whilst the boyfriend is on the Xbox. Had a Chinese which I wish I didn't have, you know that feeling when you feel so sick and think why did I eat that? Eurgh!
So today's post is "Concealer City". I love trying new concealer's high street or high end. I usually use them for under my eyes then now and again on my odd blemishes that seem to come and go. Iv tried so many concealers which have just made me look worse. I thought I would review and swatch some of my most recent tried and tested concealers.
When I go makeup shopping concealers aren't the product I tend to look for. I do own way too much makeup as I do tend to buy products if they look nice or iv heard amazing reviews even if I already have a product that I love. Concealers are hard to get right. I find most either make my under eyes look worse or darker than they are or they look horrible once I apply powder. Here are some of my newbies and what I really think of them.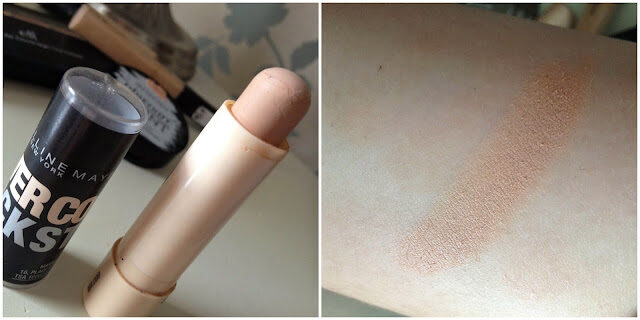 Maybelline Cover Stick | £3.99
I had never used a cover stick concealer before so thought I would give it a try as I do usually like Maybelline products. But I really dislike this concealer. I tried using it for both under my eyes and blemishes and found it went too dry on my skin and went cakey looking once I applied powder. I would not recommend this concealer at all!
2/10
Mac Pro Longwear Concealer / £17.00
This is amazing!! As you can see it is a liquid concealer. I bought this in NW15 which is quite a light shade. I usually apply my concealer before my foundation as it seems to look better. So once I have applied my foundation you cant tell how light this is. Because I bought this in a lighter shade I also use this as a highlighter and it works wonders. So I got 2 in 1 which is a bonus. You only need the smallest amount as it spreads so well. The only downside to this product is the pump, even as slow as your press it you still get a little too much product.
9/10 because of the pump.
Maybelline Fit Me Concealer / £5.99
I bought this in the shade "Medium" as I usually go for natural/beige tones. It is also a liquid concealer like the mac one above but it doesn't work that well. I found it didn't really help under my eyes but it did work better on blemishes. Boots do this in a range of 6 shades which i think is pretty good for a concealer.
6/10
Elf Complete Coverage Concealer / £3.95
I bought this off the Elf website as I liked the idea of it having 4 different shades. I love Elf packaging it looks more expensive than it is. You also get a small brush. I do use this concealer to hide/cover my blemishes and when I have the odd breakout and it is amazing for the price. The texture is quite creamy which works well when I apply powder and doesn't dry out. You can get this in 3 shades: Light, Medium and Dark.
8/10
Seventeen Phwoarr Paint Concealer / £5.49
Simply amazing for a high street concealer. I wanted a high street concealer aswel as my mac one. The new Seventeen packaging is so pretty and stands out. You do need to run your finger in this concealer a few times just to warm it up then I apply it under my eyes. I use a brush to blend it in and I must say this is up there with the best! I will definitely buy this again. It is nice and creamy, doesn't dry out and doesn't look cakey once I apply powder.
10/10
Overall my two favourites are Mac Pro Long ear Concealer and Seventeen Phwoarr Paint Concealer. I would say the Elf Concealer palette is best for blemishes just because of the 4 different shades.