Autumn makeup has to be my favourite, I love the darker lips and blushers. I recently de-cluttered my blush collection and it is still pretty huge but whilst de-cluttering I found some gems I absolutely love and will be using them alot this Autumn and Winter. I go through phases, some days I like a deep mauve berry blush but other days I prefer a pale pink or nude blush. I thought I would include a mixture of blushers to suit everyone for this time of year.
The Singles
MAC Matte Blush "Harmony" | £18.50 | Link
You may have seen this blush mentioned on EmmysBeautyCave before but not as a blush. This product is perfect for us pale girls as a multi use product. I find it can be used as a natural blush just to add a hint of colour or you can use it to contour as it is the perfect shade on pale skin. 
ELF Shimmer Blush "Berry Merry" | £6.99 | Link
The name says it all and I love it! This is your typical deep berry toned blush with shimmer. If you use your blush lightly it can be applied subtle or deeper depending how much pressure you use when applying it so it will suit all skin tones. 
It seems ELF no longer stock this shade but you can get it on Ebay or Amazon.
NYX Ombre Blush "Mauve Me" | £8.00 | Link
These only got released recently in the UK, I had been watching them like a hawk! I got this shade and also another shade which you can see in my full review with swatches here. This shade is as it says a mauve shade that is matte. It has two shades and you can either use them individually or mix them together. In my swatch below I have mixed the shades together but if you want to see the shades individually check out my full review. 
The Palettes
ELF Blush Palette "Light" | £7.50 | Link
I adore this palette. ELF Blushes have to be my favourites, they are super affordable and always so pigmented. The ELF Website is now back in the UK but when you order it can take upto two weeks to receive as they ship from the US not the UK. This palette contains four shades which you can use individually on mix them for different shades. This palette also comes in a darker option for darker skin tones.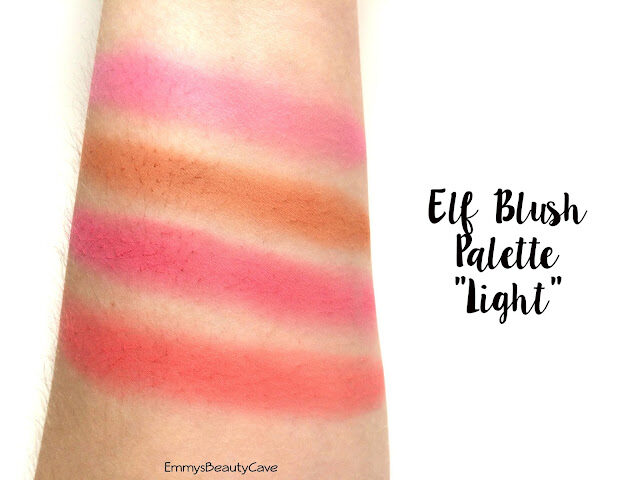 Sleek Blush By 3 "Pumpkin" | £10.00 | Link
This palette looks scary as the shades are extremely pigmented but trust me I am very pale and if I dab once into the blush and apply ever so lightly it creates a subtle shade. Again this palette will suit all skin tones. My favourite shade has to be Squash it is pinky rose gold shade.
I can't wait to use these more, bring on Winter! What are your favourite blush shades for Autumn and Winter?
GIVEAWAY | Have you entered my giveaway over on EmmysBeautyCave's Facebook Page? All you have to do is tag 2 friends in the comments of the FB Post.. ENTER HERE