Along with foundation, concealer is one of my favourite products. I did my first Concealer Low Down post in March last year, including eleven concealers, including the NARS Radiant Cream Concealer. I thought now I would do a second concealer comparison post with many different concealers. These are just some of the ones I own; yes, I am addicted.
I have put them into categories, including fuller coverage, dupes and medium coverage and compared each concealer to determine which one is for you. I suffer from dark under-eye circles, and OK concealer is a massive part of my makeup routine.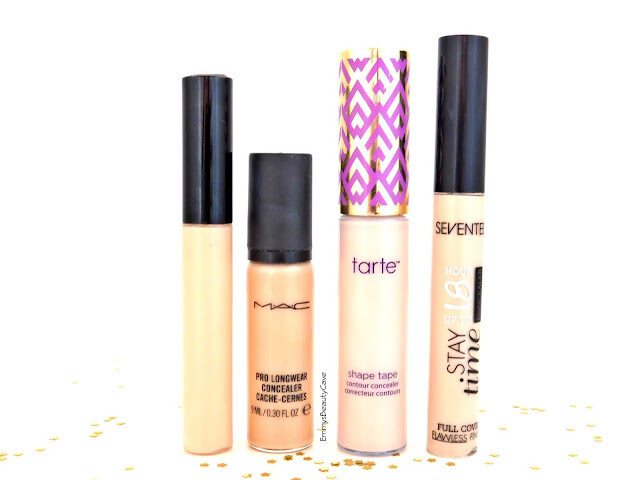 Full Coverage
Collection Lasting Perfection Concealer | £4.19 | Link
Probably one of the most raved about concealers. I enjoy this as it is full coverage and does a great job concealing dark circles. It is thicker and slightly drying. I use an eye balm beforehand to ensure it doesn't dry out my skin. The only negative is the shade for some people, and it comes in four shades which are all relatively neutral-toned, neither pink nor yellow. I don't mind neutral shades as I'm very pale and find pink-toned or neutral tones work best for me.
MAC Pro Longwear Concealer | £18.00 | Link
This is the first high-end concealer I purchased, and I must be on my fourth one now. It is 100% full coverage. This one is more of runny consistency, and you only need a small amount, so the tube lasts ages. The shade range is enormous. I get the shade NW15 as I'm usually an NW20 and find the NW15 does a fantastic job of brightening. The only negative is the pump, as it is hard to judge how much product is dispensed.
Tarte Tape Shape Concealer | $24 (£19.00) | Link
I finally got my hands on this as on Boxing Day, and the Tarte Website had 25% plus free international shipping, so I only paid £14 for the concealer and didn't get customs as it was under £15. I can see why this is so hyped about. It is full coverage, and it reminds me a lot of the MAC concealer, just with a thicker consistency. It is drying, but I always use eye creams and balms first. It comes in a whopping fourteen shades! I picked Fair Beige, the third lightest shade, but it is perfect. Even though I am pale, this shade is ashen too! It brightens well.
Seventeen Stay Time Concealer | £4.49 | Link
Such an underrated product! I have been using this concealer for so long. It is very creamy and not drying at all. Probably the creamiest out of these four concealers. It comes in three shades, and I have the lightest shade. The shades are more for pale or fair skin tones. Seventeen need to adjust their shade range to cater to more skin tones.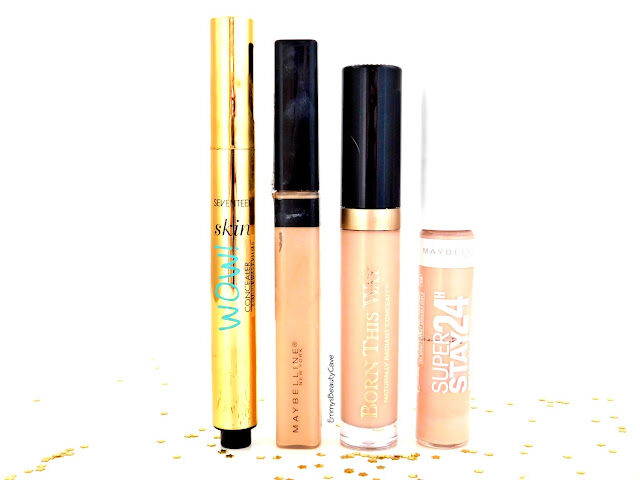 Medium Coverage
Seventeen Skin Wow Concealer | £4.99 | Link
I am completely in love with this concealer. I find it can give medium coverage, but I prefer to use another concealer under my eyes. Then I use this more on my highlight area's as it does a great job at brightening. It only comes in two shades, fair and medium. I own both and find medium works better. Fair is yellow toned, and Medium is pink toned, but they seem as light as each other it just depends on what undertone you prefer.
Maybelline Fit Me Concealer | £5.99 | Link
I don't understand how people compare this to the NARS Radiant Creamy concealer, as I find them completely different. This is exceptionally creamy and perfect for under your eyes. It looks flawless. I find it can be medium/full coverage. I find it gives fuller coverage if I pat it with my fingers rather than using a Beauty Blender. It comes in four shades, some for lighter skin tones and darker skin tones.
Too Faced Born This Way Concealer | £20.00 | Link
I picked this up when I went to New York in November. You can also buy it at Debenhams. I adore this concealer. It is very creamy, gives medium coverage and looks natural. It comes in ten shades from light to dark skin tones, pink to yellow undertones. I find it works amazingly well along with the Too Faced Born This Way Foundation.
Maybelline Superstay 24 Hour Concealer | £6.19 | Link
I recently included this concealer in my 8 Underrated Makeup Products Blog Post. Maybelline concealers are my ultimate favourites, but I especially love this one. It is medium/full coverage which is perfect, and it is incredibly creamy and hydrating; it looks flawless and doesn't crease. The shades are pinker toned which is what I look for.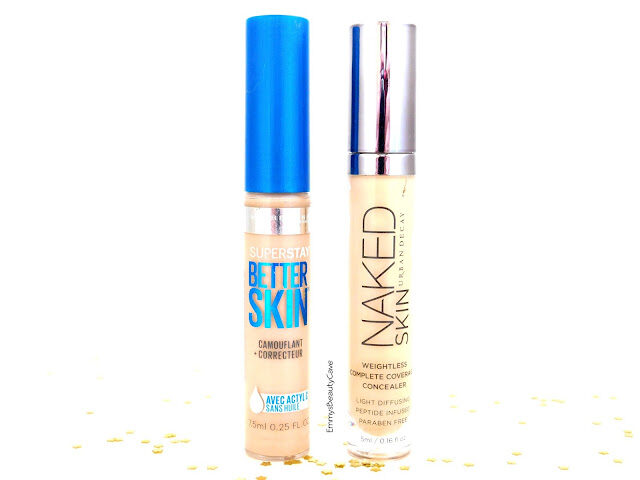 Dupe
Urban Decay Naked Skin Concealer | £19.00 | Link
I have been using this for around three years now, even before it became excited in the blogging world. It is incredible. Medium coverage, brightening and looks flawless. I especially love the wand as it has two flat sides. See my Full Review Here to see pictures of the rod and swatches.
Maybelline Better Skin Concealer (US Version) | Link
This is the US version; I have tried the UK version, but it isn't the same, and the shades are better in the US. I get mine from eBay or Amazon for under £10. It is an excellent alternative to the Urban Decay one. The formula is very similar, and they both brighten well.
I love all of these concealers for different reasons. Don't forget to check out my first Concealer Low Down post, including NARS, NYX & more.