Towards the end of last year i finally got the Ikea Malm Dressing Table which i had wanted for a while. My makeup collection has grown massively over the last year so i needed more storage. I currently use this dressing table and a five drawer storage tower. I am going to be doing a few posts including What's On My Dressing Table and What's In My Muji Drawers. Today i thought i would share What Is Inside My Malm Dressing Table.
I wasn't sure what i wanted to use inside to store my makeup until i found these two Cutlery Trays from Ikea. They are such a bargain at £1.50 each and two of these fit perfectly into the drawer. The only thing that annoys me is that the drawer doesn't pull out fully! Some people have said you can amend it so it does but i haven't tried that yet as i will end up braking it knowing me.
First Tray
The tray has three wider compartments on one side, a square compartment and a slightly smaller one. I find the square section perfect for my Foundations. I own around 25-30 foundations so i do tend to rotate them rather than keeping the same ones in the dressing table. I also keep my Primers next to my foundations. The middle section i keep some palettes including my Too Faced Chocolate Bar Palette, Essence Eye Shadow Palettes, Benefit Blush and more. It is a great way to see what palettes you actually have. Then i have a section for blushes. I own far too many blushes so again i rotate these around. 
Second Tray
In the large square section i keep my powders and contour products. I tend to change powders depending on what foundation i am wearing. In the small section i find it perfect for keeping all my tools including Beauty Sponges, Eyelash Curlers, Hair Clips etc… I use a small pot which i got some earrings in to keep my hair bits and bobs in, it fits perfectly. The top section is full of lipsticks, the section is just wide enough to fit lipsticks in. The middle section is full of Mascara's and Eye Liners. Then we have the last section which has some skincare bits. I keep my LUSH Popcorn Lip Scrub as i use it daily, Boots Vitamin E Eye Cream and some moisturisers.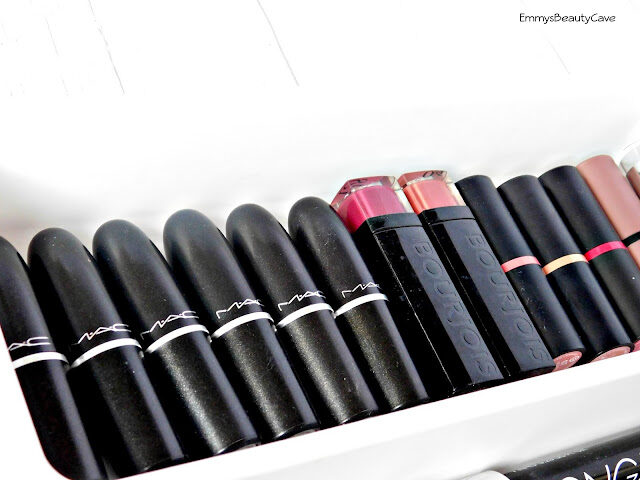 As you can see these trays fit so much in them and at £1.50 how can you complain? Keep your eyes peeled to see What Is on My Dressing Table and in My Muji Drawers!