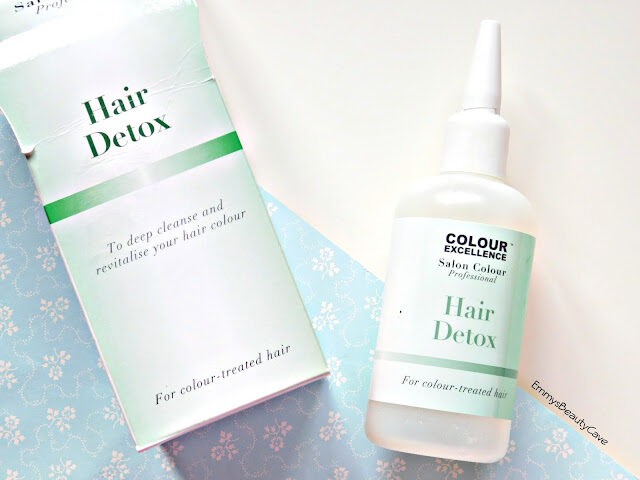 Dull and dry are two words i would use to describe my hair lately. I have been dying my hair since i was about 13, yikes that is just over 10 years ago (feeling old). If you dye your hair you will know your hair can often become dry but also dull. I haven't dyed my hair for around 6 months, so it is looking a little boring and needs a bit of life putting back into it. I often use leave in conditioners and hair masks but i have never heard of a Hair Detox before. When i received the Colour Excellence Hair Detox i was extremely intrigued.
The Colour Excellence Hair Detox is said to deep cleanse and revitalise your hair colour. Sounds perfect right?! The bottle itself looks like most hair dye kits, it comes with a yellow coloured liquid. The liquid looks quite oil like. You also get a sachet of Vitamin C which you pour into the bottle and then shake, shake and shake again. Once mixed and shaken you have to use the mixture within 1 hour. Shampoo your hair as normal (do not use a 2-in-1 shampoo) and towel dry. Apply the mixture over your hair, i mainly applied this from the mid length to the ends as that is where my hair has lost most colour and become dry. Also i have extremely thick hair so it would take two bottles to coat all over fully. Comb through to ensure it is evenly spread all over your hair.
I left mine for a minute to let it soak in mainly due to my hair being so thick. I then rinsed and applied conditioner as normal. Because the product had an oily texture i made sure to blow dry my hair straight away as i find if you leave hair to dry naturally it can become greasy. Once my hair was dry i noticed it already felt softer. Before using this my ends were in terrible condition and too dry but now they feel amazing. As you can see in my before and after photo's my hair looks so much smoother in the second picture (note both of these pictures i straightened my hair). The colour looks so much better, i definitely feel the product has done what it says.
If you dye your hair or suffer with dry hair this product is perfect for you and the best part? It is affordable at £7.99!! You can also buy this from Boots. If you have highlighted hair they also do the Colour Excellence Highlights Brightener which is also £7.99.