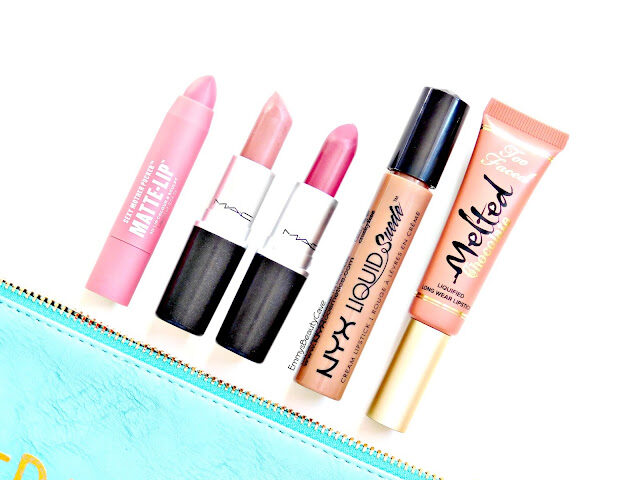 Trying out new lip products seems to be my thing at the moment. Usually lip products are the last product i would tend to buy but the last few months i have gone wild! Im loving different finishes at the moment depending on what im doing. I thought i would share my top 5 lip products at the moment. 
Soap & Glory Sexy Mother Pucker Matte Lip "Pretty Muted" | £3.50
This is a new release from Soap & Glory which they only released about a month ago. I only picked up the shade Pretty Muted which is gorgeous! It is a matte finish as the name suggests, super pigmented and really affordable. The shade is quite pink which i don't usually go for but this works really nicely. 
MAC "Blankety" Lipstick | £15.50
This lipstick i really need to wear more. It is the perfect subtle nude shade. When im wearing a basic makeup look or a no makeup, makeup look this is the lipstick i reach for. It adds just a little shine as it is an Amplified Creme finish.
MAC "Plumful" Lipstick | £15.50
This is one of my newer MAC Lipsticks and i can safely say it's love. This shade is stunning! It is a brighter plum shade which i find perfect at the moment, i can see myself wearing it alot in the warmer months. Plumful has a Lustre finish which creates such a gorgeous shine. It is super long lasting too.
NYX Liquid Suede Cream Lipstick | £6.50
Wow just wow. This is my ultimate favourite product/shade at the moment. I had never tried the Suede ones before until i noticed Boots finally stocked them online. The pigment in these is insane, they apply amazingly well, the applicator is perfection and they last so long! This is a grey toned brown, on me it shows up more greyish brown than in the swatch so i think it all depends on your skin tone.
Too Faced Melted Chocolate Lipstick | £19.00
I had wanted these way before they were released a month ago, when they finally hit Debenhams i ordered this shade asap. The formula is incredible, it doesn't feel like you are wearing anything once it has dried. It dries to a semi-matte finish which is perfect as i don't like anything too drying. They last well too. The shade is my favourite thing ever!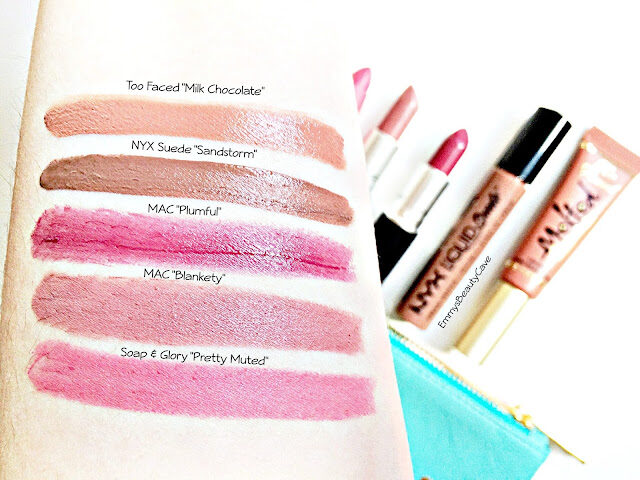 There you have it my top 5 lip products at the moment. Which shade is your favourite?
Posts You Might Like:
MAC Lipstick Collection inc Swatches | Link
Too Faced Chocolate Lipstick + Try On | Link
NYX Lingerie Lipsticks + Swatches | Link