The Dermablend range offers incredibly high coverage and colour correction for those wishing to cover things such as acne, rosacea, vitiligo and tattoos, for example, or even for those of us who like full coverage. As well as high coverage Dermablend claims long-lasting results and is suitable for the most sensitive skin types. I've been trying out a selection of products from the Dermablend range, with a couple new or reformulated for 2017. Dermablend is also waterproof.
Dermablend Corrective Fluid Foundation Review
I'll start with a new shade 05 Porcelain, added to the best selling Dermablend Corrective Fluid Foundation*. Dermablend Corrective Fluid Foundation comes in a squeezable black tube. The full-coverage liquid foundation is between a cream and a more liquid foundation. It reminds me of Estee Lauder Double Wear a lot, but maybe slightly thicker in consistency and with more pigmentation.
Dermablend Corrective Fluid Foundation blends easily on the skin and is buildable, but I do think it becomes cakey looking when layered too much. This foundation feels very comfortable and gives a semi-matte finish but still freshness to the skin.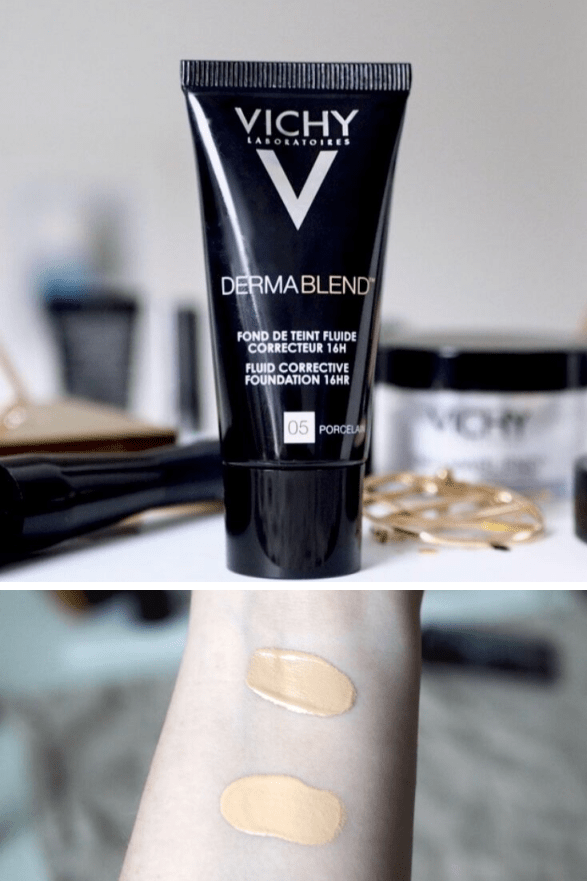 Above Opal, below Porcelain. When spreading, the pigment in Opal becomes much darker.
Unfortunately, despite Porcelain being the lightest shade available, this was still too dark for me and too yellow for my cool pink undertones. If I had a tan, I think I could get away with this colour, but not at the moment.
Another thing that didn't suit my combination skin (typical oily t-zone) was that it didn't last exceptionally well around my nose. This is a real shame because, despite the colour issues and longevity around my t-zone, I liked the finish on my skin.
There's another Dermablend foundation called 3D Correction that is more suited to oily skin types, but I haven't tried it yet.
I've been mixing Dermablend Corrective Fluid Foundation with some of my Estee Lauder Double Wear in Shell to make the Estee Lauder less matte, and it looks beautiful. Dermablend Corrective Fluid Foundation would be more suited to more minor oily skin types and sensitive skin.
I experienced absolutely no problems wearing this, and my skin can be very temperamental with some ingredients. I more recently blogged about a couple of my favourite drugstore foundations that are a bit better for paler skins here.
Dermablend SOS Cover Stick Review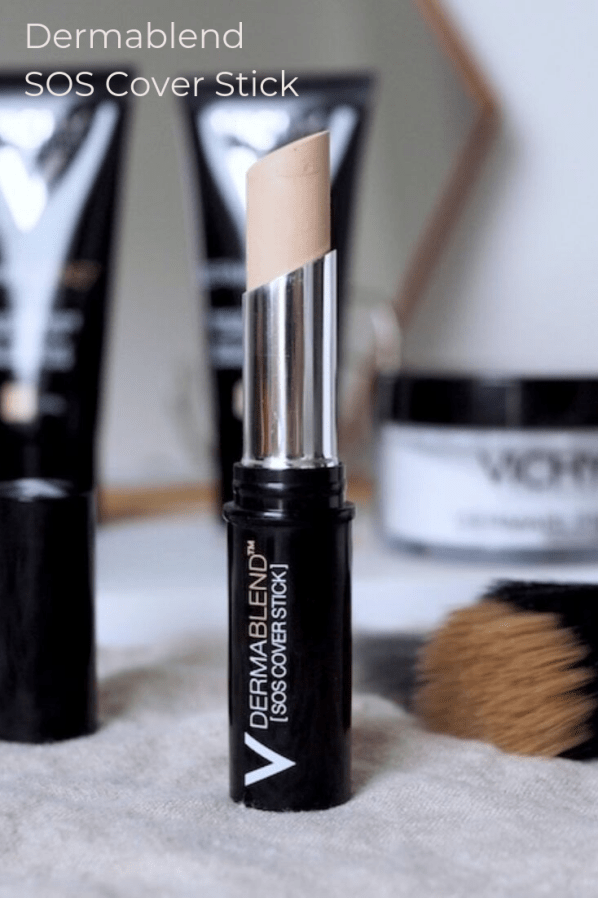 Dermablend SOS Concealer Stick* has been updated and reformulated for 2017. The concealer is water-resistant, won't rub off, and is sweat-resistant. The creamy formula is perfect for targeting skin concerns giving medium to full coverage.
I am incredibly impressed with this concealer. It blends beautifully, giving a flawless finish with good staying power. I want to cry (thankfully, the concealer is resistant to this) because, again, the colour is just a bit off for me, and this is a beautiful concealer ( although oily skin types might find the creaminess a bit too much).
The smallest amount covers acne, and it covers up a couple of tiny scars I have on my face quickly. This also has an SPF of 30, which I think is very good indeed.
Dermablend Covermatte Compact Powder Foundation Review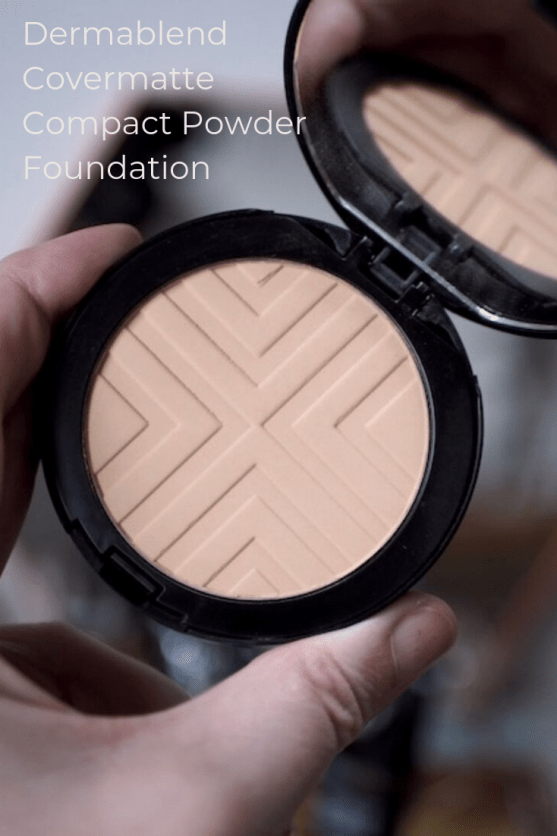 Next is the new Dermablend Covermatte Compact Powder Foundation*. This medium to full coverage powder foundation is incredibly finely milled and soft to touch. I was surprised that it doesn't look drying on the skin. Instead, it gives a lovely velvet finish. This provides an excellent medium to high buildable coverage that lasts almost a full day on my skin.
If you wish a lighter finish or use it as a setting powder, use a brush (my favourites are some from The Body Shop) instead of the sponge it comes with. Dermablend is killing me because, can you guess? The lightest shade, Opal, is too dark and orange for me.
This is such a shame because this is such a beautiful powder, but if you're pale like myself or dark, you might not get a good colour match. I'd highly recommend trying to swatch this, and if you can get a colour, buy it! It is a beautiful powder foundation.
Dermablend Setting Powder Review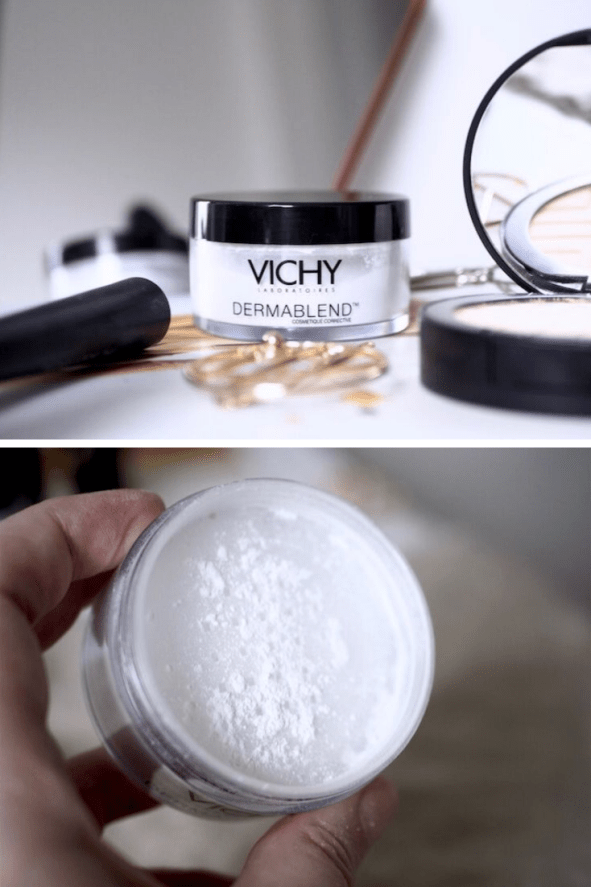 Which brings me nicely on to the Dermablend Setting Powder*. The loose translucent powder is also really finely milled, and despite how white it looks in the container, it leaves no visible traces on my skin. I'm not sure how it'd do on darker skins, though.
I found this to be an excellent setting powder and doesn't look dry on. I found the Dermablend Setting Powder perfect, especially for the under-eye areas, but it works a treat overall. This is suited for all skin types, but oily skin types may find they need something a bit more controlling.
I've recently been using the iconic Laura Mercier setting powder, and I have to say that it is INCREDIBLE! It's one of those beauty products I've heard was brilliant but was always dubious (I'm very cynical by nature), but it turns out it is excellent. I'm going to blog about the Laura Mercier powder soon, so if you want to find out all about it, sign up for my mailing list! I also have a mailing list dedicated to Pinterest. I send out an in-depth email once a month with tips that will help you master Pinterest for your blog and business. You can sign up here.
Dermablend Round-Up Review
Oh, Dermablend, I have loved using you. The quality is so high and for a very reasonable price. The coverage is excellent and longevity good. The Dermablend range offers some of the best high coverage foundations and concealers I have used.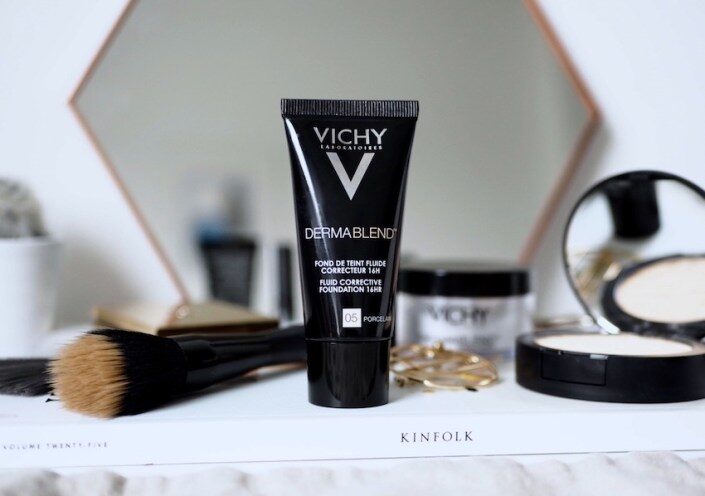 I love the finish of everything I've used. But the colour selection doesn't work for my ashen, cool-toned skin. This is such a shame because the range offers so much that you usually have to pay a much higher price for it. If you find a good colour match and love high coverage (although it can be made lighter if needed), this range is worth checking out.