For me, 2016 has been my favourite year for beauty. I have fallen in love with many products and even found some new holy grails. I have had the chance to try out some incredible products, and just like last year, I am sharing my top beauty picks of 2016. I love seeing what products people love.
Primers & Bases
L'Oreal Infallible Mattifying Primer | £7.99 | Link
This primer surprised me. Usually, I wouldn't say I like silicone primers or gel-like primers after trying the Smashbox one that broke me out badly really put me off them. This L'Oreal one is amazing. It smooths out my skin and helps keep me matte.

Benefit Matte Rescue Primer | £21.50 | Link
I put off buying this for months, and I don't know why because it is now one of my holy grail products. I apply this just on my highly oily area's and then use a typical primer on top, and by doing this, I stay matte all day.

Maybelline Better Skin Concealer (US Version) | $8.99 | Link
I ordered this off eBay as I don't like the UK version. The US one is incredible, and it reminds me a lot of the Urban Decay Naked Skin Concealer, which I love. I have been using this for around six months now, and I even stocked up whilst I was in NYC.

Gerard Cosmetics Slay All Day Setting Spray | £14.50 | Link
This is probably one of my favourites finds this year. I am on my second bottle and have already ordered a third! It is a setting spray that comes in 7 different scents. I am obsessed with the peach scent and also got the cucumber one. I want to try the grapefruit one after these. It sets my makeup and makes it look flawless, making my makeup last longer.
Foundations
L'Oreal Infallible Pro-Matte Foundation (US Version) | $12.99 | Link
We all know how much I'm not too fond of the UK version of this, but it is my holy grail after trying the US one. It looks flawless on the skin, the shade match is perfect, and it keeps me matte. I was ordering this from eBay, but I stocked up again in NYC.

Smashbox Studio Skin 15 Hour Wear Foundation | £29.00 | Link
This is a foundation I never saw or heard much about, but it deserves to be discussed. It is a full coverage foundation, and this is the foundation that lasts ALL day, and I don't get oily at all. It reminds me of MAC Studio Fix but without the horrid smell. I want to try the concealer that matches the foundation.

Urban Decay All Nighter Foundation | £27.00 | Link
As soon as I heard Urban Decay was releasing a full coverage foundation, I knew I needed it. I adore this foundation, and it makes my skin looks flawless! It is full coverage but doesn't feel heavy. If I use the RCMA Setting Powder with this foundation, it is the dream team, and I don't get oily at all, but if I use other powders, I can get a little oily in the outer corners of my nose.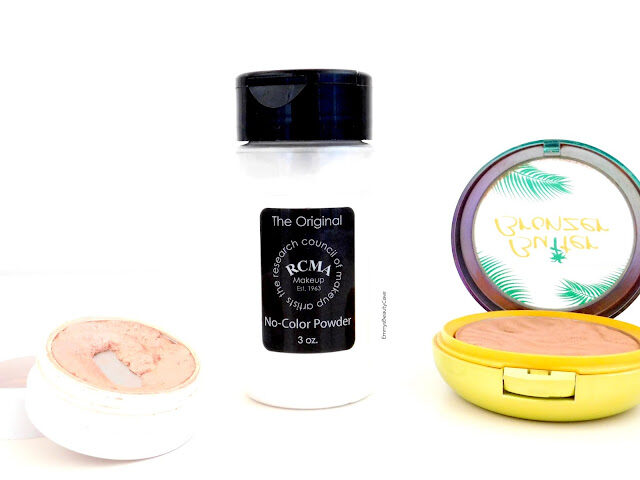 Powder Products
ColourPop Highlighter "Smoke N Whistles" | $8.00 | Link
Oh my, this highlighter is incredible! I have many highlighters, including ABH, Becca and more, but nothing compares to this beauty. It apples with an intense highlight, almost wet looking. I apply it with my Real Techniques Setting Brush. I need more of the ColourPop Highlighters.

RCMA No Colour Powder | £9.95 | Link
This powder is the best I have EVER tried. I have tried many powders, but nothing keeps me matte as this does. It works with every foundation, makes your under eyes look flawless and works magic. You also get a whopping 90g of product.

Physicians Formula Butter Bronzer | $14.99 | Link
Hello, you beauty! I managed to get hold of one of these before I went to NYC, and it is perfect for paler skin tones. It smells even better than the Too Faced Chocolate Bronzer. It blends beautifully. I love it that much. I bought another two in NYC for myself, one for my mum and Dena from Dena Jayne asked me to pick her one up.
Eyes
Too Faced Sketch Marker Liner | £17.00 | Link
This year, I have started being able to do winged liner but only with certain products, and this Too Faced one is one of them! It is super black, much blacker than the Kat Von D Lock-It Liner, and it lasts forever! It is super easy to apply liner with this.

Makeup Revolution New-Trials vs Neutrals Palette | £6.99 | Link
I had seen people rave about this palette for so long, and I decided to pick it up quite a few months ago finally, and boy am I glad I did. It is stunning! It reminds me of the Anastasia Beverly Hills Modern Renaissance Palette. The top row of shades is unreal. 
Lips
ColourPop Ultra Satin Liquid Lipsticks | $6.00 | Link
One of my favourite liquid lipsticks of all time. I hate liquid lipsticks that dry too matte and suck the life out of your lips. The Ultra Satin's dry matte is super comfortable to wear compared to the Ultra Matte ones. The shades are beautiful too.

Urban Decay Vice Lipsticks | £15.00 | Link
These lipsticks are beyond amazing. They beat MAC lipsticks any day! I own Oblivion from the Mega Matte range and Backtalk from the Comfort Matte Range. The Mega Matte ones don't feel drying at all, and I wear these for 8 hours, and they don't budge even after eating and drinking!!

ColourPop Ultra Gloss | $6.00 | Link
I still love gloss, and when ColourPop released them earlier this year, I picked up a couple. They are highly pigmented and on par with the ABH glosses. They don't feel sticky at all.