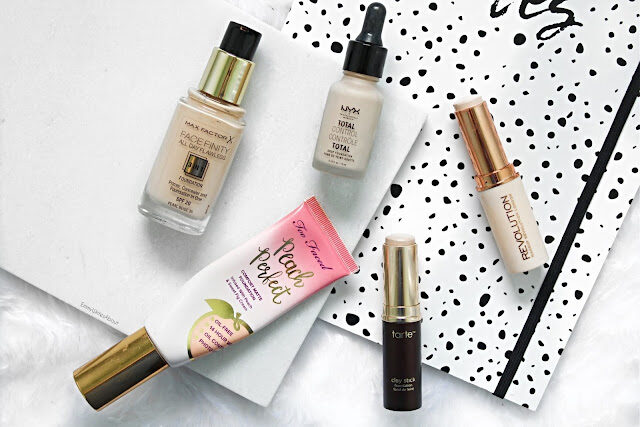 Foundations and base products are my weakness. I currently own approximately 35 foundations, yes I know I have one face but you know the drill. We all have that one product we can't help buy. I am always on the hunt for that perfect base and I love trying out new base products/combinations. Recently I have been loving a medium coverage although I do still love a good old full coverage base. I want something that makes my skin look flawless, healthy and last all day. I wanted to share my current bases on rotation and why I love them as all are very different.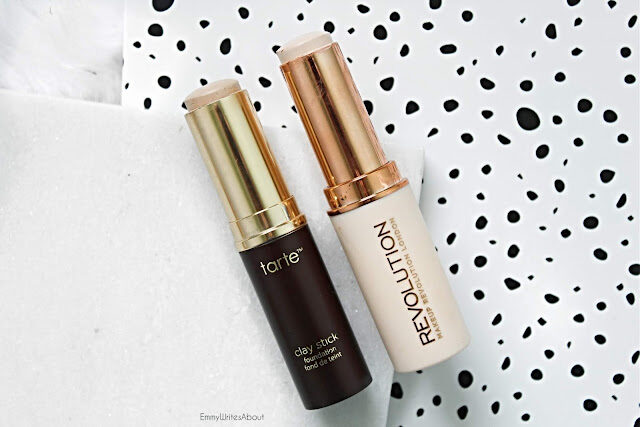 Tarte Clay Stick Foundation & Revolution Fast Base Foundation Stick
Now I love each of these on their own but paired together they create one gorgeous combo. On their own they are very different. The Tarte Clay Stick gives medium coverage and has a satin matte finish, it works amazing to keep my oil at bay around my nose and works everywhere else too. The Revolution Fast Base is the complete opposite. It gives medium to full coverage but has a more dewy finish so it isn't great if you only have oily skin. I mix these together to get incredible coverage, it looks beyond flawless and lasts all day. I always apply this combination using a flat top kabuki brush.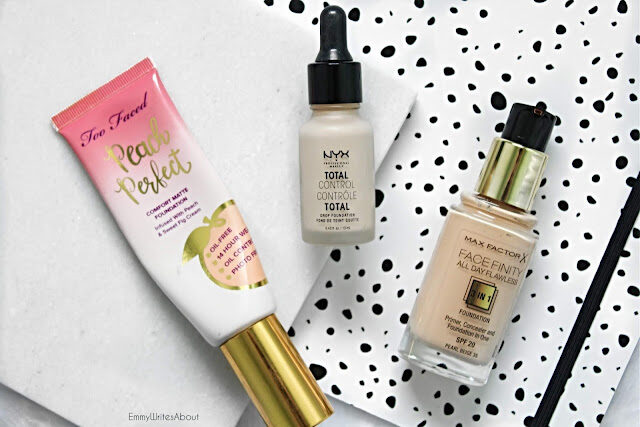 Too Faced Peach Perfect Comfort Matte Foundation
I was so excited when I went to London in December and picked quite a few products up from this range from the Too Faced Store. You can now buy the peach range on Debenhams. This foundation really surprised me. It has medium coverage but it makes your skin look healthy and natural. It isn't one that can be built up to full coverage but that doesn't bother me. It lasts incredibly well, especially when I use the Primed and Peachy Mattifying Primer on my nose. The only let down is the shade range, it is quite dark. If you are extremely fair you will struggle to find a match. I often use shade adjusting drops.
NYX Total Control Foundation
I recently did a full review of this product. As you can see the bottle is alot smaller compared to the others which is my negative about it but the product itself is really good. It has light to medium coverage depending on how much product you use, it is extremely lightweight, it feels like you are wearing nothing. I really like using this when I don't want to wear as much makeup as I can easily determine how much coverage I need when using this. The shade range is incredible, if you are fair this foundation has you covered!
MaxFactor Face Finity Foundation
I have actually loved this foundation for a few years but not used it in so long. This is medium coverage but looks like skin. It looks flawless and it gives a matte-semi matte finish whilst providing good coverage without feeling heavy. It lasts really well during the hot weather as long as I use a mattifying primer on my nose and a normal one everywhere else. This is definitely one of my favourite drugstore foundations. The shade range has been expanded too!