I own alot of liquid lipsticks but I don't have many I would say im in love with. I am very fussy when it comes to lip products especially liquid lipsticks. When I heard Maybelline had released some I was intrigued and there were a few shades that caught my eye so obviously I had to pick them up. I get so excited when you find drugstore products that are just as good or even better than high end products.
The Maybelline Vivid Matte Liquid Lipsticks come in 8 shades from nudes to dark purples and reds. I picked up Nude Thrill and Nude Flush even though both are called nude they are completely different shades. I adore the applicator! If you own the Urban Decay Concealer or the NYX Liquid Suede's you will know how good this style of wand is. It is flat on both sides which means you don't have to keep dipping into the product. They apply beautifully and they don't streak at all.
The finish is semi-matte which is perfect. I do enjoy a matte lip for me I find semi matte finishes much easier to wear. As they are semi matte they do have a slight sheen to them but they last so long on the lips! Another bonus of them being semi matte is you can touch up and re apply without it looking cakey or flaking off.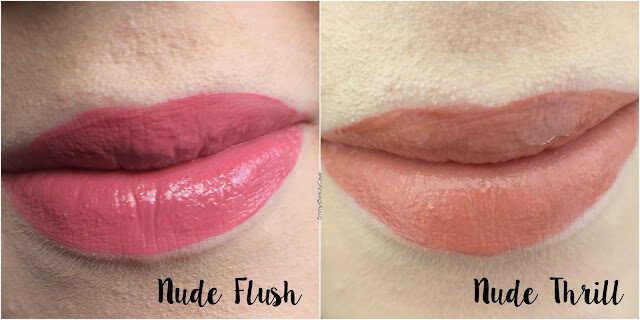 As you can see above they are completely different shades but both are extremely wearable. Nude Flush is quite pink but it is a toned down pink that makes is super wearable especially for us pale girls. It is a darker kind of nude, I like how it has the balance of still being a nude but has a good hint of pink. Nude Thrill is your more typical nude shade, it is a brown toned nude. Anyone could pull off these shades which makes them even more amazing. 
The Maybelline Vivid Matte Liquid Lipsticks retail for £6.99 each which is a complete bargain in my opinion. I am definitely going to pick up some more shades. Next on my list to try from Maybelline is the 24 Hr Super Stay Foundation and Powder!