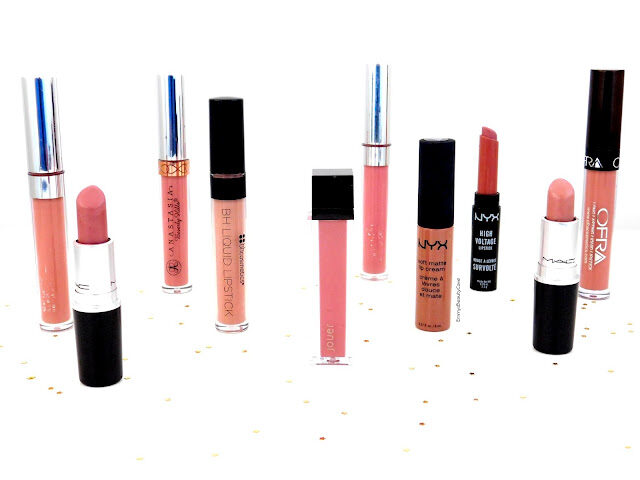 Who doesn't love a nude lip? Years ago a nude lipstick was one colour but now it can range from simple skin colour nudes, pinks, browns and more. I have narrowed it done to my Top 10 Nude shades and thought I would do my pinks vs brown/skin nudes and of course you know me I have swatches of every shade for you. I have included a mixture of matte, glossy and semi matte finishes so you can find your perfect nude.
The Nude/Browns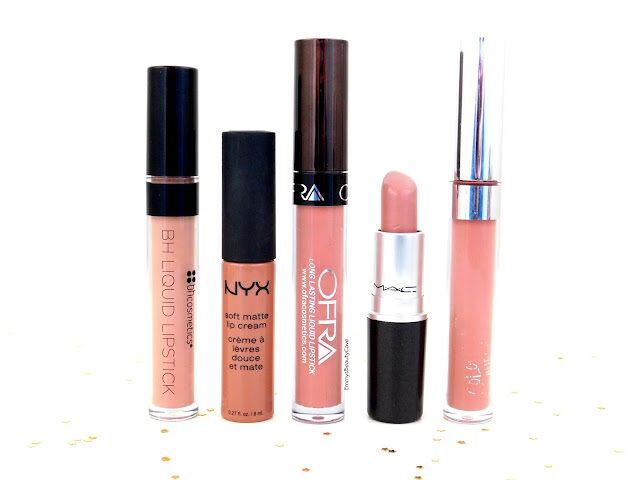 BH Cosmetics Liquid Lipstick "Sandy" | $11 | Link
If you didn't know already BH Cosmetics ship to the UK and shipping prices are cheap. Beauty Bay now stock some products but not many. This shade when I saw it in the tube I thought it might be to pale for my pale skin but it is actually one of my most worn shades. This is your typical neutral nude shade it is neither brown or pink and would suit so many skin tones. This formula is one of my favourites. I can't stand a drying liquid lipstick, these dry semi matte but don't budge and you can re apply without them flaking.
NYX Soft Matte Lip Cream "London" | £5.50 | Link
Oh NYX you are one of the best. I really don't like the NYX Lingerie Lipsticks as I find them far too drying. The Soft Matte Lip Creams are easy to apply, aren't drying and can be re applied. The shade London is perfect for you if you like a brown under tone.
Ofra Liquid Lipstick "Bel Air" | $19.90 | Link
I got a couple of Ofra Liquid Lipsticks for Christmas and this shade had been on my wishlist for so long. It is more of a peachy nude but it looks gorgeous. When you first apply it, it can look a little light but as it dries it goes slightly darker. The formula again is amazing, they dry matte but not drying in the slightest and you can re apply without flaking or looking heavy and they last well.
Psst.. You can always get 30% OFF Ofra & they ship direct to the UK. I ordered two and didn't get any Customs.
MAC Lipstick "Blankety" | £15.50 | Link
This lipstick will always be one of my favourites. It is a Amplified Creme Finish but very long lasting. It is extremely pigmented, feels creamy and looks very pretty. It is a pinky beige shade that is perfect for everyday wear. Everyone should own MAC Blankety.
ColourPop Ultra Satin "Magic Wand" | $6.00 | Link
I have tried the ColourPop Ultra Mattes and I find them far too drying and not comfortable to wear at all. The Ultra Satin's dry Semi-Matte which makes them perfect for me. Magic Wand has to be one of my most used ColourPop shades. It is the darkest of the five but it isn't dark on the lips. It is your nude with a brown undertone.
The Pink Nudes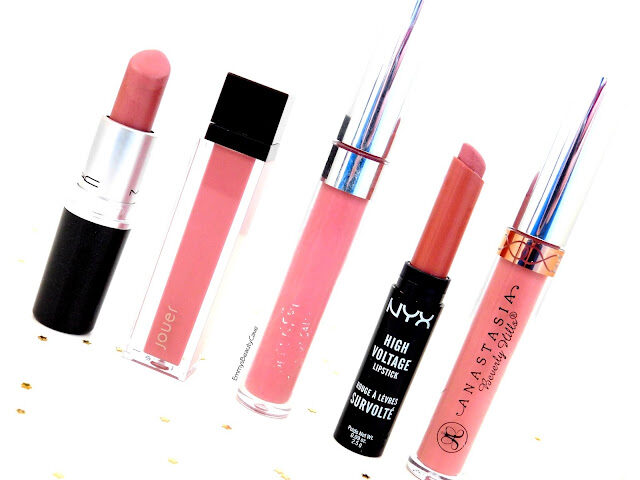 MAC Lipstick "Faux" | £15.50 | Link
One of my favourite MAC shades of all time. Faux is such an underrated shade it goes with so many makeup looks! I especially love pairing this with a khaki eye look. This is your perfect everyday pink nude shade, it isn't bright yet adds colour. It has a satin finish which makes it comfortable to wear and easy to re apply.
Jouer Liquid Lipstick "Dulce De Leche" | £15.00 | Link
I need to own more of these! The formula is one of my favourites for a liquid lipstick. They have an almost mousse consistency which feels amazing. The applicator makes it easy to apply and they last well. I find I can easily re apply in the center of my lips after drinking. They dry matte but not drying at all, the shade is a cool pink nude.
ColourPop Ultra Satin "Alyssa" | $6.00 | Link
I LOVE this shade so much. It is a muted pink that looks different on different skin tones but suits everyone. On me it applies a lighter pink than it looks in my swatch.
NYX High Voltage Lipstick "Flutter Kiss" | £5.50 | Link
I don't know why the High Voltage Lipsticks aren't more raved about, im obsessed! I own two so far and I will definitely be getting more. The colour payoff is amazing, they are very creamy and last ages. This shade has a slight mauve undertone but looks so pretty especially on pale skin. I also recommend the shade Stone.
Anastasia Beverly Hills Liquid Lipstick "Crush" | £20.00 | UK Link
US LINK
I picked this up whilst in NYC in November but ABH launched a UK website just after Christmas but most of the lipstick shades are sold out and they seem to be taking ages to re stock. This shade I am obsessed with, it is definitely a pink nude.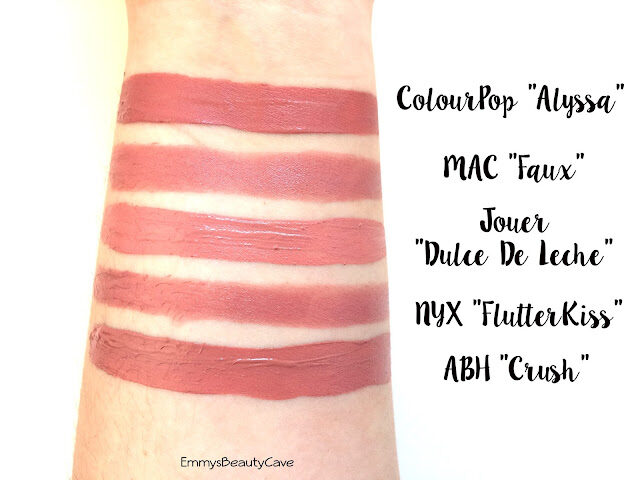 Which of these are your favourites?