I will be honest and admit my makeup collection is too big for what I need so I don't hit pan on products quickly. There are some I do it pan on over and over because I just can't stop using them. When de cluttering my makeup a few months ago and setting it all up in my Alex Drawers (Check out my In Depth Look Into How I Store My Makeup) and I looked at the products I've hit pan on and thought would I re-purchase them…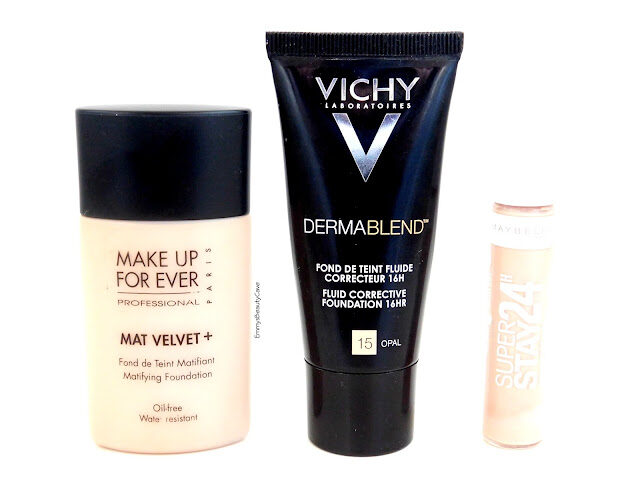 Makeup Forever Mat Velvet + Foundation | £30.00 | Link
This foundation doesn't seem to get any recognition at all and I don't understand why. I tried the Ultra HD and didn't like it but I really enjoyed this foundation. It is medium coverage, you can still see my freckles through it which I quite like in the Spring/Summer months. It looks flawless, doesn't look cakey and lasts pretty well.
Re-Purchase: I love it but when you own 30 foundations I need to start using some of the others before I re purchase.
Vichy Dermablend Foundation | £18.00 | Link
I LOVE this! It is my second bottle and I still love it as much as the day I first tried it. It is full coverage but doesn't feel like a full coverage foundation on the skin. It hides blemishes, redness, everything! The shades are perfect for me and it lasts well on my oily skin.
Re-Purchase: Hell Yes! Onto the third bottle we go… Already re purchased!
Maybelline Super Stay Concealer | £6.19 | Link
Maybelline have my heart when it comes to concealers, I own every one they do. This one really surprised me, I recently included it in my Underrated Makeup Products Post. It is creamy, full coverage and lasts all day. It looks flawless under my eyes. The shades do run more pink toned which I prefer on my skin tone.
Re-Purchase: Already Have!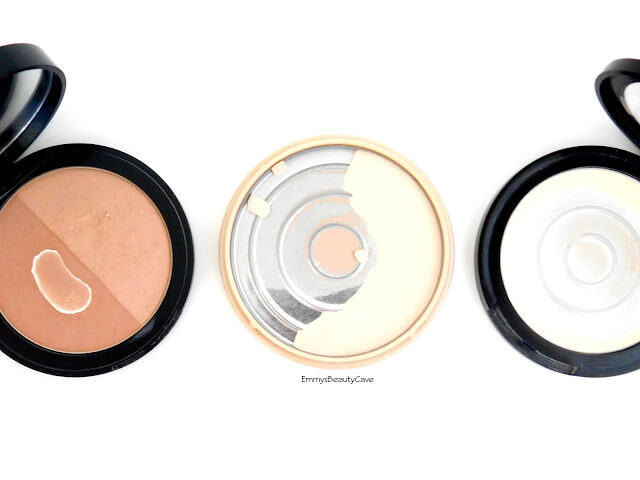 Soap and Glory Solar Powder | £11.00 | Link
This bronzer is perfect for pale-light skin tones. I don't know why but I also hit pan on the left side even though I swirl my brush in the whole thing. The shade is warm toned but not orange at all.
Re-Purchase: This is my second one so as soon as I run out I will buy it again.
Rimmel Stay Matte Powder | £3.99 | Link
One of my holy grail powders. I love how it comes in translucent or shades. I own a translucent one and a coloured one and both are fab. It is lightweight and helps make your skin look flawless. It does a good job at keeping me matte too.
Re-Purchase: I buy this every year without fail!
NYX HD Banana Powder | £9.00 | Link
I have tried the Ben Nye Banana Powder, Soap and Glory Yellow Powder and the Anastasia Beverly Hills Banana Powder and all of them were too yellow for my pale skin and were too dark for me. This NYX one is amazing! It is perfect for anyone with extremely pale skin. It is only slightly tinted yellow and it does a great job at brightening. It is extremely finely milled which makes it perfect for under your eyes.
Re-Purchase: Will be buying again definitely.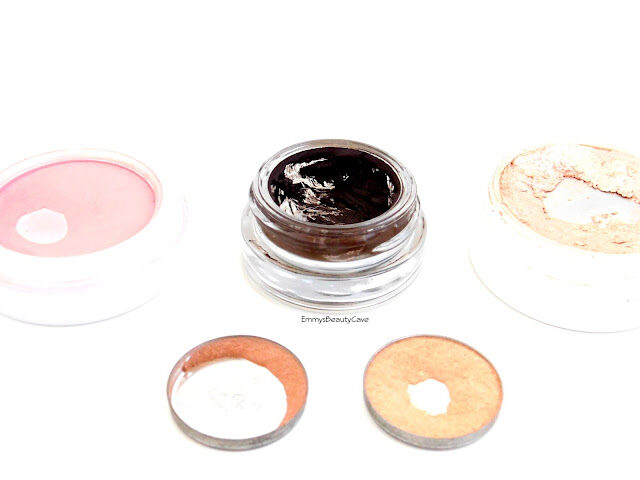 Natural Collection Blush "Pink Cloud" | £1.99 | Link
I have used this blush for many years, must be over four years now! It is that perfect pink blush. If I could only own one blush it would be this. This is the only product from the brand that I think is incredible quality. Blush is the one product I could just buy high street, as I think they are just as good as high end ones.
Re-Purchase: I've lost count how many times I've purchased this.
Freedom Brow Pomade | £5.00 | Link
I used to use the ABH Dip Brow then I tried this Freedom one on a whim and it converted me. It is only £5 and I find it much easier to work with then the ABH one. It stays put all day long.
Re-Purchase: My new one arrived a couple of weeks ago!
ColourPop Highlighter "Smoke N Whistles" | $8.00 | Link
My holy grail highlighter. I have had this highlighter so long and it has lasted me well. Out of all of my highlighters, high end and drugstore this is the one I always go back to. If you want a intense wet looking highlight this is for you!
Re-Purchase: Already have ready for when this one runs out fully.
Makeup Eye Shadows "Purely Naked" and "Beaches & Cream" | £6.00 | Link
As you can see I have well and truly hit pan! Both shades are the perfect transition shades and I use them with 90% of my eye looks.
Re-Purchase: Will be placing a Beauty Bay order soon!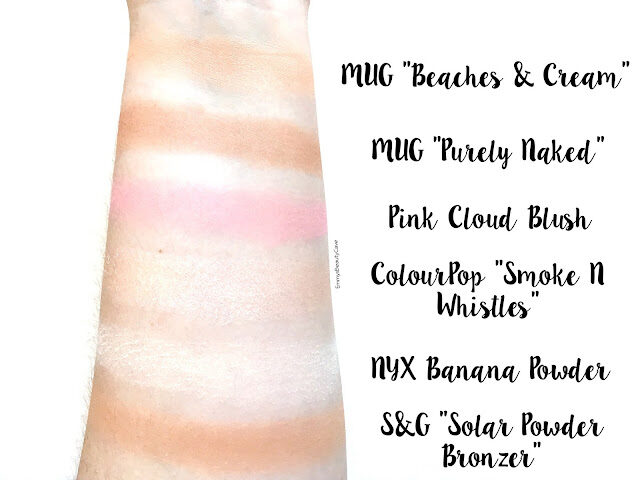 I was surprised I would re purchase everything! I usually end up with a couple of products I wouldn't. This was a lucky bunch!