It isn't every day you and your puppy get matching blogger mail. I and Peanut were both sent our very own Tangle Angel Brushes. Tangle Angel has a wide range of human brushes but they released a line for pets! I have extremely long thick and I mean takes two hairdressers to dry it kind of thick and Peanut my 7-month-old Spaniel Puppy often needs his hair brushed too. 
You may look at the Tangle Angel and think it looks similar to a Tangle Teezer but they are different. What I instantly love more about the Tangle Angel is how it has a handle that makes it easier to hold. Peanuts Pet Tangle Angel is the same as the human one apart from it is smaller and has the cutest puppy paw design. Of course, you can imagine having a hyper 7-month-old puppy trying to get a shot of me using it on him wasn't the easiest task. Peanut is rather hmm hyperactive 24/7, you can take him for a long, miles-long walk/run and he will still not sleep and bounce around. We also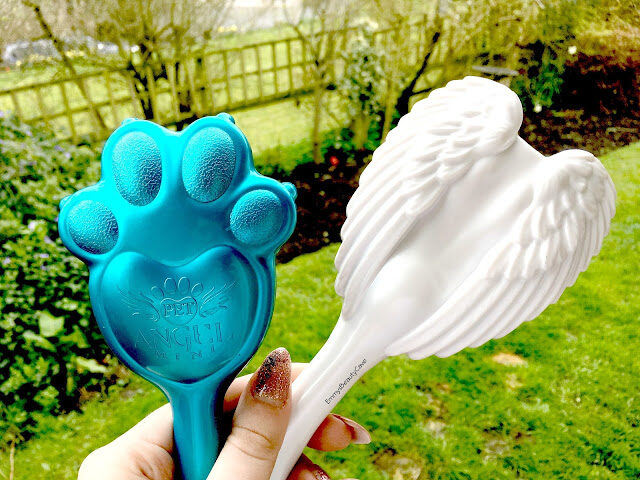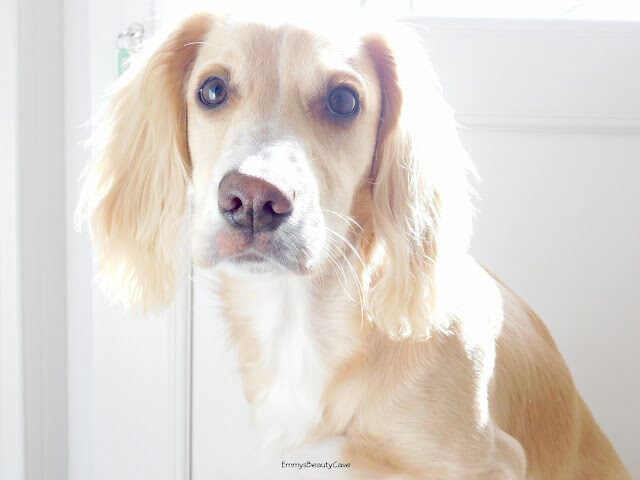 Pet Angel | Link
I absolutely love this brush for my pets, I have Peanut the Puppy and then I have two cats, Ebony and Thomas. I have tried the brush on all three of them and it works perfectly. I find the bristles to be super soft so it doesn't hurt them and doesn't pull on the hair, it naturally glides through. I especially love using this on Peanut once he has been for a swim or had a bath as the brush is water-resistant and it brushes his long hair well and doesn't tug. After his brush, he happily sat and posed for his picture. Although I must have taken hundreds of pictures whilst brushing as Peanut is only 7 months old and extremely hyper and doesn't keep still.
Tangle Angel | Link
As I mentioned my hair is beyond thick unfortunately that I have got it from my mum and nan it skipped my sister. My hair literally takes two hairdressers to dry. I have tried this brush on both wet and dry hair. I find it works best on my wet hair if I separate it into sections, my hair is too thick to get the brush through all of my hair in one go. When my hair is dry I don't need to separate it as the brush glides through easily. I love how it doesn't pull my hair as most brushes do. 
Both brushes also have an Anti Static feature which is something my hair needs so it makes it perfect for me.  Also, they are both extremely lightweight which makes them perfect for travelling or to put in your handbag. 
I am giving away a Tangle Angel in my upcoming Giveaway next Friday as I already own one for myself and they kindly sent me another one. The giveaway also includes Urban Decay, ColourPop and More.
Check out the full range and different sizes over on the Tangle Angel Website.
*This post includes PR Samples, NOTE all views are my own and my honest opinion. If I don't like a product or have any negative views I will put them on my blog.