Ever since I was little I remember my mum making her shortbread and it is something me and my sister can't get enough of. I love a simple shortbread recipe and I love adding new things to it. I like to keep my recipes on my blog easy enough for you to recreate at home or for you to adapt the recipe. My mum gave me a recipe book that she has had since I was a baby and I find alot of recipes in it but then I always change amounts or add new things to them to make them my own.
What You Will Need


4oz (leave it out of the fridge 30 minutes prior to using so it is soft)
2oz Caster Sugar or Brown Sugar (I used Caster Sugar)
4oz Plain Flour
2oz Cornflour
1tsp Vanilla Extract
I recommend to make the above twice, depending how big your tray is and how thick you want your shortbread.
Extra's
Sprinkles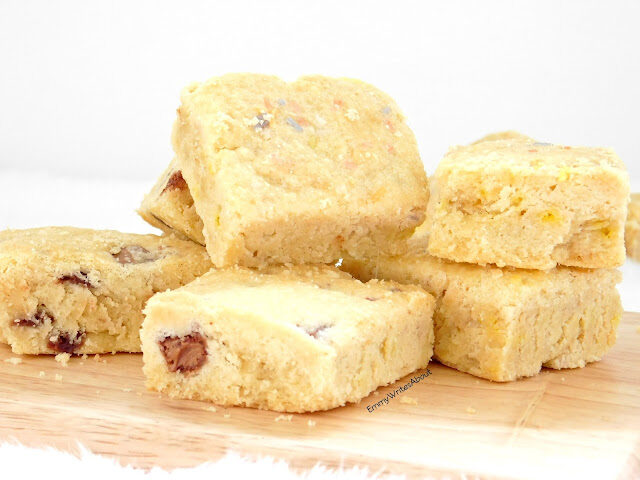 Method
1. Mix together the sugar and butter until it becomes soft and blended together.
2. Add in the flour and a teaspoon of vanilla extract.
3. Add in sprinkles, I usually add 1-2 Table Spoons or you can add just one table spoon and then add a layer on top before you put it in the oven. I also add in the chocolate chips and mix again.
(I do one mixture with sprinkles and another with chocolate chips but you can mix them all together)
4. Make sure it is evenly spread out and then make into a ball. Wrap in cling film and pop it in the fridge for 20-30 minutes.
5. Preheat the oven to 130-150 or Gas Mark 1-2.
6. Get some baking paper and draw around the bottom of your tray on it and cut it out. Place on the bottom of your tray (I wipe a thin layer on the bottom of the tray to help the paper stick). Place the mixture into the tray and pat it down. Make sure it is all packed together. Make it as deep as you want it to be.
7. Once the mixture is in the tray lightly slice it where you want to cut it when it is cooked. This way it makes it easier to cut once it is out of the oven and it stops it crumbling.
8. Cook for 30-45 minutes. Keep checking the mixture as it may take longer or less depending on your oven.
I cooked mine for 45 minutes because it was slightly thicker in depth. Check yours after 30 minutes.
9. The key to the perfect shortbread is to not overcook it. The shortbread shouldn't turn brown in the oven. When you take it out of the oven leave it on the side to cool and set fully.
Take it out and leave it to cool before cutting.
That is it! Simple but oh my it is tasty.