It is that time of year where cream eggs creep back out and you eat as many as you can before they disappear again. With Easter coming up of course I had to do a baking post. Last year I did a yummy sugar biscuits recipe which you need to try! This time it is a cupcake filled with cream eggs to create the most yummy goodness there is. The recipe is simple and the end result is worth it. This recipe is for the chocolate lovers, push the diet aside and get baking!
What You Will Need:
120g Self Raising Flour
140g Caster Sugar
3 Eggs
160g Unsalted Butter
40g Cocoa Powder
Mini Cream Eggs
Icing:
160g Softened Butter
350g Icing Sugar
Yellow Food Colouring
50g Melted Chocolate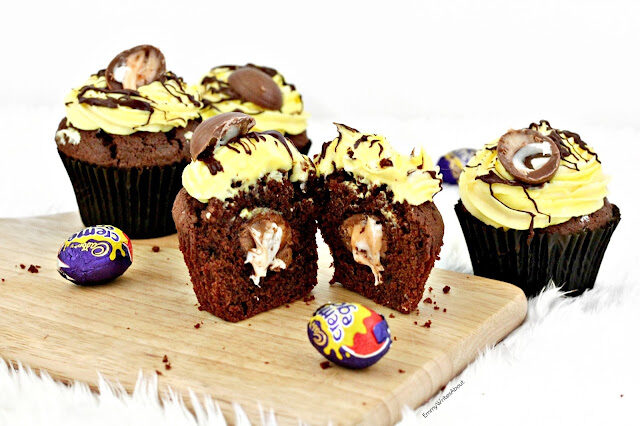 Put your mini cream eggs in the freezer (you can either do this for approximately 4 hours or leave them overnight), leave them in the wrappers.
This stops the eggs completely melting.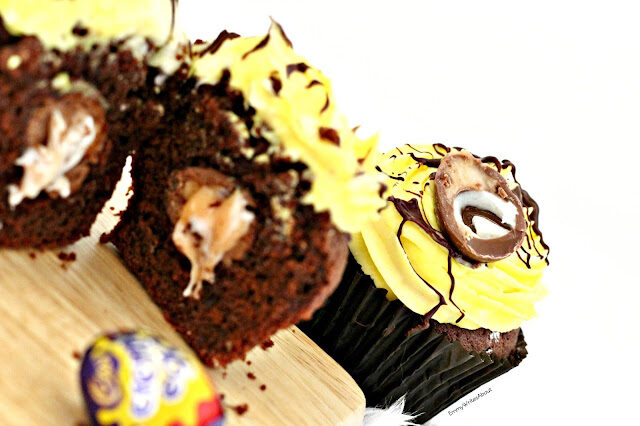 Pre-Heat your oven to 180C.
You can use muffin or cupcake cases depending on the size you want your cupcake.
1 – Mix together the caster sugar and butter. Using softened butter makes it easier to mix. Mix until you have a smooth paste.
2 – I mix 3 eggs into a bowl together and then slowly add to the caster sugar and butter. If this mixture goes slightly lumpy don't worry as this will go normal when you add the flour.
3 – Add in the self raising flour and Cocoa. Mix until everything is completely mixed.
4 – The mixture will be very thick which is how you need it to stop the eggs melting.
5 – Place some mixture into each case but not all the wall.
6 – Add a mini egg to each, lay them on their side not stood up.
7 – Using the remaining mixture add some to each case. Make sure the eggs are fully covered all the way round.
Cook for approx 20 minutes, check your cakes as everyone's oven is different.
Once done leave the cakes to cool fully before icing.
8 – Mix together the butter and icing sugar until smooth. Add in the yellow food colouring.
9 – Pipe the icing onto each cupcake using a nozzle of your choice.
10 – Melt some chocolate and then drizzle over each cupcake.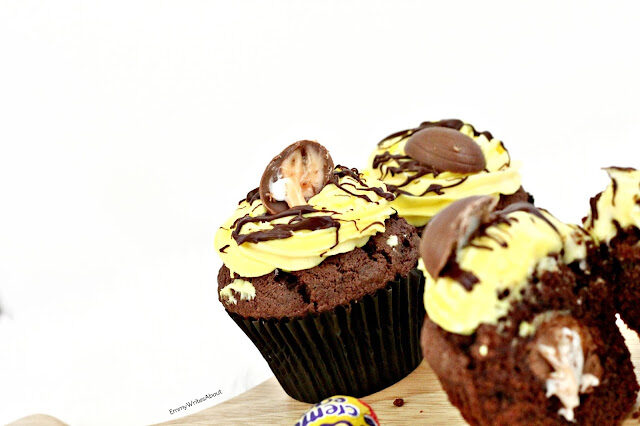 Now slice your cupcake in half! They are extremely yummy!
Happy Baking