When it comes to makeup, I can't live without concealer. The MAC Pro Longwear Concealer is my holy grail product. Everyone seems to rave about the LA Girl Pro Concealer being a dupe for the MAC Pro Longwear Concealer, so I decided to see what all the hype was about.
First off, let's start with the MAC Pro Longwear Concealer. It comes in a small glass bottle with a pump. The packaging I hate 1. because the bottle is glass, I dropped and smashed my last one (luckily it was nearly empty) 2. the pump has issues!
You try to squeeze out a tiny amount but end up with a lot more than you need. Apart from the packaging, I am in love with this concealer. It is quite a runny liquid but provides full coverage! I have incredibly dark under-eye circles, so a full-coverage under eye concealer is what I need. I also buy a lighter shade than my foundation so that I can highlight it with this too.
Overall it gives full coverage without being heavy, doesn't crease, lasts all day, and the bottle lasts me around 2-3 months!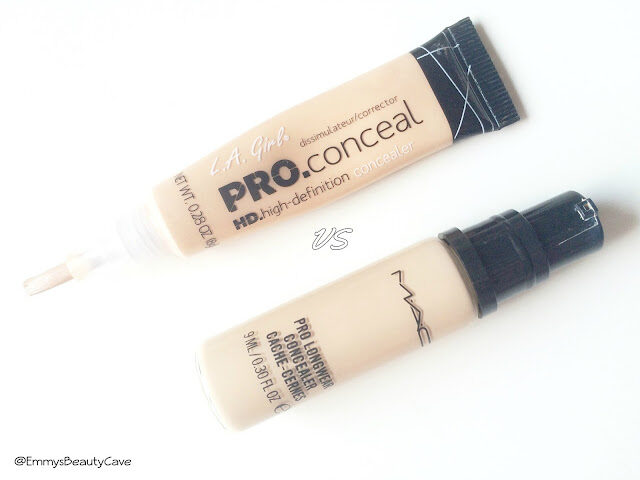 The LA Girl Pro Concealer is now available in the UK on the Beauty Crowd Website, but you can also get this from eBay. I ordered a few shades and found even the lightest shade comes up quite pink. The packaging is a squeezy tube with a brush applicator.
The consistency of this concealer is quite thick but again provides full coverage. This isn't for you if you are going for that no-makeup look. As I said, the consistency is pretty broad.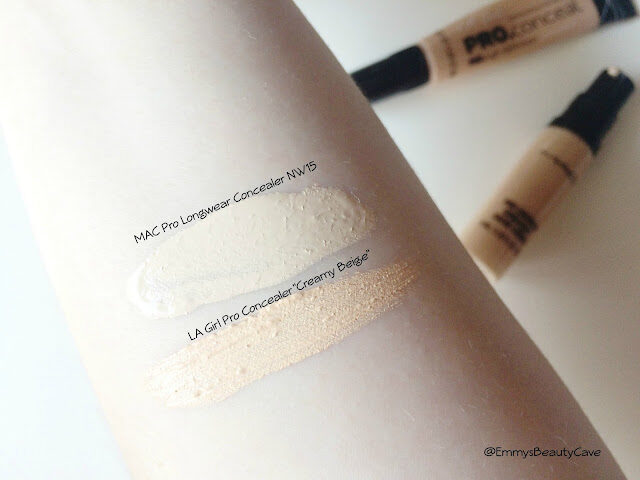 So the question is, is the LA Girl Pro Concealer a Dupe for the MAC Pro Longwear Concealer? No. In my opinion, it isn't. You can't call something a dupe because they are both full coverage. The Pro Longwear Concealer is quite runny even though full range appears on the skin more lightweight.
The LA Girl Concealer is pretty thick, as you can see the difference from my swatches. That said, I enjoy both concealers depending on what look I want. The MAC Pro Longwear Concealer lasts longer than the LA Girl Concealer.
Overall, both products are good at what they do but cannot compare to each other.
Have you tried either of these?
Bloglovin | Instagram | YouTube | Twitter