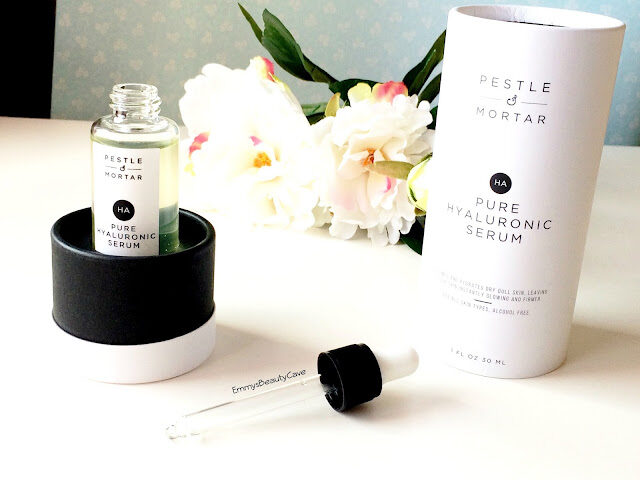 Lately, my skin has been suffering, which I think is down to stress from my operation and being in a lot of pain then. Also, the changing weather doesn't help. My skin is usually extra oily, but it has recently become dull, dry, and looks like it needs help. Serums are something I haven't used often until this year. I never really saw the need for them, but I guess that was down to me not understanding what they were for! 

Autumn is here, and it has kindly given us the treat of this cold weather! My skin has suffered in winter until now. The Pestle and Mortar Pure Hyaluronic Serum comes in and plays its part. I have been testing this serum for the last two weeks, and I am surprised by the results.

The Pestle and Mortar Serum claim to target fine lines, dullness and dehydration and give your skin a natural healthy glow. Having oily skin always makes me worry when putting "oils" on my face. This serum is clear in colour and doesn't have any scent, which I like. I hate those chemical-smelling products!
You get the "teardrop" applicator, as I call it, which you can easily judge the amount of product you use, so you don't waste any. The serum applies like a dream, gently rubbing it into my skin slightly massaging it onto the dryer areas. One thing that surprised me was how quickly it sunk into the skin, and it didn't leave a tacky/sticky base at all. From the first application, I noticed my skin felt more hydrated, and my dry patches were still there but not as rough as they were. 

One week later, my dry patches have completely gone! I had tried different moisturisers, but nothing got rid of them until I used this serum. My mum had even said my skin looked healthy and not as dull, so it's working its magic!

This Hyaluronic Serum is slightly expensive at £33, but it is worth it! I would say it is the perfect winter skincare product. I can see this lasting me quite a few months too.