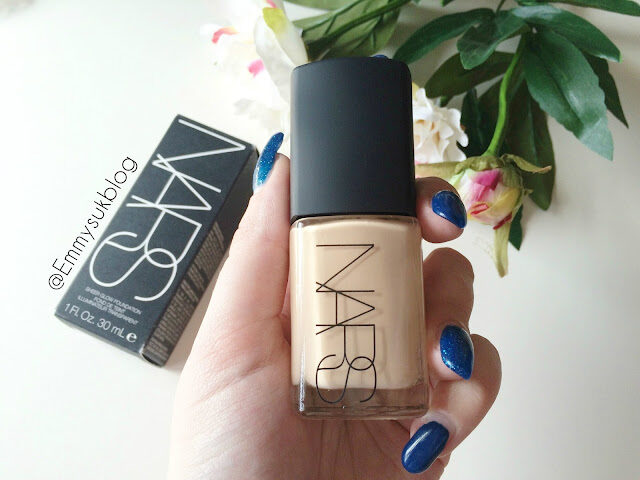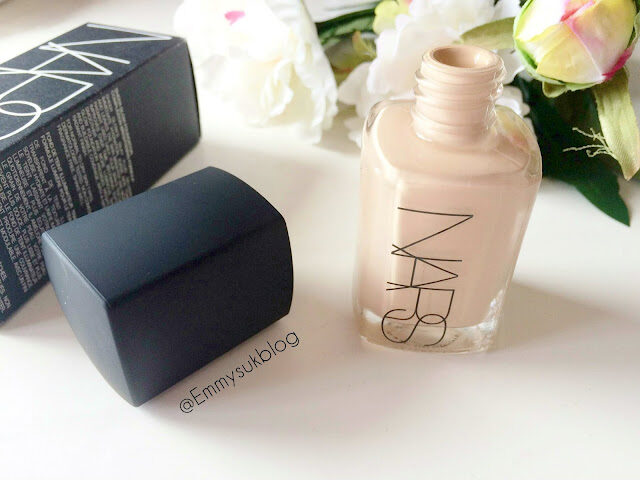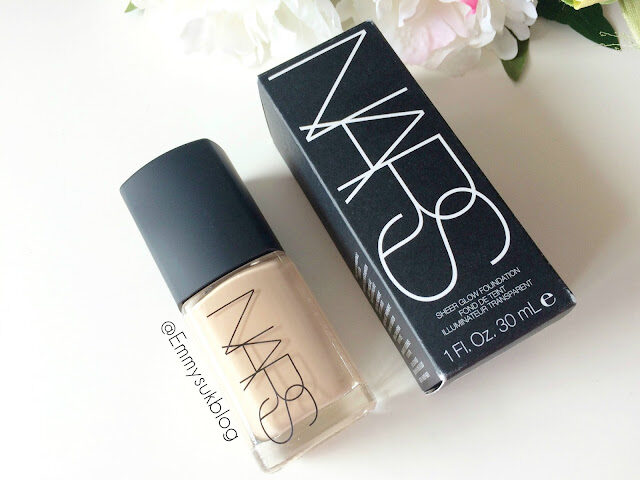 Nars is a brand i have been wanting to try for so long now and if you read my blog you will have seen my latest Nars Haul where i won a £50 voucher. One of the products i picked up was the Nars Sheer Glow Foundation. I have really been loving high end foundations as i find they work so much better with my skin. My high end collection is slowly growing so i had to add this to it! 
Firstly i have to say how impressed i am with the packaging. I love how sleek and simple Nars is but it still looks expensive. The bottle is glass so it is a little heavier but i wouldn't like to pay alot of money for a high end foundation to be plastic! The downfall is that it comes without a pump. I would love if brands like this inc MAC would include the pump as i find it little wrong when your paying a fortune for the product. Luckily you can buy a pump from Ebay for only £2.00 (free postage) and it fits perfectly, the pump is exactly like the MAC ones.
The shade i went for was Santa Fe. As i ordered this online i used a website called Findation which is amazing. You put in some of the foundations you already own inc Brand, Foundation From The Brand and also the shade, you can put in as many as you want. Then the site brings up a whole list of drugstore & highend brands and tells you what shade you will be. Santa Fe is the perfect shade for when im not tanned.
I applied this using my flat top kabuki brush which gave me a flawless finish. The foundation felt so lightweight even when i built it up in certain areas it still didn't feel heavy. The coverage is medium but can be built up to full coverage which i loved.
Does it last? Well my skin is extremely oily and requires powder touch ups during the day. I applied this foundation at 8.30am and applied powder on top. I decided not to re-apply powder as i wanted to put this foundation to the test. At 8pm it still looked pretty good! If i had of touched up once during the day it would have still looked flawless! If you have oily skin don't be put off by the "Glow" or if you like fuller coverage this foundation is not Sheer! It is lightweight with great coverage!
Overall i am really impressed and will definitely be buying this in the future!
Psst… HOUSE OF FRASER CURRENTLY HAVE THIS FOUNDATION ON OFFER FOR £27.50 INSTEAD OF £31!
CLICK HERE
BLOGLOVIN | INSTAGRAM | TWITTER