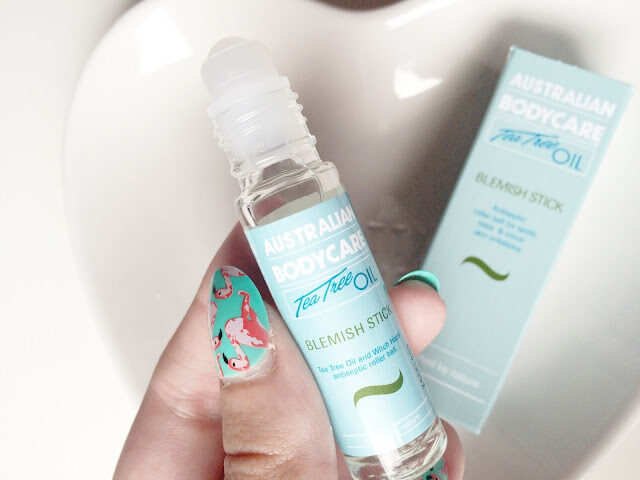 I was recently asked if i wanted to review the Australian Bodycare Tea Tree Oil Blemish Stick. I jumped at the chance as i have been changing/updating my skincare routine over the past month or so. The Australian Bodycare Tea Tree Oil Blemish Stick is mainly used for blemishes and breakouts. I wanted to wait until i got a bad breakout so i could really put this product to the test.
My skin is pretty clear most of the time but when i do get a breakout i get them bad. They last ages and are always huge monsters! As soon as i woke up with my breakout i washed my face as normal and then applied this on top. You can instantly smell the Tea Tree when you apply it. The Oils main ingridients are Tea Tree and Witch-Hazel which are well known for helping clear up skin. After applying this straight onto my breakout a few hours later i noticed the redness had reduced and it didn't feel sore anymore. I applied it again before bed and when i woke up my spot had reduced in size massively and the redness had gone. Usually my breakouts can last a minimum of a week whereas when using this product my breakout had cleared up within two days!
The product comes in a small bottle with a roll on applicator. This makes it easy to apply and the size is perfect to pop into your handbag. This product retails for £5.10 at Feel Unique and will be a staple in my skincare routine! If you suffer with acne or breakouts then this product you need to try!
If you would like to check the Australian Bodycare Tea Tree Oil Blemish Stick out on Feel Unique then CLICK HERE
FOLLOW ME
BLOGLOVIN | INSTAGRAM | TWITTER | PINTEREST