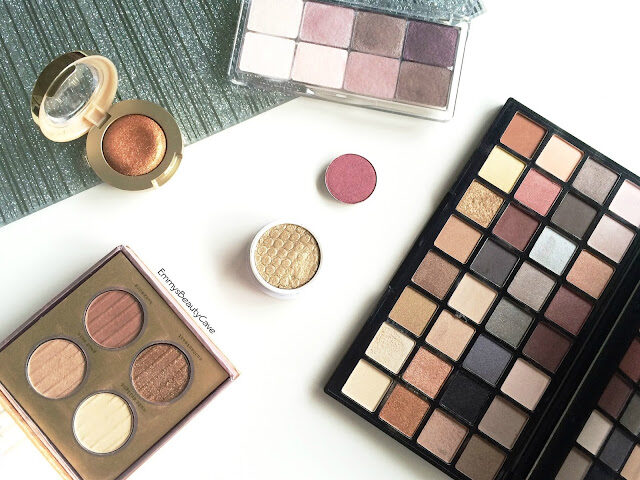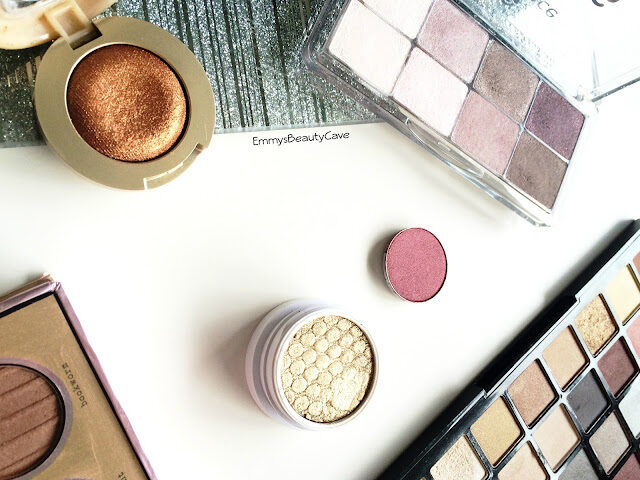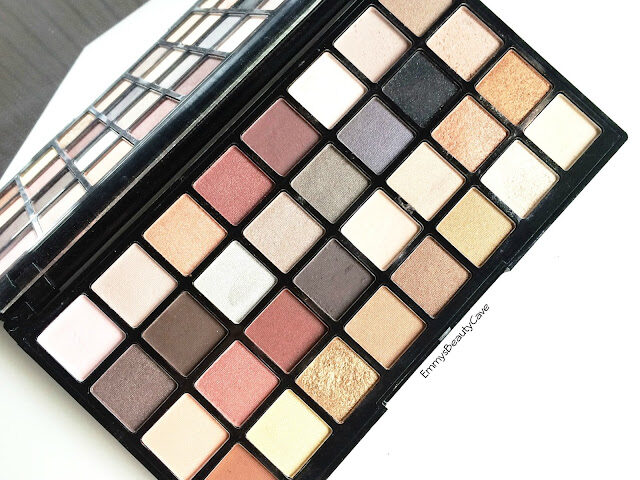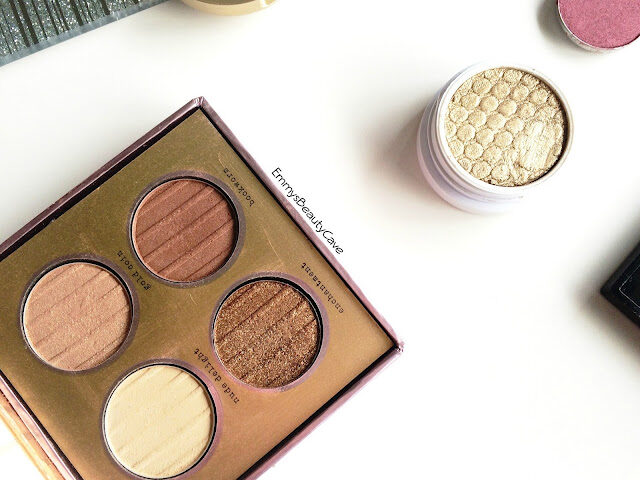 One of my favourite things about Christmas day is doing my makeup. Ever since i was little in our house we have always dressed up a little on Christmas Day. Who doesn't love a bit of glitter? I already have my Christmas Day outfit picked out and i already have an idea of my eye makeup. I wanted to share some of my favourite single eyeshadows and favourite palettes which are perfect for the Party/Christmas season. I have swatched some of the shades below. 
Single Eye Shadows
Milani Bella Eyes A Gel Powder Eyeshadow | £3.62
This is one of my many Milani eyeshadows which i just adore. I got mine from Beauty Joint a US website which has cheap UK Postage and no custom charges! You can get how much your postage is and as long as the postage cost is under £15 you get no charges. These shadows are extremely pigmented and can be used dry or wet. This shade is Bella Copper.
Colourpop Super Shock Shadow "Get Lucky" | £5.00
As you know we can't get Colourpop here in the UK but i got mine from the mobile app Depop. Some people try and charge stupid prices so just search for the best price. I was amazed at how pigmented these are with just one swipe! If you are wanting a long lasting pigmented shade then this is it!
MAC Refill Pan Eye Shadow | £10
Everyone has heard of MAC Cranberry and when i finally got my hands on it i fell in love. This shade is perfect for Christmas. I love using this all over the lid or just in the crease. 
Palettes
Essence "All About Roses" Eyeshadow Palette | £4.00
This palette i received for winning blogger of the month with Essence. I wasn't sure what to expect for £4 but it is now one of my favourite palettes. It includes 8 shimmer shades from light to dark shades. These shadows feel so creamy and look gorgeous when applied.
Tanya Burr Hollywood Eyes Palette | £5.99
I did mention this palette in my "The Blogger Made Me Buy It" post and said i don't know if i would re purchase this. I do love 3 out of 4 shades. The 4th shade i do like when i apply it on top of another shadow as it has more chunks of glitter rather than a really pigmented shade.
Freedom Pro 32 Innocent Palette | £8.00
A firm favourite of mine. This is definitely my go-to palette. It has so many shades including gold, burgundy, purple and a stunning black glitter shade. All shades are shimmery but they also sell a matte version too. If you want to see swatches of this palette click here or the link at the end of the post to my full review of this palette.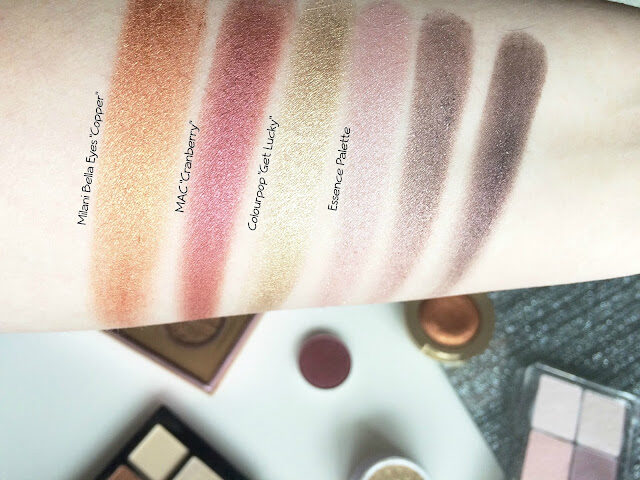 Posts You Might Like:
Freedom Pro 32 Innocent Palette & Swatches – LINK
Tanya Burr Hollywood Eyes Palette & Swatches – LINK
Beauty Joint US Haul – LINK
Bloglovin | Instagram | YouTube | Twitter