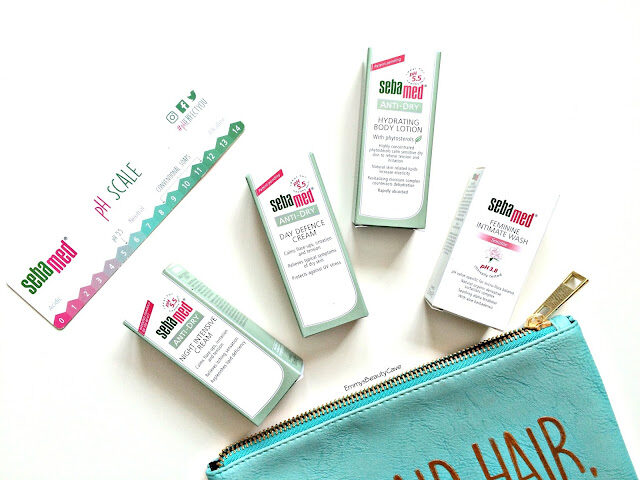 Lately my skin is driving me insane. I am lucky as I barely break out anymore and it is clear. I do suffer with extremely oily skin in my t zone and have slight scarring on my chin from very old breakouts. Recently I have noticed my skin become more sensitive and I have to be careful what skincare products I use, also I keep getting a small dry patch on each cheek. The dry patch lasts a little while then completely disappears. I have really been trying to take notice of what products I use and find products for more sensitive skin. The Sebamed skincare range has different products to suit different skin types but they all have a ph value of 5.5 which is perfect. 
I didn't really know much about ph levels for your skin but basically most people's skin has a ph level of around 5.5 but the ph scale runs from 1 – 14, 1 being very acidic and 14 being alkaline. Sebamed keep their products at a ph level of 5.5 to ensure it keeps your skin healthy and doesn't damage it in any way.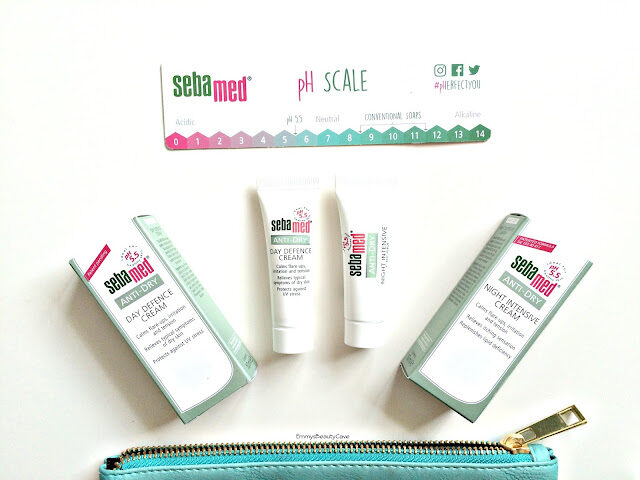 I have been trying out the Sebamed Anti-Dry Day Defence Cream and the Sebamed Night Intensive Cream. I have been loving the Anti-Dry Day Defence Cream, I find this works really well when I have those small dry patches on my cheeks. With both the day cream and night cream, I find both feel quite thick when rubbing them into my skin. The product itself looks and feels like most moisturisers until you start massaging it into your skin, as you massage you can feel the product start to dry instantly. Neither leave a tacky base and both dry quickly. 
The day cream includes Avocado Oil and Vitamin A & E which are all amazing for your skin. They help keep it healthy and stop any damage. The night cream has jojoba oil which helps keep skin smooth and stop elasticity.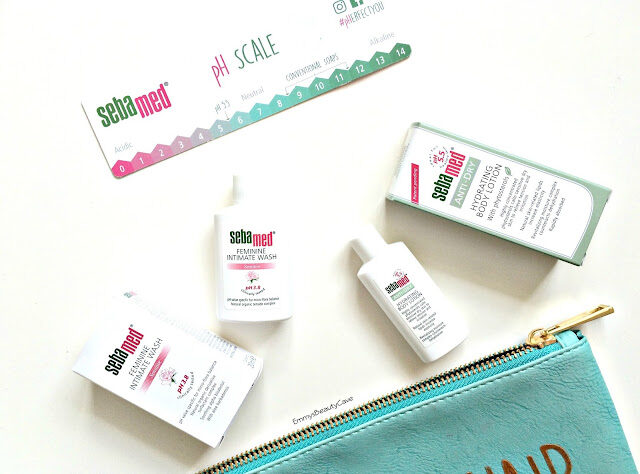 I have also been trying out the Sebamed Anti-Dry Hydrating Body Lotion which is so good! I have been loving using this especially on my elbows on knee's where my skin can be dry. The body lotion improves skin hydration by 26% in 3 weeks. I have definitely noticed my skin not to be as dry. I will definitely be continuing to use this product. Body lotions are something I don't usually tend to use but it is something I really need to use more and keep it in my everyday routine. 
One thing we don't really talk about is feminine hygiene but it is something we all do. The Sebamed Feminine Intimate Wash is different as it is completely soap and alkaline free. It has a ph value of 3.8 as obviously you don't want to use the same level of products that you use on your face. It is a smooth gentle wash and these kinds of washes and something every girl should be using. 
Overall I am really impressed by the Sebamed range, If I had to pick my favourites it would definitely be the Day Defence Cream and the Hydrating Body Lotion. All of these products retail between £7.29 – £10.29. Whether you have dry,normal,oily or sensitive skin, Sebamed will have something for you!
Follow Me




*This post includes PR Samples, NOTE all views are my own and my honest opinion. If I don't like a product or have any negative views I will put them on my blog.