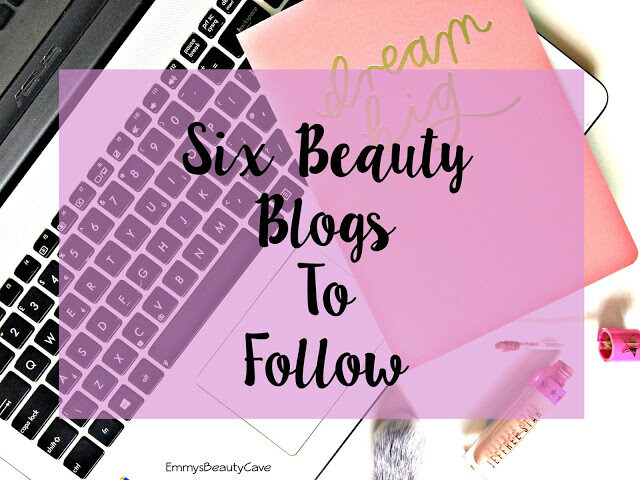 I love finding new blogs to read and I love sharing with you who my current favourites are. I have previously done my Top Instagram Accounts To Follow and My Top Fashion Blogs To Follow, Oh and I have also done My Top Beauty Blogs previously. Lately I have found so many new blogs which have become fast favourites. 

Samm | SColvinBeauty | Link
I have been reading Samm's blog for the longest time! I adore her photo's, they are always so fresh and bright! Her instagram has also become one of my favourites as she is always posting gorgeous pictures of eye looks she has created… Her skills are unreal! She produces some of the best beauty content.
Instagram: ScolvinBeauty
Twitter: ScolvinBeauty
Blog: www.SColvinBeauty.co.uk 

Sarah | See The Stars | Link
This girl is a total babe! Im not sure how long we have been talking but it has definitely been a while. We are both obsessed with Disney so of course we get on. Her blog is so pretty, full of Beauty and Lifestyle including some pretty makeup looks. Including the one above featuring Pride Makeup. 
Instagram: SeeTheStarsBlog
Twitter: SeeTheStarsBlog
Blog: www.SeeTheStars.co.uk

Louise | Hello Teddy | Link
Louise is one of the newest bloggers I have come across, I found her blog via Bloglovin and of course I then followed on all social media! Her blog is lovely. I love the blog name it is so cute. I envy her photography, the beauty posts are just always on point. I can't believe she only has 500 followers on Bloglovin, like she is amazing! 
Instagram: Cheap_Wednesday
Twitter: Cheap_Wednesday
Blog: www.HelloTeddy.co.uk

Caitlin | Through The Mirror | Link
Oh Caitlin, she is just like an excitable puppy! No matter what she is always happy and always so positive, it is so refreshing to see. She is one of the sweetest girls. Her blog has recently had a re vamp and looks amazing. Her photography is mainly flatlays which bright white backgrounds.. my kind of style! Her instagram is lovely as you can see and can we all take a moment to look at how cute her puppy is?!
Instagram: tt_mirror
Twitter: TT_Mirror
Blog: www.ThroughTheMirror.co.uk

Leanne | LPage Beauty | Link
I have been reading this blog for so long. I think it was one of the first I started reading. Im loving her new theme with the marble background, the products are always so bright and stand out. Her beauty reviews are some of my ultimate favourites.
Instagram: lpbeautyblog
Twitter: lpagebeauty
Blog: www.lpagebeauty.com

Sal | Umm Baby Beauty | Link
Now this is my kind of girl! Sal is mum but her blog is all about her and her makeup obsession. I only came across her blog a few months ago but we have definitely clicked. We both have a passion for foundation and concealer and we just can't hide it! Her blog and instagram photo's are LIFE. Reading her blog posts definitely makes me spend money! 
Instagram: UmmBaby
Twitter: UmmBabySSB
Blog: www.ummbabybeauty.com 
There you have it! My Current Favourite Beauty Blogs! I hope you found some new blogs to follow.
Posts You Might Like:
My Top 6 Beauty Blogs #1 | Link
My Top 6 Fashion Blogs | Link
My Top 6 Instagram Accounts | Link

Follow Me