The L'Oreal Infallible Foundation has become a well-raved foundation. Last year when the UK released the L'Oreal Infallible foundation, I jumped at the chance to try it, but I was very disappointed. I have oily skin, so I thought it would work for me. I also tried the US version, which you can get from eBay or Amazon; it does cost a few pounds more than the UK one. I thought I would compare the two as I can tell a huge difference, and I have spoken to some other bloggers who agree there is a difference.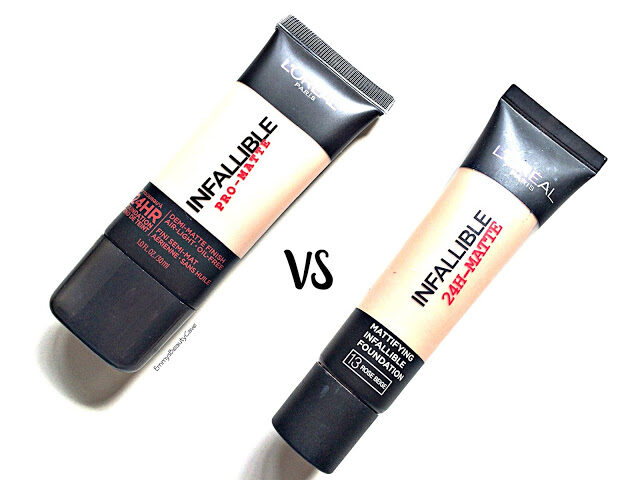 UK
This foundation was released in the UK last year, and everyone went mad for it. The first time I tried it, I was not too fond of it. I found it didn't look flawless on my skin, and it didn't stop me from getting oily at all. After a few hours, I found that I was oily, and the foundation had started to separate.
US
I ordered this online after seeing other bloggers recommend this one more than the UK one. As soon as I tried it, I fell in love. I found it applied effortlessly and took less blending than the UK version; once blended, it looked flawless. I used this with the same primer and powder as I did with the UK one and found this one lasted up to 8 hours with no shine!
I have checked the ingredients and found they are both the same, which is weird. I'm not sure how they can be so different but trust me, they are. The US version doesn't feel as heavy and feels a little runnier when applying. One of the main things I love more about the US one is the colour range, and I can find my exact shade match in the US one, whereas the UK range doesn't have as many shades, and I can't find one to match my pink-toned pale skin.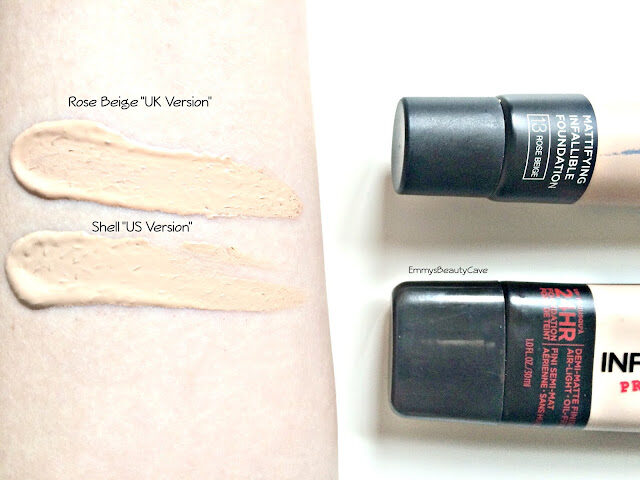 As you can see above, the US shade I use is Shell which is the perfect match! It is an ashen pink tone, and if you have neutral skin, this will work for you. The UK Rose Beige is just too dark a pink; it looks dull when you apply it, whereas the US one, even though it is slightly matte, doesn't make me look soft.
If you tried and didn't like the UK on definitely try out the US version as it is now one of my holy grail foundations. I will be stocking up when I go to NY in November. I am so happy I finally found a foundation that matches my skin and works well at keeping my oil at bay!