I have found my holy grail primer, and it only costs £3! Yes, £3!! I got the Kiss Light Reflecting Mattifying Primer from Wilkinson's. I didn't have any high hopes for it for one; it was £3 and two, it was a brand only sold at Wilkinson's. The primer is advertised as a "smoothing light-reflecting, silky smooth mattifying face primer"". That is a lot of claims for only £3.
How cute is the packaging! It is a baby pink coloured tube with pretty writing all over the front. I thought the line was quite extensive compared to most primers, and you get 30ml. This is like no primer I have ever tried.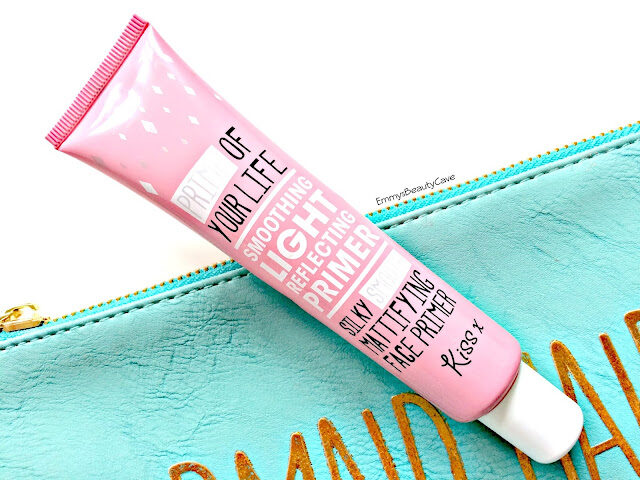 The primer is an ashen pink colour and has a strange texture. Most primers are usually gel or moisturiser like, but this one isn't. As soon as I apply this to my skin, it instantly smooths out any imperfections and creates the perfect base for other products.
The primer contains Silica spheres which help to diffuse light and help to reduce the appearance of fine lines and wrinkles. It also contains Vitamin E, Apricot oil and Baobab oil to moisturise and soften skin.
After applying, this is dried to a matte finish within seconds—one thing you have to be careful of is not to use too much. If you apply too much, it becomes this weird texture on your skin.
I have incredibly oily skin, especially on my nose, chin and inner parts of my cheeks/nose, so I was unsure how well this would hold up. I have tried this with three different foundations so far, and it tasted better than any other primer I have tried!
I tested out my Laura Mercier Foundation (review here) with the L'Oreal Infallible Foundation,n and it lasted 5-6 hours before I got oil; when I tested the same foundation with this primer, it lasted a whole 10. Hours! After ten hours, I had the slightest shine on the corners of my nose. Even though it looked shiny, there wasn't oil there like usual. I am amazed at how well this primer makes my makeup last.
For £3, I have now found my holy grail primer. I have tried many high-end primers that don't keep the oil at bay, but this is amazing. Sometimes my skin can be a combination as I get tiny dry patches on my cheeks, and this primer still works well.
I don't think it would work the best on dehydrated skin because it has a matte finish. You can buy the Kiss Light Reflecting Primer on Wilkinson's Website or in-store. It even has 4.8 out of 5 stars on the Wilkinson's Reviews! For some reason, it comes under skincare and facial moisturisers on the website rather than makeup.